11 Mind-Blowing Facts About The Drone Industry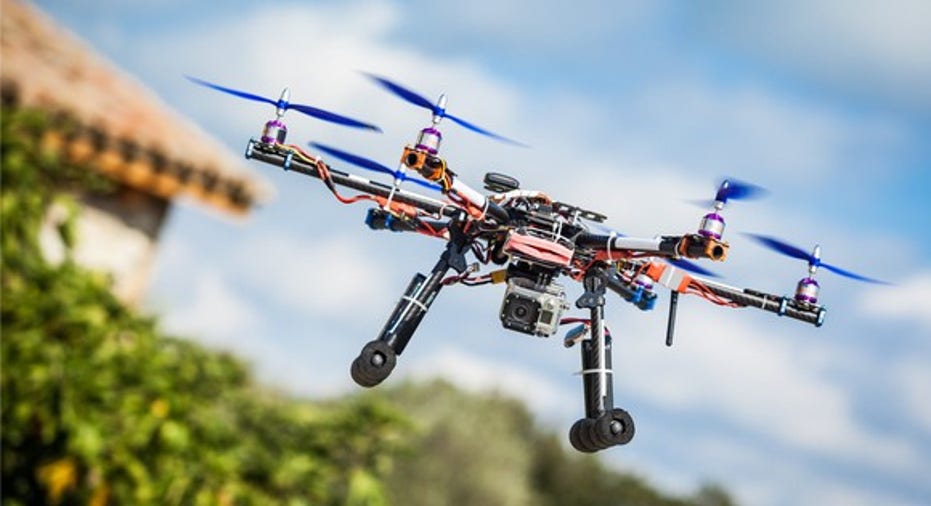 Drones have often been seen as automated weapons of war. But in recent years, hobbyists started buying smaller consumer drones for aerial photography, while companies used them to enhance or automate work processes. Here are eleven quick facts about this growing industry.
Image source: Getty Images.
1. The global drone market could be worth $127 billion by 2020, up fromjust $2 billion today, according to consulting firm PWC. In addition to defense, delivery, or aerial photography, the firm believes that drones will soon be used for verifying business claims, boosting crop yields, and creating special effects for Hollywood blockbusters.
2. 7 million consumer and commercial drones could be shipped in the U.S. by 2020, compared to just 2.5 million in 2016, according to new FAA estimates. During that period, sales of small hobbyist drones are expected to rise from 1.9 million to 4.3 million, while sales of commercial drones could rise from600,000 to 2.7 million.
3. The U.S. is currently the world's largest drone market. Research firm KPCB's 2014 figures show that the U.S. controlled 35% of the drone market, compared to 30% for Europe, 15% for China, and 20% for the rest of the world.
4. But 3 million drones could be flying in China by 2019, compared to just 390,000 shipments this year, according to IDC's forecasts. That's good news for drone companies like Shenzhen-basedDJI Innovations, the biggest drone maker in the world.
5. DJI Innovations is already worth $8 billionfollowing its last round of funding last May. DJI hasn't disclosed how much revenue it generated in 2015, but it previously estimated that sales would double to $1 billion for the year. Its next round of funding could boost its valuation past $10 billion.
6. Apple is one of DJI's biggest supporters. The tech giant recently gave DJI's new Phantom 4 drone "feature bay" displays, whichwere previously reserved for its own products, at over 400 of its brick-and-mortar stores. That's bad news for GoPro , which plans to release its first drone this holiday season to offset waning demand for its action cameras.
7. 4K drones now cost less than stand-alone action cameras. The cost of high-end drones is falling quickly, thanks to cheaper components and intense competition. Chinese tech giant Xiaomi recently unveiled a 4K drone that costs just $460 -- $40 less than GoPro's 4K-capable Hero 4 Black camera.
Xiaomi's Mi Drone. Image source: Xiaomi.
8. However, filling the skies with cheaper drones can be hazardous to passenger aircraft. 327 incidents of drones flying too closely to piloted aircraftoccurred between Dec. 2013 and Sept. 2015 according to a study conducted by a research group at Bard College. That's why the FAA now requires customers to register their drones.
9. Over 325,000 people registered their drones between last December and early Februaryaccording to the FAA. However, that represents less than a third of the one million drones that the agency believes were sold lastholiday season. If drone owners continue ignoring FAA regulations, stricter rules might be introduced and enforced.
10. DHL used drones for 130 deliveries in thefirst three months of 2016. The company has been using drones to ferry packages between two small villages in the Swiss Alps. DHL's Parcelcopter drones can travel up to 45 miles per hour and carry up to 4.5 pounds. That successful test bodes well for Amazon's goal of automating its deliveries with Prime Air.
11. $1.9 billion in venture capital has been invested in drone-related start-upsaccording toAngelList. The average valuation of these start-ups is $5.3 million, and the three most followed start-ups are commercial logistics firm Skycatch, cloud-based drone mapping and analytics firm DroneDeploy, and smart drone maker Matternet, in that order.
The key takeaway
Drones look like they'll be a bigger part of our lives in the near future, but investors should note that these forecasts aren't always accurate. Tighter regulations could throttle sales of drones, and mainstream consumers might not be that enthusiastic about the flying devices. Therefore, investors should recognize the companies which will be lifted by rising demand for drones, but also beware of blindly following market expectations.
The article 11 Mind-Blowing Facts About The Drone Industry originally appeared on Fool.com.
Leo Sun owns shares of Amazon.com. The Motley Fool owns shares of and recommends Amazon.com, Apple, and GoPro. The Motley Fool has the following options: long January 2018 $90 calls on Apple and short January 2018 $95 calls on Apple. Try any of our Foolish newsletter services free for 30 days. We Fools may not all hold the same opinions, but we all believe that considering a diverse range of insights makes us better investors. The Motley Fool has a disclosure policy.
Copyright 1995 - 2016 The Motley Fool, LLC. All rights reserved. The Motley Fool has a disclosure policy.