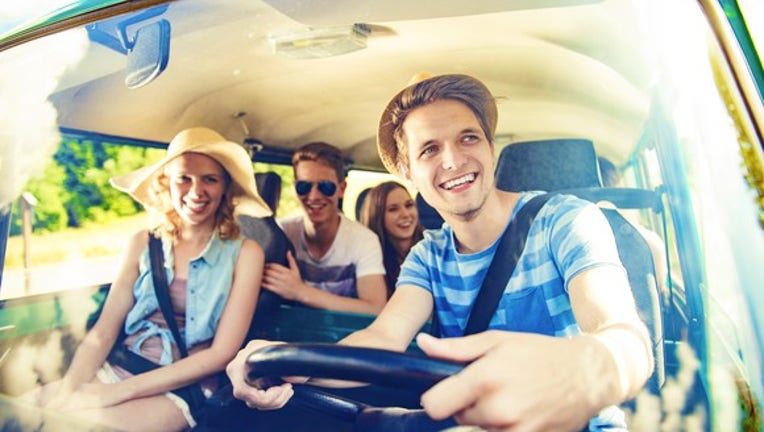 There's been lots of hype about driverless cars recently, but some investors might not be familiar with the fledgling industry. Therefore, let's examine 11 key facts about the driverless car industry that every tech investor should know.
Google's driverless car. Image source: Google.
1. Most industry forecasts estimate that driverless cars will hit public roads within the next decade. General Motors expects todeploy driverless cars before 2020, Ford (NYSE: F) plans to start selling fully autonomous vehicles by 2021, andTesla expects them to arrive in 2023. Uber expects its entire fleet to be driverless by 2030.
2. The entire market for driverless cars, which includes both the cars and connective technologies for the vehicles, could be worth $42 billion by2025, according to Boston Consulting Group. The firm expects the installation of those technologies to initially cost $2,000 to $10,000 per vehicle, but fall 4% to 10% within the first decade as adoption spreads.
3. There could be 10 million cars with semi-autonomous and fully autonomous features on public roads by2020, according to BI Intelligence. That's up from less than a million this year.
4. ADAS (advanced driver assistance systems) -- which help vehicles automatically brake, change lanes, and park -- will serve as the foundation of that market. The leader in that market is Mobileye (NYSE: MBLY), anIsraeli company which provides ADAS to about 90% of leading automakers worldwide. Other key players to watch are Nvidia and NXP, which both sell onboard computers to serve as the "brains" of fully autonomous vehicles.
NXP's BlueBox, a turnkey platform for autonomous cars. Image source: NXP.
5. Fully autonomous vehicles require roads to be mapped in high detail to account for signs, traffic lights, curbs, and other obstacles which can't be seen from a GPS view. That's why there is currently a race between traditional automakers like Ford, established mapping leaders like HERE, andnewcomers like Uber and Alphabet's (NASDAQ: GOOG) (NASDAQ: GOOGL) Google to map out the world's cities for autonomous vehicles.
6. However, this land grab has also raised serious privacy concerns, especially regarding Google's interest in ferrying passengers between destinations. Last year, Audi CEO Rupert Stadler warned, in a thinly veiled jab at Google, that"the only person who needs access to the data onboard is the customer." To keep their customers away from Google's data mining ecosystem, a consortium of German automakers, including Audi, acquiredNokia's HERE mapping business forover $3 billion last year.
7. Google is also fighting a battle against Apple to tether smartphones to these connected vehicles. Google's Android Auto and Apple's CarPlay both "mirror" smartphone displays to infotainment systems in vehicle-optimized views. Over time, these platforms could serve as the foundations for both companies' efforts in driverless cars.
8. Driverless cars and smart homes could also be seamlessly connected toeach other in the future. Amazonhas already integrated its Alexa voice-recognition service with Ford's Sync Connect platform -- enabling drivers to control Alexa-compatible lights, thermostats, or other home automation devices from inside the car. From inside the home, car owners can use Alexa to remotely start their cars, turn on their air conditioners, and check fuel, battery, and tire pressure levels.
9. Driverless cars are currently only legal in fivestates -- California, Nevada, Michigan, Tennessee, and Florida -- and the District of Columbia. 14 states are considering passing laws to allow driverless vehicles on public roads, while 15 states have rejected them.
10. But even if driverless cars are legalized in more states, there's no guarantee that consumers will actually buy them. A recent Kelley Blue Book survey, which surveyed 2,264 U.S. residents between the ages of 12 and 64, found that 51% of respondents preferred to drive their own vehicles -- even if it was less safe for other drivers.
Image source: Getty Images.
11. Lastly, driverless cars can still get into accidents. This February, Google revealed that its driverless vehicles had been involved in 18 accidents between 2010 and2015, with half of the incidents occurring in 2015. At least twoother accidents have occurred since then. Google claims that human drivers caused most of those accidents, but that reveals a major dilemma for the industry -- autonomous driving probably can't achieve its safety goals unless most human drivers let go off the wheel.
The road ahead...
While it's unclear how long it will take mainstream consumers to accept autonomous cars, many tech and auto companies believe that a driverless future is imminent. Therefore, investors should keep these key facts in mind as more players rush into this growing market.
A secret billion-dollar stock opportunity The world's biggest tech company forgot to show you something, but a few Wall Street analysts and the Fool didn't miss a beat: There's a small company that's powering their brand-new gadgets and the coming revolution in technology. And we think its stock price has nearly unlimited room to run for early in-the-know investors! To be one of them, just click here.
Suzanne Frey, an executive at Alphabet, is a member of The Motley Fools board of directors. Leo Sun owns shares of Amazon.com and Ford. The Motley Fool owns shares of and recommends Alphabet (A shares), Alphabet (C shares), Amazon.com, Apple, Ford, Nvidia, NXP Semiconductors, and Tesla Motors. The Motley Fool has the following options: long January 2018 $90 calls on Apple and short January 2018 $95 calls on Apple. The Motley Fool recommends General Motors. Try any of our Foolish newsletter services free for 30 days. We Fools may not all hold the same opinions, but we all believe that considering a diverse range of insights makes us better investors. The Motley Fool has a disclosure policy.