10 Stocks That Pay Monthly Dividends: Are Any Worth Buying?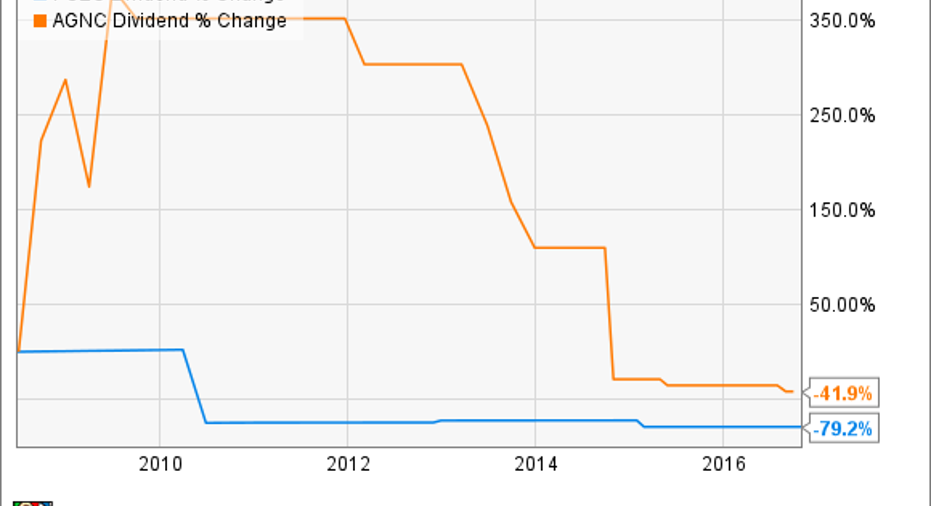 Image source: Getty Images.
There are about 200 stocks paying monthly dividends on the NYSE and NASDAQ, but not all of them make great investments. Here's a list of the 10 largest monthly dividend stocks, and which of these companies make the top choices for your long-term portfolio.
Data source: Yahoo Finance. Dividends are current as of 9/25/2016.
What to look for when investing in monthly dividend stocks
There are literally hundreds of different metrics you can look at when evaluating dividend stocks, but here are a few of the most important things to look for.
Low payout ratio:A stock's payout ratio is the dividends it pays out relative to its earnings. For example, a stock that earns $1.00 per share and pays a $0.50 dividend has a payout ratio of 50%. For REITs, it's best to look at the payout relative to funds from operations (FFO), as this is the "earnings" of the real estate world. While there is no formally defined cutoff between a good and bad payout ratio, you should at least make sure the company is taking in more than it's paying out.
Dividend growth:An attractive dividend yield is nice, but for long-term investments, you want your dividends to grow over time. Check out the company's dividend history -- ideally, you'll see a long, steady record of growth.
Growth potential:Dividends are nice, but dividends combined with a rising stock price can make you rich. In other words, you want to invest in businesses that have potential to grow over time.
Low debt:The debt level a company carries should be reasonably low. While this can vary based on industry, ask yourself this question: "If the company's profits were to drop, would it still be able to pay its debts and sustain its dividend?"
What to avoid
In a nutshell, it's a good idea to avoid dividend stocks that don't meet these criteria. As an example, mortgage REITs like American Capital Agency (NASDAQ: AGNC) tend to use extremely high levels of debt to supercharge their returns. This leads to impressive dividends, but also makes the company more susceptible to interest rate fluctuations and economic weakness.
The same can be said for stocks that pay out too much of their earnings. If a company has paid more than 100% of its earnings as dividends for a few years, a dividend cut could be right around the corner.
So, are any of these worth buying?
The short answer is yes. My personal favorite monthly dividend stocks are the REITs on this list. Realty Income (NYSE: O) is actually one of my largest stock holdings. The company has a low-risk business model, a phenomenal record of dividend increases, and it carries a small debt load. Plus, the company has proven its ability to grow year after year. Since its 1994 IPO, Realty Income's total return (dividends plus share price growth) has averaged 18.2%.
Similarly, I'm also a big fan of the other two equity REITs on the list, EPR Properties (NYSE: EPR) and Apple Hospitality REIT (NYSE: APLE). Both have excellent fundamentals and lots of room to grow. EPR Properties is a unique company that specializes in entertainment, recreational, and educational properties -- three different markets with excellent growth prospects. Apple Hospitality REIT invests in a portfolio of hotel properties that are newer than the competition, and located in attractive markets.
Finally, some of the closed-end funds could be worth a look if income is your main priority, and you're not too worried about growth. Here's a primer on closed-end funds if you're interested.
The only stocks on this list I would specifically tell investors to avoid are American Capital Agency for reasons I've already mentioned, and Prospect Capital (NASDAQ: PSEC), which invests in somewhat risky assets and uses leverage to do it. In fact, a look at the dividend history of either stock tells you all you need to know about the risk involved, at least from a dividend-seeker's standpoint.
PSEC Dividend data by YCharts.
The bottom line on dividend investing
When choosing the best monthly dividend stocks (or any dividend stocks, for that matter), your best bet is to stick with time-tested companies with the proven ability to grow in any economic environment. Remember, for long-term investors, it's not about how much a stock pays now, it's about how much it will pay next year, and several years into the future.
The $15,834 Social Security bonus most retirees completely overlook If you're like most Americans, you're a few years (or more) behind on your retirement savings. But a handful of little-known "Social Security secrets" could help ensure a boost in your retirement income. For example: one easy trick could pay you as much as $15,834 more... each year! Once you learn how to maximize your Social Security benefits, we think you could retire confidently with the peace of mind we're all after.Simply click here to discover how to learn more about these strategies.
Matthew Frankel owns shares of Realty Income. The Motley Fool has no position in any of the stocks mentioned. Try any of our Foolish newsletter services free for 30 days. We Fools may not all hold the same opinions, but we all believe that considering a diverse range of insights makes us better investors. The Motley Fool has a disclosure policy.