10 Reasons to Buy Royal Gold Inc. Stock and Never Sell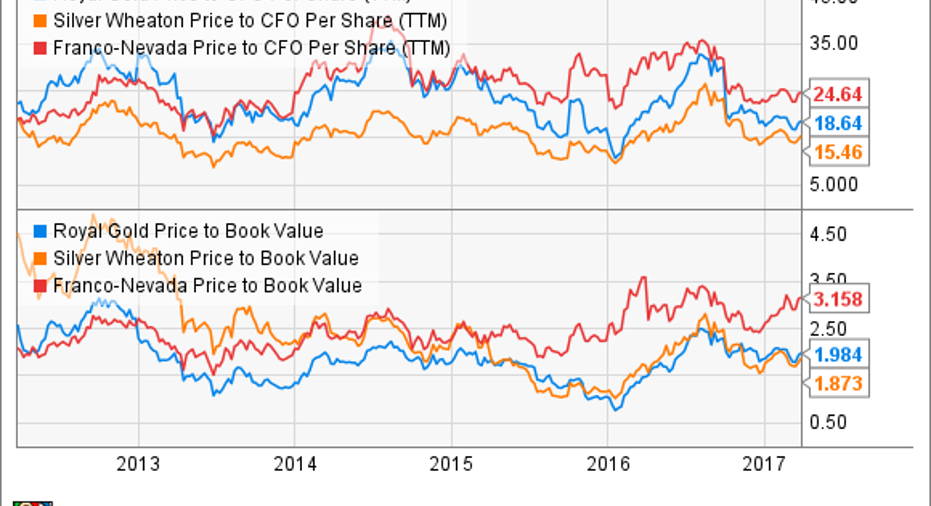 Royal Gold Inc. (NASDAQ: RGLD)stock has taken a beating in recent months, and if it were internal conflicts or concerns taking a toll on the shares, I'd say investors should be worried.Thankfully, that isn't the case: Streaming peers like Silver Wheaton (NYSE: SLW)and Franco-Nevada Corp (NYSE: FNV) have also dropped by double-digit percentages in the past six months due to volatile precious metal prices.
Royal Gold is, in fact, one of the strongest players in the industry, with a solid asset base and track record of shareholder returns. If you'd bought shares of Royal Gold in 2008 and reinvested the dividends all along, your investment would've more than doubled by now. No one can say for sure where the stock will go from here. That said, here are my top 10 reasons to buy Royal Gold stock today and never sell.
1. Offbeat business model
As a streaming and royalty company, Royal Gold doesn't own and operate mines; it buys precious metal streams from mining companies like Barrick Gold (NYSE: ABX) and Goldcorp Inc. (NYSE: GG)at a low, fixed cost in exchange for funding them up front. That makes Royal Gold's business model more lucrative than that of miners, as it doesn't have to bear the inherent risks of mining, and can secure precious metals at low prices.
Image source: Getty Images
Even more interesting, competitors also happen to be "suppliers" to Royal Gold. So for instance, an important portion of Royal Gold's stream comes from the Pueblo Viejo mine, which is jointly owned by Barrick and Goldcorp. Today, Royal Gold is bigger than Silver Wheaton and Franco-Nevada in terms of gold equivalent ounces,or GEOs.
Image source: Royal Gold's presentation at the BMO 26th Global Metals & Mining Conference, February 2017
2. More than gold
While primarily a gold company, Royal Gold expects to generate nearly 25% of its revenues from silver and other metals through 2022. Its primary source of silver is the Pueblo Viejo mine, while copper will be delivered as part of its streaming agreement on the Mount Milligan mine with Centerra Gold, which was amended last year after Centerra acquired Thompson Creek Metals Company. I believe a diversified portfolio is better for Royal Gold investors as it leverages them to the upside in both gold and silver prices.
3. A top-quality asset base
Royal Gold's claim of owning "world-class assets" isn't misplaced -- Its current portfolio covers 38 operating and 22 developing mines. Its primary metal sources, along with its payable interest from the mines, include:
1. Centerra's Mount Milligan, Canada: 35% gold, 18.75% copper 2.Teck Resource's Andocollo, Chile: 100% gold 3.Barrick and Goldcorp's Pueblo Viejo: 7.5% gold, 75% silver 4.Goldcorp's Penasquito, Mexico: 2% net smelter return (gold, silver, lead, zinc) 5. Golden Star Resources' Wassa and Pretea, Ghana: 9.25% gold 6. Development stage: Barrick's Pascua-Lama, Chile.
So not only has Royal Gold partnered with some of the leading names from the industry, most of their projects are in geopolitically stable regions which adds an extra layer of safety to its stock as an investment.
4. Growth potential already locked in
As a streamer, Royal Gold can enjoy any extra upside that derives from exploration and development of mines without additional costs. Reserves at its 22 development-stage mines, for instance, have already been identified, and the onus now lies on the mine operators to develop them. Every time a miner strikes deposits at these or other existing mines that Royal Gold has interest in, the streamer stands to benefit.Best of all, most streaming agreements are for thelifeof mine, which means Royal Gold has already locked in business as well as growth for several years.
5. Best-in-class margins
Streamers are usually entitled to buy metal streams from miners at rates substantially below spot prices. To give you an idea, Royal Gold's cost of sales (purchase cost) for its financial year ended June 30, 2016 was only $71 million against its total revenues of $359.8 million. That translates into an eye-popping gross margin of almost 80%, which is unheard of.
In fact, Royal Gold's gross margins are among the best in the industry. As the company recently revealed during its presentation at the BMO 26th Global Metals & Mining Conference, its margins are nearly double theaverage among "senior gold" producers, where such as Barrick, Goldcorp, Newmont Mining, Newcrest, and Agnico Eagle Mines.
Image source: Royal Gold's presentation at the BMO 26th Global Metals & Mining Conference, February 2017
High cash margins mean strong profits and cash flows. Royal Gold is already growing at a rapid pace.
6. Record revenue and cash flows
Royal Gold ended its fiscal 2016 with record revenue and strong operating cash flows, and it could be on its way to an equally strong 2017.
Image source: Royal Gold's Q2 2017 earnings presentation
History is testimony to Royal Gold's solid operational performance: Its revenue and operating cash flow grew at annual compounded rates of 29% and 25%, respectively during the decade through June 30, 2016. That's an incredible record to have in a commoditized industry like gold; and if not for its cash flows, Royal Gold's dividends wouldn't be as good.
7. 16 years of dividend increases
Despite the inherent volatility in its industry, Royal Gold has not only paid a dividend but increased it every year since 2000. Its dividend has grown at a stupendous compounded annual clip of 20% since.
Image source: Royal Gold's presentation at the BMO 26th Global Metals & Mining Conference, February 2017
That management is serious about its strategy of "a growing and sustainable dividend" is evident from the fact that the company kept hiking payouts in recent years, despite the slump in gold prices. The streak should continue unless gold prices fall off the cliff and stay down for a long period of time.
8. Low dilution
It isn't uncommon for streaming companies to tap the capital markets to raise funds; but new stock issues also dilute their shareholders' stakes. Thankfully, Royal Gold hasn't been as dilutive as Silver Wheaton and Franco-Nevada.
RGLD Average Diluted Shares Outstanding (Quarterly) data by YCharts
That means existing shareholders have benefited from a greater share of the company's growing profits. That's a great sign for potential investors.
9. Credible management
The past decade has been transformational for Royal Gold, and it's only fair to credit management for it, especially since CEO Tony Jensen, who has more than 30 years of mining experience by now, took the helm only in 2003. The company has grown leaps and bounds since. CFO Stefan Wenger, too, has been in the mining industry for more than two decades now. Given the company's growth in the past decade, investors can trust management's balanced approach of reinvesting cash flows in long-lived assets while paying consistent dividends to take it to the next level.
10. Attractive valuation
Considering its track record and growth potential, Royal Gold stock is trading at a pretty decent price today.
RGLD Price to CFO Per Share (TTM) data by YCharts
You shouldn't mind paying 18 times or more its cash flow per share for Royal Gold today considering that its cash from operations for the trailing 12 months is at a record high. A growing company deserves a premium, and chances are, you won't be disappointed if you buy Royal Gold shares today and forget it for several years -- maybe even several decades.
10 stocks we like better than Royal GoldWhen investing geniuses David and Tom Gardner have a stock tip, it can pay to listen. After all, the newsletter they have run for over a decade, Motley Fool Stock Advisor, has tripled the market.*
David and Tom just revealed what they believe are the 10 best stocks for investors to buy right now... and Royal Gold wasn't one of them! That's right -- they think these 10 stocks are even better buys.
Click here to learn about these picks!
*Stock Advisor returns as of February 6, 2017
Neha Chamaria has no position in any stocks mentioned. The Motley Fool owns shares of Silver Wheaton. The Motley Fool has a disclosure policy.