10 Reasons to Buy China Mobile Ltd. and Never Sell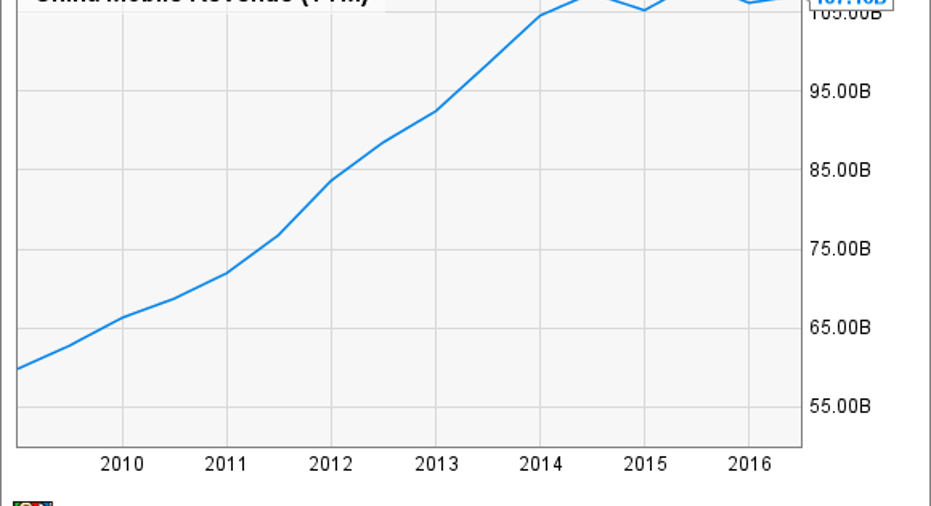 China Mobile (NYSE: CHL) is the biggest telecom company in the world and one of the threemost valuable companies in Asia, but its stock is often overlooked by U.S. investors. The telco doesn't offer spectacular price growth, but it's a solid income play which rebounded from some steep market downturns since itsIPO in late 1997.
I personally own shares of China Mobile, and I think it's a great "forever" stock to own for ten simple reasons.
Image source: Getty Images.
1. 851 million mobile customers
Being the top telco in the world's most populated country naturally gives China Mobile the biggest customer base of any telecom company -- which includes 851 millionwireless customers at the end of January, a 3% gain from 829 million customers a year earlier.
2. 552 million 4G customers
Within that total, 552 million customers were on 4G networks -- a 65% jump from a year ago. That growth bodes well for China Mobile, since it generates much higher revenues per 4G customer than those on 2G and 3G networks.
3. 81 million wireline broadband customers
China Mobile launched a wireline broadband business at the beginning of 2016, and its subscriber base has grown 39% from 58 million last February to 81 million this January.
That move might seem unusual, since U.S. telcos like AT&T (NYSE: T) and Verizon (NYSE: VZ) are eagerly divesting their slower-growth wireline businesses, but it's a smart way for China Mobile to reach more rural customers across the country. It also allows the company to expand its ecosystem and boost its revenue per customer with video, internet, and wireless bundles.
4. China's low internet penetration rate
China has an internet penetration rate of just52%, according to Internet Live Stats. That's very low compared to an 89% penetration rate in the U.S. and 91% penetration rate in Japan. It also indicates that China Mobile has plenty of room to continue growing its wireless and wireline customer bases.
5. The upcoming 5G rollout
In February, China Mobile, telecom equipment vendor ZTE, and mobile chipmaker Qualcomm (NASDAQ: QCOM) announced that they would start interoperability testing and outdoor trials for the new 5G specs developed by the 3GPP (3rd Generation Partnership Project) group.
Those trials, which will run throughout 2017, willuse China Mobile's guidelines, ZTE's base station solutions, and Qualcomm's prototype chips. China Mobile plans to start deployment testing in 2018 and start commercial operations in 2020 -- which should spark fresh revenue growth as 4G customers upgrade their plans.
Image source: Getty Images.
6. Government backing
China Mobile is one of three state-backed telecom companies in China, the other two of which are China Telecom (NYSE: CHA) and China Unicom (NYSE: CHU). The Chinese government occasionally rotates the management at these three companies to prevent one company from marginalizing the other two. That intervention prevents China Mobile from ever becoming a monopoly, but the government backing also gives it a wide safety net during market downturns.
7. The great tower deal of 2015
The tight relationship between the three telcos enables them to collaborate quickly. In late 2015, the three companies agreed to sell their towersto China Tower for cash and stock, then lease them back to reduce operating expenses. Analysts estimate that the move generated roughly 2.4 billion yuan ($350 million) in savings for China Mobile within the first year.
8. A rock solid dividend
China Mobile has a trailing yield of 3.2%, which admittedly doesn't look as impressive as AT&T and Verizon's 4.6% yields. Its semi-annual payments, which are declared every half year based on earnings growth, are also less frequent than AT&T and Verizon's quarterly payments.
But despite those disadvantages, China Mobile has continuously paid dividends for 14 straight years, and its trailing yield has remained between 3% and 5% over the past five years -- which is much higher than the S&P 500's 2% yield.
9. Stable top line growth
China Mobile's top line growth has slowed down since 2014, but that should just be a momentary lull before it adds more customers and generates more revenues per customer with 4G plans and wireline/wireless bundles.
Source:YCharts.
Analysts expect China Mobile's revenue to rise2% this year and 4% next year. That growth rate might look weak, but it compares favorably to AT&T's estimates for 1% sales growth and Verizon's estimates for a 1% sales decline.
10. The stock is still cheap
Lastly, China Mobile trades at just 14 times earnings, which is higher than China Telecom's P/E of 12 but lower than China Unicom's P/E of 51 and the industry average of 18 for foreign telecom companies.
That low valuation -- combined with its solid dividend, government backing, and growth opportunities across China -- make China Mobile one of the safest ways to invest in China's long-term growth. The stock may face near-term volatility due to alarmist talk about a trade war between the U.S. and China, but those challenges will likely fade over the next few years.
10 stocks we like better than China MobileWhen investing geniuses David and Tom Gardner have a stock tip, it can pay to listen. After all, the newsletter they have run for over a decade, Motley Fool Stock Advisor, has tripled the market.*
David and Tom just revealed what they believe are the 10 best stocks for investors to buy right now... and China Mobile wasn't one of them! That's right -- they think these 10 stocks are even better buys.
Click here to learn about these picks!
*Stock Advisor returns as of February 6, 2017
Leo Sun owns shares of AT and T, China Mobile, and Qualcomm. The Motley Fool owns shares of and recommends Qualcomm and Verizon Communications. The Motley Fool recommends China Mobile. The Motley Fool has a disclosure policy.