10 Highest-Yielding Dividend Stocks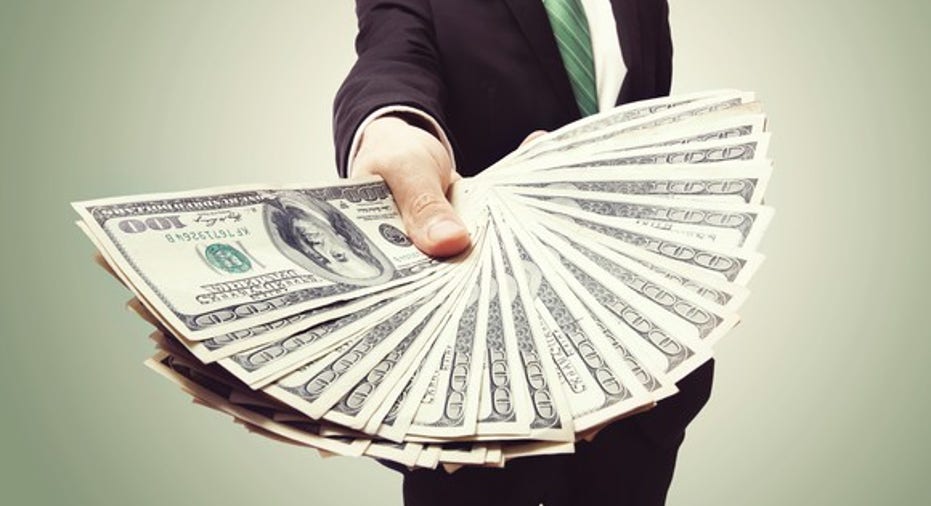 Income investors naturally gravitate toward stocks that offer up the highest yield. But not every stock with a fat payout is an automatic buy. In fact, stocks with big yields are often quite risky, which is why income investors need to be choosy about which stocks they buy.
Image source: Getty Images.
Knowing that, let's take a closer look at the 10 highest-yielding stocks from the S&P 500to see if any of themcould be worth owning.
| Company | Ticker | Dividend Yield |
| --- | --- | --- |
| Frontier Communications | (NASDAQ: FTR) | 21.7% |
| CenturyLink | (NYSE: CTL) | 8.5% |
| Mattel | (NASDAQ: MAT) | 7% |
| Ford | (NYSE: F) | 5.3% |
| Seagate Technology | (NASDAQ: STX) | 6.1% |
| Macy's | (NYSE: M) | 5.1% |
| Kohl's | (NYSE: KSS) | 5.1% |
| Staples | (NASDAQ: SPLS) | 4.9% |
| Occidental Petroleum | (NYSE: OXY) | 4.9% |
| AT&T | (NYSE: T) | 4.9% |
Data source: Finviz, as of April 24, 2017. This list does not includeREITs.
Is the payout sustainable?
The first metric I like to look at when I'm evaluating a dividend stock is thepayout ratio. This ratio can be found by dividing a company's annual dividend payment by its last four quarters of earnings. The resulting figure will give an investor a quick glance at how much of a company's profits are being consumed by the dividend. In general, any number above 80% is a yellow flag, and a payout ratio over 100% hints that trouble could be brewing.
Here's what this ratio looks like for each of the 10 companies
| Company | Payout Ratio |
| --- | --- |
| Frontier Communications | NM |
| CenturyLink | 186% |
| Mattel | 165% |
| Ford | 52% |
| Seagate Technology | 147% |
| Macy's | 75% |
| Kohl's | 64% |
| Staples | 54% |
| Occidental Petroleum | NM |
| AT&T | 92% |
Table source: Yahoo! Finance. NM = not meaningful; these companies reported losses over the past 12 months.
Right off the bat, we can eliminate several of these companies from consideration. Both Frontier Communications and Occidental Petroleum haven't even reported a profit over the past four quarters, which is why neither has a payout ratio. That's a good enough reason to give them a pass.
CenturyLink, Mattel, and Seagate Technology all have payout ratios that exceed 100%. That means the dividend checks they're sending off to investors exceed their net income. That's not a recipe for long-term sustainability, which makes me believe they should be avoided as well.
Are they growing?
The five remaining companies all look as if they can afford their dividend payment for the time being. Next, I like to get a sense of a company's growth potential. My reasoning is that an income stock must be able to increase its dividend payment over time to be considered attractive. You can't do that unless you also have a growing profit stream.
To get a rough idea of a company's growth potential, I like to look at a company's historical earnings growth rate and itsprojected future profit growth rate over five-year periods of time.
Here's what these metrics look like for our five remaining companies:
| Company | Actual Earnings Growth Over Past 5 Years | Estimated Earnings Growth Over Next 5 Years |
| --- | --- | --- |
| Ford | 5.6% | 2.9% |
| Macy's | (3.7%) | 18.6% |
| Kohl's | (3%) | 8.6% |
| Staples | (9.5%) | 2.5% |
| AT&T | 5.8% | 7.4% |
Data source: Yahoo! Finance.
This data shows that the past five years haven't been kind to big-box retailers such as Macy's, Kohl's, and Staples. That's because the entire retail sector has been under pressure as a result of increased competition from e-commerce companies such as Amazon.com. Each of these companies is responding to the pressure by closing stores and investing in their own e-commerce capabilities.
Will these tactics drive long-term profit growth? That's still unclear, but Wall Street believes that Macy's and Kohl's will be successful and drive solid earnings growth over the next few years. If so, then both companies could turn into fine investments. By contrast, Staples' bottom line has taken a much bigger beating over the past five years, and market watchers are barely expecting any growth at all from here. Steering clear is likely to be the right call here.
As for Ford, the company's modest payout ratio suggests that its dividend is easily sustainable. However, investors need to keep in mind that auto sales are highly cyclical. That's why it might be a mistake to place too much emphasis on a single year's earnings results. In addition, there are signs that auto sales havepeakedin North America, which, if true, could spell doom for Ford's near-term profit potential. Analysts appear to have accounted for that threat by forecasting only 2.9% profit growth from here. That's not an attractive enough growth rate to warrant an investment, in my book.
Finally, AT&T has proved itself to be a steady-Eddy giant that consistently cranks out profit growth each and every year. That trend should continue, since AT&T maintains a strong competitive position in the U.S. wireless space and it recently acquired DirecTV. Its pending mergerwithTime Warnercould also be a win for shareholders if it gets the green light from regulators. While investors need to keep a watchful eye on the company's high payout ratio, a growing stream of profits should help to ensure that its dividend remains safe.
Are any worth buying?
While I'd hesitate to call any of these stocks a screaming buy right now, I must say that my favorite names from this list are Kohl's, Macy's, and AT&T. All three offer investors a sustainable dividend yield and a shot at posting profit growth over the next five years. That's a compelling combination.
10 stocks we like better than AT&TWhen investing geniuses David and Tom Gardner have a stock tip, it can pay to listen. After all, the newsletter they have run for over a decade, Motley Fool Stock Advisor, has tripled the market.*
David and Tom just revealed what they believe are the 10 best stocks for investors to buy right now... and AT&T wasn't one of them! That's right -- they think these 10 stocks are even better buys.
Click here to learn about these picks!
*Stock Advisor returns as of April 3, 2017
Brian Feroldi owns shares of Amazon. The Motley Fool owns shares of and recommends Amazon and Ford. The Motley Fool recommends Time Warner. The Motley Fool has a disclosure policy.