1 Way Apple Inc. Wants to Crush Samsung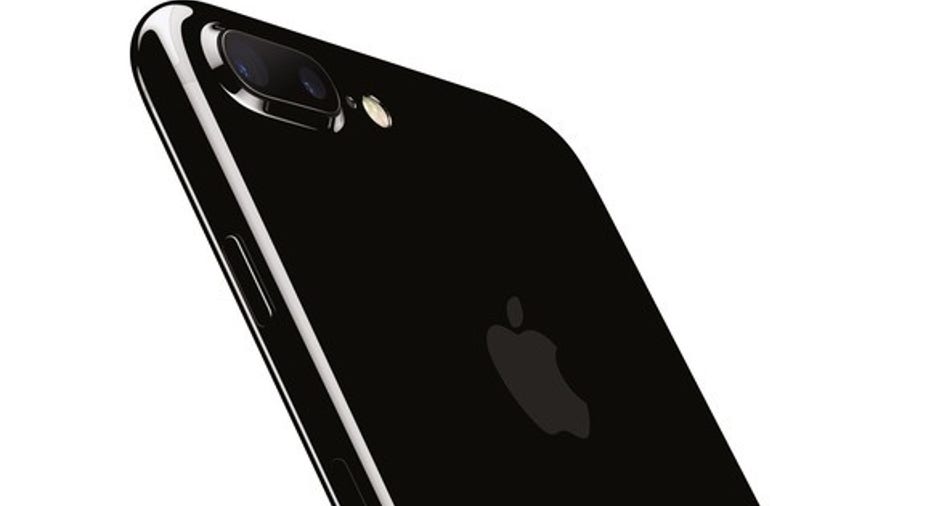 The Wall Street Journal recently published a story on Apple's (NASDAQ: AAPL) plans for the upcoming iPhone, which is expected to include a curved organic light-emitting diode (OLED) display. One passage really stood out: "AppleInc.'s suppliers say they have been asked to increase output of thinner organic light-emitting displays and submit prototype screens with better resolution than ones from South Korea'sSamsungElectronics Co. to differentiate the U.S. company's models."
Image source: Apple.
That Apple is asking suppliers to build OLED displays in support of its next-generation iPhone doesn't come as a surprise. What does, at least initially, is that Apple is apparently asking for display samples "with better resolution" than the ones that Samsung (NASDAQOTH: SSNLF)currently builds.
Samsung's current curved OLED displays feature a high-resolution display of 2,560 by 1,440 pixels, or Quad HD. In contrast, Apple's top iPhone, the iPhone 7 Plus, features a display resolution of just 1,920 by 1,080 pixels, or Full HD.
Why, then, would Apple be looking to take a leap beyond what Samsung is fielding? Is it simply for bragging rights, or is there a deeper technical reason?
Countingsub-pixels
In a prior article, I highlighted the fact that the Samsung Quad HD display uses a different sub-pixel arrangement than the Apple Full HD display. The difference in sub-pixel arrangement means that Apple's display, which has a lower overall pixel density than Samsung's, has greater red and blue sub-pixel density than Samsung's display:
This means that if Apple simply took a 5.8-inch Quad HD curved OLED display with a PenTile sub-pixel arrangement and used it in its next-generation iPhone, then it would wind up with a display with lower blue/red sub-pixel density than the displays that it used in the iPhone 6 Plus/6s Plus/7 Plus.
That'd be unacceptable.
Based on WSJ's reporting, I expect that the display samples that Apple's reportedly asking for will offer one of the following sets of characteristics:
PenTile sub-pixel arrangement (two green sub-pixels for every red and blue sub-pixel), as used in the current Samsung displays. Display resolution in this case significantly greater than Quad HD.
RGB sub-pixel arrangement (red, blue, and green sub-pixels in equal proportion), but overall display resolution of "just" Quad HD.
Either one of these would allow Apple to offer the benefits of OLED displays without sacrificing on sub-pixel density.
Another thing to note
One of the criticisms of Apple's smartphones has been that the display resolutions of its recent devices have lagged those of the competition, even those competitors that utilize liquid crystal display technology.
I also think that the perception of being "behind" in display resolution has potentially cost Apple sales, and this is something that the company is aware of. I would not be surprised to see Apple become more aggressive in adopting very high-resolution displays in future (premium) iPhone models.
Indeed, to be able to market very high-resolution displays, Apple might be better off going with very high-resolution OLED displays with PenTile sub-pixel arrangements rather than ones with traditional RGB stripe sub-pixel arrangements.
We'll know more soon
Based on the various press reports, including the article from WSJ, it appears Apple has yet to finalize the design and specifications for the new phones.
If Apple intends to stick to its September launch schedule, then it will need to finalize the new phones' specifications soon to give its suppliers ample lead time. Once the specifications are finalized, I suspect that we'll start seeing more solid information about Apple's next iPhones trickle out.
10 stocks we like better than Apple When investing geniuses David and Tom Gardner have a stock tip, it can pay to listen. After all, the newsletter they have run for over a decade, Motley Fool Stock Advisor, has tripled the market.*
David and Tom just revealed what they believe are the 10 best stocks for investors to buy right now... and Apple wasn't one of them! That's right -- they think these 10 stocks are even better buys.
Click here to learn about these picks!
*Stock Advisor returns as of November 7, 2016
Ashraf Eassa has no position in any stocks mentioned. The Motley Fool owns shares of and recommends Apple. The Motley Fool has the following options: long January 2018 $90 calls on Apple and short January 2018 $95 calls on Apple. Try any of our Foolish newsletter services free for 30 days. We Fools may not all hold the same opinions, but we all believe that considering a diverse range of insights makes us better investors. The Motley Fool has a disclosure policy.