1 Virtual Reality Play I Wouldn't Bet On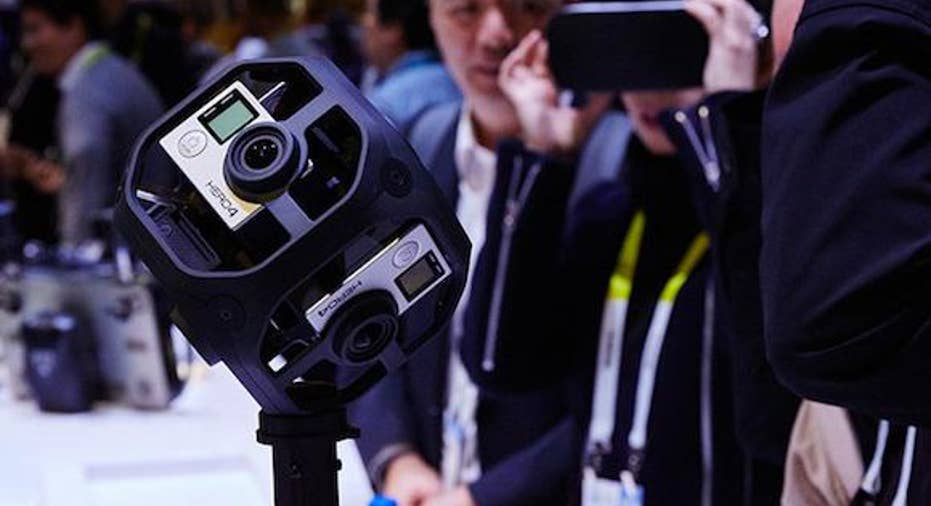 Image source: GoPro.
There's not a whole lot for GoPro investors to be excited about these days. The company's Q4 2015 revenue dropped 31% year over year, it laid off 7% of its workforce, and its stock price has plummeted about 72% over the past 12 months.
The bad news has driven many to look for bright spots of opportunity within the company. Consequently, many investors believe that drones, new cameras, or virtual reality could push the stock back to its former glory.
I think, however, that GoPro as a virtual reality play is a bit of a stretch at this point. GoPro isn't building anything unique in the consumer VR market, and I question how well its current virtual reality products appeal to the average consumer.
Right market, wrong products Let's start with the company's professional VR rig, the Odyssey. It's built to make high-end virtual reality videos by stitching together content from 16 Hero4 Black cameras. There's no question as to the quality of GoPro's video footage, but the price of cameras plus the rig comes in at a whopping $15,000. Clearly, the Odyssey isn't designed to take on summer vacations. It's meant for serious VR video producing, but that also means that it has limited appeal.
Which leads us to the recent unveiling of GoPro's Omni VR cube. This four-sided camera rig holds six Hero4 Black cameras and has a yet-to-be-announced price tag. It's clear the Omni is designed for non-professionals, but that doesn't mean it'll be inexpensive. The cost of six Hero4 Black cameras is $2,500, and that's without the unknown cost of the Omni. Even if the rig costs nothing (which, of course, it won't) the average consumer won't be purchasing $2,500 worth of cameras.
Essentially, the best action-camera maker is approaching the virtual reality market by creating VR accessories. What's to stop other companies from making VR rigs that hold GoPro cameras? Oh, wait, they already do.
I could be wrongOf course, I could be really wrong about GoPro's VR potential. At least one person thinks GoPro is on to something with its newest device.
Talking about the Omni, Barclays' Joseph Wolf said, "While buying six GoPro devices isn't feasible for the majority of consumers who would like to shoot spherical videos, this is a positive first step in demonstrating the company's capabilities."
But capabilities for what? Building boxes that can hold cameras? Maybe I'm wrong. Maybe consumers want to shoot VR video for themselves, and maybe enough people will want to buy the Onmi and the six cameras it takes to make VR videos. But I doubt it.
GoPro has built its business on making cameras that shoot great videos for the average consumer. Building rigs for VR video creation isn't a bad idea, but it's certainly not a solid virtual reality play.
The VR market is expected to be worth $70 billion by 2020, according to TrendForce. So I get why GoPro is trying to tap into this market, but building cubes that hold cameras is hardly a way to dive into VR. Perhaps a better approach would be to create a GoPro VR headset, something that actually builds on the company's strong brand. At this point, anything other than GoPro's current approach to virtual reality would be an improvement.
The article 1 Virtual Reality Play I Wouldn't Bet On originally appeared on Fool.com.
Chris Neiger has no position in any stocks mentioned. The Motley Fool owns shares of and recommends GoPro. The Motley Fool recommends Barclays. Try any of our Foolish newsletter services free for 30 days. We Fools may not all hold the same opinions, but we all believe that considering a diverse range of insights makes us better investors. The Motley Fool has a disclosure policy.
Copyright 1995 - 2016 The Motley Fool, LLC. All rights reserved. The Motley Fool has a disclosure policy.