1 Thing to Watch for When Bank of America Reports Earnings on Jan. 19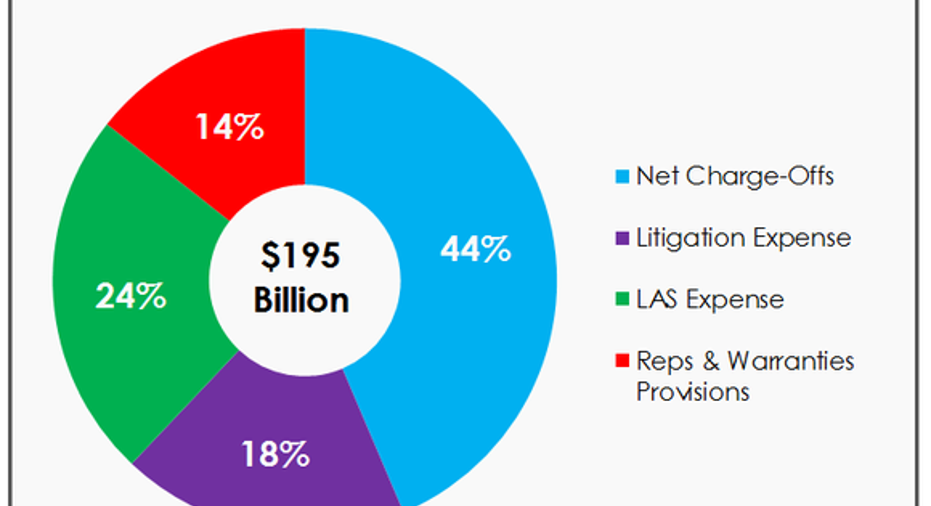 If you spent a day weeding through Bank of America's upcoming quarterly earnings release, you'd probably emerge more perplexed about the bank's performance than you were before starting. Fortunately, you can spare yourself the trouble, because there's only one thing individual investors really need to watch for when Bank of America reports fourth-quarter earnings on Jan. 19: profitability.
Bank of America has struggled to string together successive quarters of respectable profitability ever since the fourth quarter of 2008, the low point of the financial crisis. It's lost money in eight out of the subsequent 28 quarters, equating to losses in one out of every three accounting periods.
This has wreaked havoc on Bank of America's profitability. While a standard, well-run bank will earn 1% or more on its assets each year, the North Carolina-based lender's best annual performance since 2008 was an anemic 0.53% return on assets in 2013. Meanwhile,Wells Fargoand U.S. Bancorpare earning nearly three times that amount on a relative basis, with ROAs of 1.44% and 1.53% in 2014, respectively.
Bank of America's problem, in a nutshell, stems from unprecedentedly high expenses. It's settled tens of billions of dollars' worth of lawsuits, paid tens of billions more to cover legal expenses, written off tens of billions of dollars' worth of toxic credit card and subprime mortgage loans, and, at its peak, employed almost 50,000 full-time workers to service unprofitable toxic and noncore assets stemming from the crisis. Altogether, the bank estimates that the cataclysm has cost it $195 billion in added costs.
Data from Bank of America. Chart by author.
Despite all this, there is light at the end of the tunnel for Bank of America's shareholders. The third quarter of last year marked the first time since the crisis that the $2.2 trillion bank strung together four consecutive quarters of respectable profits, generating a 0.76% ROA over the 12-month stretch. Assuming that it does so again, that will mark the first full year since 2008 that it's been able to do so.
This should translate into a higher capital return come March, when the nation's biggest banks must submit capital proposals for the upcoming year to the Federal Reserve. Bank of America has experienced problems on the Fed's stress tests in three out of the past five years. But that follows less in my opinion from the acumen of its current group of executives, led by CEO Brian Moynihan, and more from the sophomoric temperaments of its former leaders who all but ran the bank into the ground.
If I were an individual investor, in turn, the one number that I'd be watching for when Bank of America reports earnings is whether its fourth-quarter profits finally eclipse the 1% return on assets threshold. To do so, the bank will need to have earned somewhere in the neighborhood of $5.5 billion after-tax.
The article 1 Thing to Watch for When Bank of America Reports Earnings on Jan. 19 originally appeared on Fool.com.
John Maxfield owns shares of Bank of America. The Motley Fool owns shares of and recommends Wells Fargo. The Motley Fool has the following options: short January 2016 $52 puts on Wells Fargo. The Motley Fool recommends Bank of America. Try any of our Foolish newsletter services free for 30 days. We Fools may not all hold the same opinions, but we all believe that considering a diverse range of insights makes us better investors. The Motley Fool has a disclosure policy.
Copyright 1995 - 2016 The Motley Fool, LLC. All rights reserved. The Motley Fool has a disclosure policy.