1 Study Highlights a Bull Case for Apple Stock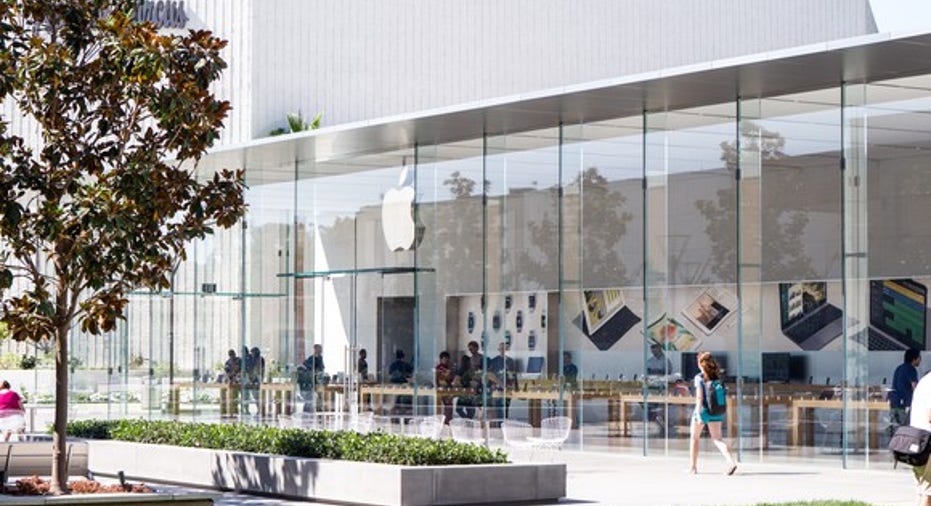 A quick look at Apple's (NASDAQ: AAPL) recent business performance might lead some investors to conclude that Apple stock's low price-to-earnings ratio of just 13.5 is completely justified. After all, both revenue and EPS are down in the trailing 12 months. But some perspective highlighted by a recent Consumer Intelligence Research Partners (CIRP) study shows some reasons for investors to remain bullish on the stock.
Image source: The Motley Fool.
Consumers still love iPhone
With declining iPhone sales during Apple's fiscal 2016 dragging revenue and EPS lower, it might look like Apple products are falling out of popularity with consumers. But this isn't the case. Indeed, Apple has been seeing a high rate of customers switching from Android to iOS, and its newest iPhone is seeing exceptional adoption rates.
These trends are made particularly clear by CIRP's recent research (via 9to5Mac). Consider these two important takeaways from CIRP's study.
1. Android switchers: An impressive 18% of iPhone buyers in the first month of iPhone 7 availability are switching from Android, according to CIRP. While this is worse than a 26% Android switcher rate for the iPhone 6s and 6s Plus, it's still notable, especially considering it's up significantly from the 12% of iPhone buyers switching from Android during the iPhone 6 and 6 Plus launch two years ago.
Apple's own data on iPhone buyers switching from Android confirms the high level of Android switchers observed by CIRP. In Apple's most recent quarterly earnings call, CEO Tim Cook said the company saw more customers switch from Android to iPhone than ever before in 2016.
2. High adoption: If the percentage of customers choosing Apple's September-launched iPhone 7 and 7 Plus over other iPhone models is any indication of how the new phone will fair in the marketplace in fiscal 2017, this could be a good year for the new phone.
"The combined share for the 7 and 7 Plus launch is up slightly from the 71% share for the iPhone 6S and 6S Plus in 2015," said CIRP partner and co-founder Josh Lowitz about the percentage of iPhone buyers buying the newest models during the first month of availability.
With Apple's android switchers and adoption rates still faring well with the company's latest iPhone, it's difficult to argue that the tech giant's devices are falling out of favor in the minds of consumers.
Why Apple's iPhone is key
Apple's ability to attract Android switchers and compel iPhone buyers to upgrade to the company's newest iPhone are very important to an investing thesis in Apple stock for several reasons.
iPhone 7. Image source: Apple.
First, Apple's iPhone accounts for the majority of the company's revenue and profits. At about 60% of revenue and an even larger portion of operating profits, the closest product segment is Apple's services segment, which accounts for about 13.5% of revenue. The iPhone's popularity with consumers, therefore, is critical to Apple's success.
Second, in light of Apple's conservative price-to-earnings ratio of 13.5, a return to growth for Apple's iPhone business could make the stock's price today look like a bargain in retrospect. So, studies showing anoptimistic market response to the latest iPhone help make a case for an outlook for the future Apple's most important product and, subsequently, the stock.
Investors should keep an eye on the rate of iPhone buyers switching from Android and purchasing the latest version. Fortunately, since Apple tends to provide commentary on these trends during earnings calls, investors should be able to get a quarterly update on how the iPhone business is resonating with customers. For now, though, the important product segment is certainly looking good enough to merit the stock's cheap valuation.
10 stocks we like better than Apple When investing geniuses David and Tom Gardner have a stock tip, it can pay to listen. After all, the newsletter they have run for over a decade, Motley Fool Stock Advisor, has tripled the market.*
David and Tom just revealed what they believe are the 10 best stocks for investors to buy right now...and Apple wasn't one of them! That's right -- they think these 10 stocks are even better buys.
Click here to learn about these picks!
*Stock Advisor returns as of November 7, 2016.
Daniel Sparks owns shares of Apple. The Motley Fool owns shares of and recommends Apple. The Motley Fool has the following options: long January 2018 $90 calls on Apple and short January 2018 $95 calls on Apple. Try any of our Foolish newsletter services free for 30 days. We Fools may not all hold the same opinions, but we all believe that considering a diverse range of insights makes us better investors. The Motley Fool has a disclosure policy.