1 Quote That Shows Why Netflix Is So Dominant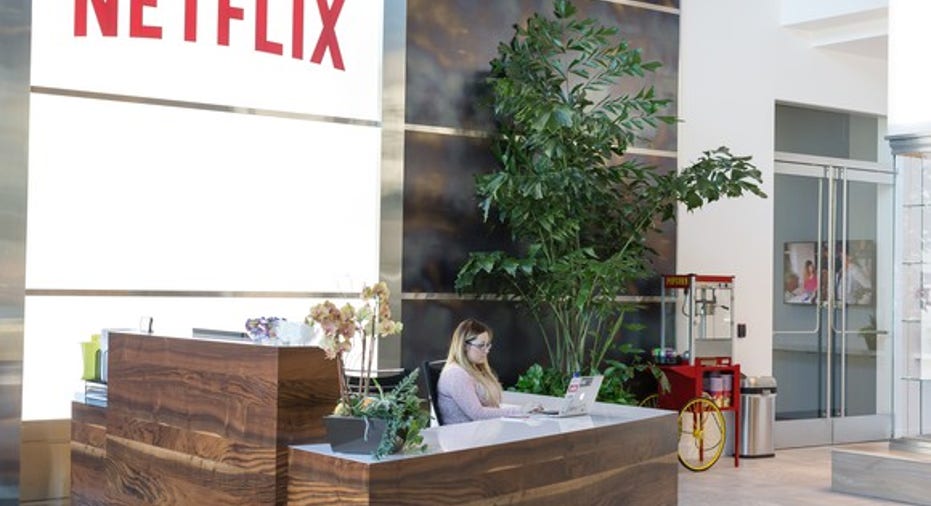 When it comes to home video entertainment, there's Netflix (NASDAQ: NFLX) and then there's everybody else.
Once dismissed as a threat on the level of "the Albanian army" by Time Warner (NYSE: TWX) CEO Jeff Bewkes, Netflix has become the undeniable leader in TV and movies. At a market value of $62 billion, Netflix could soon pass Time Warner ($75 billion), which owns several cable channels including HBO, Cinemax, TNT, TBS, CNN, and TCM, as well as Warner Bros studios.
Netflix is set to top 100 million subscribers globally this year, and with more than 50 million in the U.S., it can claim nearly half of American households as members, far more than any other paid video subscription service.
Image source: Netflix.
As the streaming pioneer, Netflix took a number of risks, including separating its streaming service from its DVD-by-mail business, and going into original programming. Those moves have paid off; the company is set to spend $6 billion on programming this year, much more than any of its rivals, with more than 70 shows set to release.
The company has gotten so big and powerful that traditional cable programmers have begun complaining about Netflix's poaching talent, outbidding them for content, and generally bullying them.
A recent Wall Street Journal article highlighted the many ways Netflix has established market power over its legacy rivals. One entertainment lawyer, Darrell Miller, put it best when he said:
Let's take a look at a few of Netflix's key sources of competitive advantage.
Not beholden to anyone
The biggest competitive advantage the company has is the freedom of operating as a video streamer alone, and one that is accountable only to investors -- not a corporate parent, as traditional programmers are.
Netflix's investors have shown time and again they're willing to put their faith in CEO Reed Hastings and his team. The company's performance has been volatile at times, but the stock has delivered immensely for long-term shareholders.
Unlike competitors such as Twenty-First Century Fox's (NASDAQ: FOX) (NASDAQ: FOXA) FX, CBS's (NYSE: CBS) Showtime, or Time Warner's HBO, Netflix is not under the expectation of delivering profits to its corporate parent. Investors have been content to let the company operate at breakeven as it grows, building out a subscriber base that will later become profitable. The company's free cash flow is on track to be negative $2 billion this year as it invests heavily in original programming. That result would be unacceptable at HBO, for example, but spending like that allows Netflix to outbid competitors and get marquee programming.
Unlike cable channels, Netflix is also not accountable to advertisers or Nielsen ratings, so it can take risks on niche programming like Stranger Things without having to worry about delivering an audience for the show. That gives the company freedom to experiment and to offer more offbeat programming than broadcast or cable networks. It also makes it more attractive for content creators.
Perhaps most importantly, Netflix does not have to worry about time slots the way even premium networks like HBO and Showtime do, and therefore has no artificial cap on the amount of programming it can air. Even with its streaming-only service HBO Now, HBO is still contained by the prime-time TV schedule, as it must air its programming on traditional televisions. That distinction has also given Netflix an advantage with content creators, since they don't have to worry about competing with other programming in the same time slots.
Global audience
Broadcasting rights to movies and TV shows are often sold piecemeal around the globe, but since Netflix operates in nearly every country, the company can leverage its original programming around the globe in a way that many of its competitors cannot. It's also given the company the incentive to make foreign-language programming and other shows designed to appeal to audiences outside of the U.S. As it gets bigger, Netflix will be able to offer more such programming, enticing more subscribers to join the service in a virtuous cycle that continues until Netflix has saturated the market.
The disruptive effect
Video-streaming is slowly replacing traditional broadcast television. Hastings boldly predicted last year that internet TV would increase every year for the next 20 years, while scheduled TV declines over the same period. The advantages of streaming services like Netflix are clear: Users can choose what they want to watch whenever they want, and they can watch on the device of their choosing.
That superiority explains why Netflix continues to gain subscribers while cable providers are losing them. And as that transition continues, Netflix's advantages will only grow, as cable companies' need to placate their traditional constituents becomes even more of an albatross. Improvements in technology and internet infrastructure will also make services like Netflix even more accessible, especially in the developing world.
Netflix is the clear leader in the streaming industry and becomes more entrenched each year. With a bigger budget than its rivals and more creative freedom, Netflix's growth is bound to continue, and its competitive advantages will only get larger.
10 stocks we like better than NetflixWhen investing geniuses David and Tom Gardner have a stock tip, it can pay to listen. After all, the newsletter they have run for over a decade, Motley Fool Stock Advisor, has tripled the market.*
David and Tom just revealed what they believe are the 10 best stocks for investors to buy right now... and Netflix wasn't one of them! That's right -- they think these 10 stocks are even better buys.
Click here to learn about these picks!
*Stock Advisor returns as of February 6, 2017
Jeremy Bowman owns shares of Netflix. The Motley Fool owns shares of and recommends Netflix. The Motley Fool recommends Time Warner. The Motley Fool has a disclosure policy.