1 Question That Intel Corp.'s Bill Holt Left Unanswered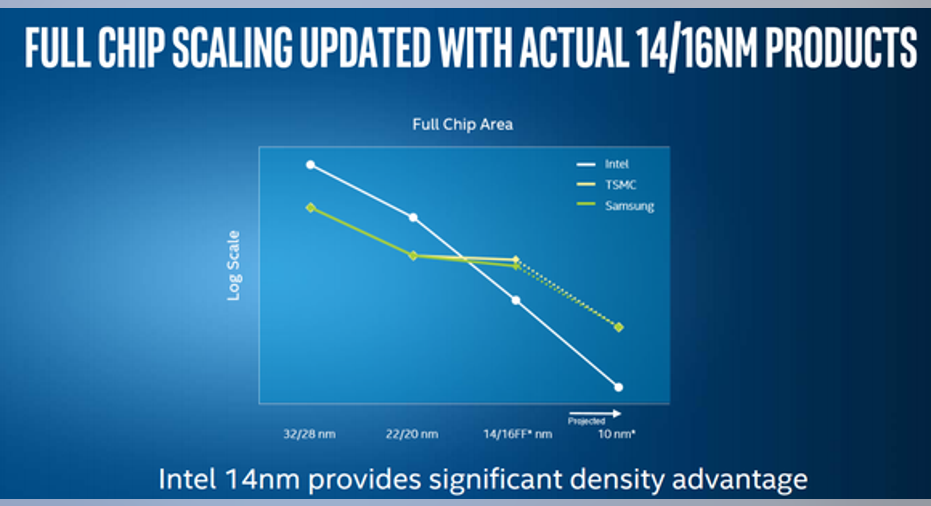 During Intel's most recent investor meeting, the company gave the general manager of Chipzilla's technology and manufacturing group around 30 minutes to present to investors.
The purpose of the presentation was threefold. First, Intel updated investors on its progress in improving the health of its 14-nanometer chip manufacturing technology. Then, the company spent some time discussing the economics of continued chip manufacturing technology advancements (and why Intel will be able to continue to pursue newer, better technologies).
Afterwards, Holt spent a significant amount of time discussing Intel's competitiveness relative to its major competitors in the semiconductor logic foundry space. The key message that he wanted to get across -- unsurprisingly -- is that despite Intel's recent "slips" in ramping advanced manufacturing, it has a solid lead over competitors Taiwan Semiconductor Manufacturing and Samsung .
However, I don't think that Intel really proved this in Holt's presentation. Let me explain.
The thrust of Holt's argumentHolt's argument centered around the relative chip densities that can be enabled in Intel's manufacturing technologies compared to the competition's; it is summarized in the following slide:
Image source: Intel.
Intel claims that its 14-nanometer manufacturing technology offers a significant area advantage over both Taiwan Semi's 16-nanometer and Samsung's 14-nanometer technologies, respectively.
Holt also claims that at the 10-nanometer node, Intel goes ahead and extends its chip area lead over both of the major foundry players.
This slide is all well and good, but it omits a very critical piece of information vis-a-vis Taiwan Semi.
Did somebody say timing?Intel says that the first products built on its 10-nanometer process -- code-named Cannonlake -- will be in the market at some point in the second half of 2017. Intel has not given any further granularity than this.
On the other hand, Taiwan Semi has said that it will begin to see a revenue contribution from 10-nanometer shipments in the fourth quarter of 2016.
It seems that Taiwan Semi will be first to market with its 10-nanometer technology. Additionally, since it is very likely that Apple's A11 chip inside of the iPhone 7s will be built on Taiwan Semi's 10-nanometer process (the only question in my mind is whether this is split with Samsung or not), Taiwan Semi is going to need to start building millions of A11 chips for Apple well before September 2017.
We have no clue when in the second half of 2017 we will see 10-nanometer Intel chips, and whether they will be available in high volumes or as a slow trickle at launch.
Additionally, even if Intel has a big lead against Taiwan Semi's 10-nanometer technology with its own 10-nanometer technology, Taiwan Semi has said that it will begin "risk production" of its 7-nanometer technology in the first quarter of 2017.
If we use the same time delta between Taiwan Semi's 10-nanometer risk production to planned mass production, this puts 7-nanometer mass production start at some point in the first half of 2018 -- just in time for the iPhone 8 that will probably launch in September 2018.
Intel's 7-nanometer technology, on the other hand, likely won't arrive until late 2019 or sometime in 2020.
At the 7-nanometer node, I expect Taiwan Semi to effectively close any density gap with Intel's 10-nanometer node, serving to mostly Intel's lead in density.
Intel's process may be superior in other ways (i.e. transistor performance), but it's far too early for outsiders to make meaningful predictions on this topic at this time.
The unanswered questionAt this point, I feel that Intel has not really made a compelling case as to how it expects to maintain a manufacturing lead over the rest of the industry. The company's executives seem to have completely ignored statements from Taiwan Semi when trying to soothe investor fears that Intel may be losing its manufacturing lead.
In my mind, that's a big red flag.
The article 1 Question That Intel Corp.'s Bill Holt Left Unanswered originally appeared on Fool.com.
Ashraf Eassa owns shares of Intel. The Motley Fool owns shares of and recommends Apple. The Motley Fool recommends Intel. Try any of our Foolish newsletter services free for 30 days. We Fools may not all hold the same opinions, but we all believe that considering a diverse range of insights makes us better investors. The Motley Fool has a disclosure policy.
Copyright 1995 - 2015 The Motley Fool, LLC. All rights reserved. The Motley Fool has a disclosure policy.