1 of America's Best Dividend Stocks Continues Firing on All Cylinders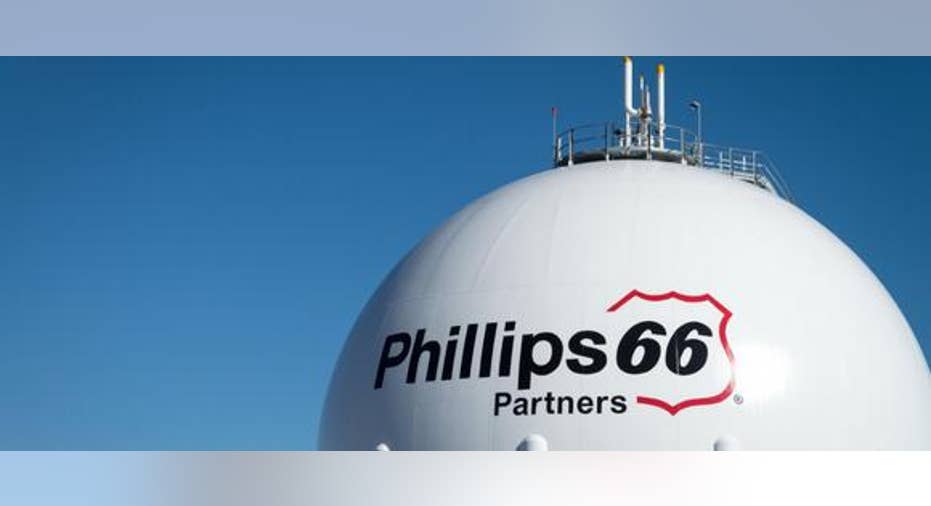 Source: Phillips 66 Partners.
Since its IPO in late 2013, Phillips 66 Partners has rewarded investors with performance that, despite falling 30% from its highs thanks to the oil crash, has thumped both its MLP peers and the overall market.
PSXP Total Return Price data by YCharts
With its latest earnings release, Phillips 66 Partners reveals not only impressive growth in the face of extremely challenging conditions in the energy sector, but also several reasons that dividend investors can probably expect the rest of 2016 to be similarly rosy.
Oil crash hasn't halted growth in the slightest
| Metric | Q1 2016 | Q1 2015 | YOY Change |
| --- | --- | --- | --- |
| Revenue | $121.2 million | $70.1 million | 73% |
| EBITDA | $83.9 million | $46.6 million | 80% |
| Distributable cash flow (DCF) | $64.1 million | $41.9 million | 53% |
| Quarterly distribution | $0.481 | $0.37 | 30% |
| Distribution coverage ratio (DCR) | 1.15 | 1.14 | 1% |
Source: Q1 2016, Q1 2015 earnings releases.
Phillips 66 Partners' latest results show no indication that the oil crash is harming the two metrics dividend growth investors care most about: the quarterly payout, and the coverage ratio.
In fact, according to Chairman and CEO Greg Garland,"We remain on track to achieve our five-year annual distribution growth-rate objective of 30% through 2018."
The impressive growth was a result of the MLP's Q4 2015 acquisition of its sponsor and general partner Phillips 66'sSweeny fractionation and cavern storage assets.
More importantly, dividend growth investors have good reasons to remain optimistic about a continuing sustainable payout growth and likely market-beating returns for many years to come.
Payout profile remains as solid as ever, but ...
Forward yield: 3.6%.
Trailing-12-month DCR: 1.29.
Long-term payout growth forecast: 30%.
Not only does Phillips 66 Partners offer a very respectable yield, but the MLP also has a good track record of covering its payout with DCF that is locked in under long-term, fixed-fee contracts with Phillips 66, America's largest independent refiner. When oil prices crash, refiners often see demand for refined products expanding along with their margins, potentially explaining why Phillips 66 Partners' hasn't fared as badly as some other MLPs.
As to the issue of growth, well, it's hard to find payout growth guidance better than what this MLP is offering. However, always remember that guidance is just an "educated guesstimate" and should never be relied upon as the cornerstone of one's investment thesis. Instead, ask yourself, "Does this company's track record and growth runway make such guidance reasonable?"
Source: Phillips 66 Partners' investor presentation.
In the case of Phillips 66 Partners, the payout track record does indeed give credence to management's optimistic distribution growth guidance. Better yet, management recently announced another major acquisition likely to generate strong growth this year.
On May 4, management announced that it was buying the remaining 75% of the Sweeny Fractionator and cavern storage assets for $775 million. As part of the deal, Phillips 66 Partners is also gaining the Standish pipeline, which transports refined NGL (natural gas liquids) from Phillips 66's Oklahoma refinery to its distribution facility in Wichita, Kan.
Better yet, Phillips 66 is dropping down these midstream assets with volume-committed, fixed-fee 10-year contracts in place, thus ensuring continued DCF and payout growth no matter what energy prices do.
Two risk factors to considerOf course, no stock is without risk, and in the case of Phillips 66 Partners, one such risk is too much debt.
| MLP | Total Debt | Debt/EBITDA (Leverage) Ratio | Average Interest Rate | Return on Invested Capital (ROIC) |
| --- | --- | --- | --- | --- |
| Phillips 66 Partners | $1.303 billion | 3.8 | 3.5% | 17.32% |
| Shell Midstream Partners | $458 million | 2.0 | 1.7% | 59.63% |
| MPLX | $5.154 billion | 4.3 | 1.6% | 2.62% |
| Valero Energy Partners | $546 million | 2.9 | 1.5% | 15.29% |
Sources: Morningstar, GuruFocus, earnings reports, investor presentations.
High debt loads are to be expected in highly capital-intensive industries such as this. However, as seen recently with highly leveraged midstream MLPs such as Kinder Morgan and Williams Partners , too much debt can lead to long-term trouble.
Kinder Morgan's 2015 dividend cut was a result of credit rating agencies' threats to cut its rating to junk status. As for Williams Partners, it chose to maintain its payout and take the credit downgrade to junk, which will make rolling over its enormous debt load much more expensive in the future and could easily force a payout cut in the quarters ahead.
While none of these fast-growing, refiner-sponsored midstream MLPs' balance sheets are as weak as Kinder's or Williams', given their fast growth ambitions that could change in the future.
Also keep in mind that Phillip 66 Partners has higherdebt costs than competitors such asShell Midstream Partners,,MPLX, andValero Energy Partners. Thankfully, Phillips 66 Partners' ROIC is similar to Valero Energy Partners' in that it's high enough to indicate that management is still allocating investor capital wisely.
However, don't forget that Phillips 66 Partners is still too new to ensure that management avoids questionable deals with third parties such as MPLX's recent acquisition of MarkWest Energy Partners. That enormous, debt-laden deal has thus far proved rather painful for MPLX investors.
Bottom lineAfter a great earnings report, and given its sponsor's giant dropdown pipeline of midstream assets, strong coverage ratio, and solid returns on investor capital, Phillips 66 Partners has earned a spot on your dividend growth radar.
The article 1 of America's Best Dividend Stocks Continues Firing on All Cylinders originally appeared on Fool.com.
Adam Galas has no position in any stocks mentioned. The Motley Fool owns shares of and recommends Kinder Morgan. The Motley Fool has the following options: short June 2016 $12 puts on Kinder Morgan. Try any of our Foolish newsletter services free for 30 days. We Fools may not all hold the same opinions, but we all believe that considering a diverse range of insights makes us better investors. The Motley Fool has a disclosure policy.
Copyright 1995 - 2016 The Motley Fool, LLC. All rights reserved. The Motley Fool has a disclosure policy.