1 Number Match Group Inc Investors Should Keep an Eye On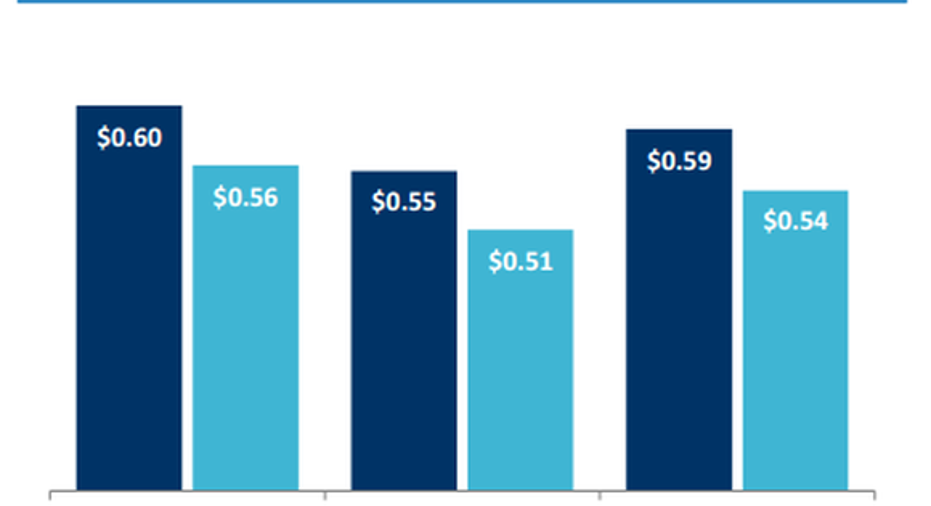 Match Group (NASDAQ: MTCH) stock went public a year ago and had risen 15% as of Dec. 1. However, the going has not been smooth due to ongoing year-over-year declines in one key metric -- the average revenue per paying user, or ARPPU, which in the most recent quarter showed an 8.5% YOY decline.
ARPPU is calculated by dividing revenue by the number of paying users. A lower ARPPU number indicates that paying users are growing at a faster pace than the top line, which means that they are paying a lower amount for services.
As a result of ARPPU weakness, Match started losing value almost immediately after going public and it stayed that way for the first two months after the IPO.The bad news is that the drop inARPPU has continued as the year has progressed, but can Match arrest the slide?
Why is ARPPU declining?
In Match's first quarter as a public company, its ARPPU was down 14% to $0.53. A decline in the ARPPU for a subscription-based service raises a red flag as it indicates that the company is unable to keep monetization strong. However, in Match's case, the reason behind the drop in ARPPU is different.
Match started monetizing its Tinder dating service by charging for a premium level in early 2015. However, as compared to its other properties, Match kept the prices lower for Tinder, charging $9.99 a month for those under 30 and $19.99 a month for those 30 and older. As a result of the lower price point, Match's overall ARPPU dropped in the third quarter, which was reported in early November.
Image source: Match Group.
In the third quarter, Match Group's ARPPU dropped more than 8% on a year-over-year basis, the result of the addition of 284,000 paid members by Tinder in the third quarter, which more than tripled the app's paid member count to over 1.5 million as compared to a year ago.
Tinder's focus on casting a wider net to bring in more users with a low pricing point, as compared to the company's other dating services, is the reason behind the decline in Match Group's ARPPU. But Match can get its ARPPU growth back on track through its Tinder Boost service.
Why the ARPPU could improve
Match added a premium feature to Tinder in October -- Tinder Boost -- that lets Tinder users pay to have their profiles jump the queue and be displayed first in the feeds for 30 minutes. TechCrunch reported that pricing was still being tested, but it was seeing single Boosts costing $1.99 to $3.99. This new feature could prove to be a success for Tinder and for its users as Tinder says a Boost can get you up to 10 times more profile views. If you already pay for Tinder Plus, you get one free Boost per month and Tinder will give users discounts for Boost packages, depending on the number of Boosts bought in a single package.
Given the pace at which Tinder's paid member count is increasing, Boost should prove to be a great add-on for improved revenue generation.
In fact, since a Boost will last for a short time, Tinder can potentially sell a higher number of Boosts as compared to its Plus plan, where the base price is $9.99 a month, while users aged 30 and over pay $19.99 a month.
The lower pricing point for Boost could prove to be a catalyst for the service because it will last for just half an hour. This means that if someone buys 10 Boosts, Tinder will get around $20 for providing just five hours of service, assuming a base price of $1.99 for a single Boost. Tinder can also lure more users into using this feature based on the data that it provides after a Boost is complete.
Image Source: Tinder.
So, in order to get more views or better matches, users might Boost their profiles again. This will bring in more revenue for Match Group and help it accelerate ARPPU. This is because the new feature will be used by existing users, who will now be paying more for using Tinder.
The takeaway
Match Group's ARPPU took a beating last quarter due to the lower price point of a fast-growing product. However, the introduction of Tinder Boost could help Match arrest the recent slide in this metric and pave the way for stronger financial growth.
Harsh Chauhan has no position in any stocks mentioned. The Motley Fool recommends Match Group. Try any of our Foolish newsletter services free for 30 days. We Fools may not all hold the same opinions, but we all believe that considering a diverse range of insights makes us better investors. The Motley Fool has a disclosure policy.