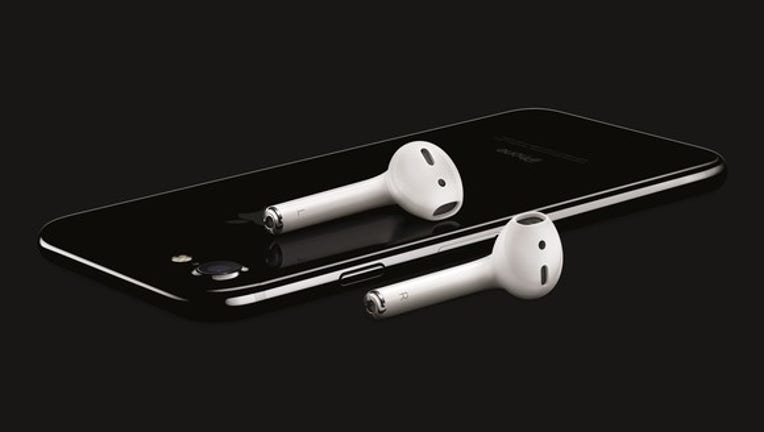 It's no secret that Apple (NASDAQ: AAPL) has hired many display technology experts over the last several years. In fact, a cursory glance at Apple's job boards shows that the company routinely hires display experts with expertise in working on the actual display panels as well as the chips required to drive those displays.
Today, though, Apple still relies on third parties to manufacture those displays and almost certainly depends on those third parties' expertise -- as well as its own technology development and ingenuity -- to get those displays built.
Image source: Apple.
It seems that, going forward, Apple would benefit greatly from bringing more of the display technology development and, indeed, manufacturing in-house. Here's why.
Display tech as a point ofdifferentiation
Apple's closest rival, Samsung (NASDAQOTH: SSNLF), has been fielding smartphones with curved OLED displays for quite some time. The company's most recent flagship phone, the Galaxy S8, includes a full-face, curved OLED display. This display does a lot for the aesthetic of the device, and I wouldn't be surprised if it were the chief reason that Samsung reported much higher S8 pre-orders compared to its prior-generation S7 devices.
It's clear that display technology is a differentiator that can have a serious impact on the aesthetics of a device, and appealing aesthetics can translate into greater sales, pricing power, and market share.
Apple at Samsung's mercy
Later this year, Apple is expected to utilize a full-face OLED display on a premium version of its iPhone (commonly referred to as the iPhone 8), so it won't be too far behind the curve (no pun intended).
The problem, though, is that if Apple is dependent on third parties (especially direct competitors in the smartphone market) for significant display technology support as well as for manufacturing services, it'll have a tough time leading displaycentric smartphone paradigm shifts. It will always appear to consumers that Apple is a fast follower.
Now, if Apple can be a relatively fast follower and differentiate in other areas that matter to customers (particularly things that matter to customers in making purchase decisions), then that's not the worst strategy in the world.
However, given Apple's significant technical prowess and its desire to continue to have a commanding lead in the premium smartphone market, a merely "OK" strategy with respect to a key component of the iPhone (and thus user experience) is distinctly un-Apple.
So, about LuxVue...
Back in the first half of 2014, Apple acquired a company called LuxVue. LuxVue was working on a display technology dubbed micro-LEDs, which promises efficiency and brightness advantages over traditional LCDs (used in the iPhone 7/7 Plus) as well as OLEDs (planned for use in the iPhone 8 and currently used in the Apple Watch).
Rumors point to Apple planning to implement micro-LED-based displays on its third-generation Apple Watch.
I don't know if Apple ultimately plans to deploy micro-LEDs in future iPhone models, but what's interesting about its reported micro-LED plans is that the technology will have seemingly been developed almost entirely in-house by Apple rather than by (or in conjunction with) third-party display technology companies.
If Apple can completely own the technology and possibly the manufacturing for future iPhones and iPads, then this would allow it to innovate at its own pace -- one that's potentially quicker than the rest of the industry -- rather than be forced to be a fast follower to Samsung and potentially others.
10 stocks we like better than AppleWhen investing geniuses David and Tom Gardner have a stock tip, it can pay to listen. After all, the newsletter they have run for over a decade, Motley Fool Stock Advisor, has tripled the market.*
David and Tom just revealed what they believe are the 10 best stocks for investors to buy right now... and Apple wasn't one of them! That's right -- they think these 10 stocks are even better buys.
Click here to learn about these picks!
*Stock Advisor returns as of April 3, 2017
Ashraf Eassa has no position in any stocks mentioned. The Motley Fool owns shares of and recommends Apple. The Motley Fool has a disclosure policy.