1 More Sign That Apple Inc.s New MacBook Pro Computers Are a Huge Hit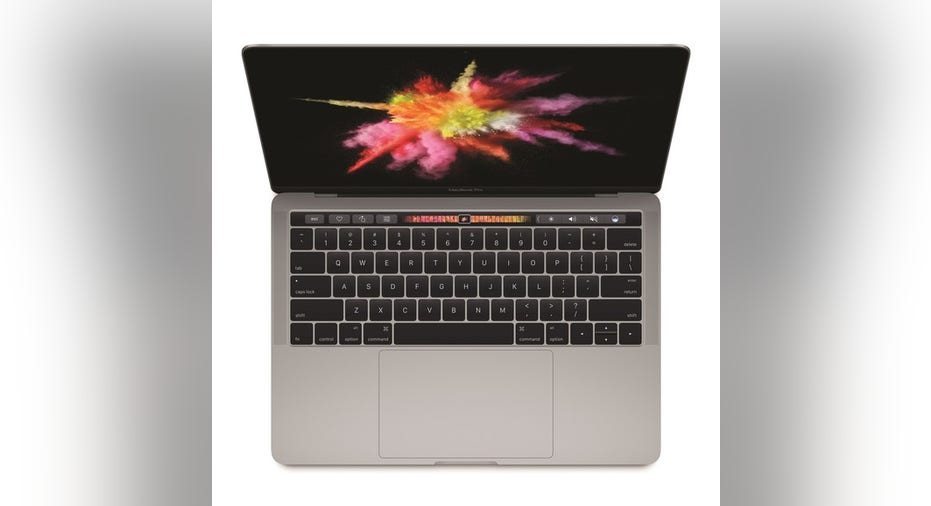 Back in October of 2016, Apple (NASDAQ: AAPL) released much-needed refreshes of its MacBook Pro product line. Thanks to the launch of these new systems, Apple broke the long losing streak that its Mac business had been seeing, and reported 1.1% year-over-year Mac unit growth, as well as roughly 7% Mac revenue growth in its most recent quarter, implying a boost in Mac average selling prices.
Although the numbers clearly speak for themselves, there's one more bit of information that Apple disclosed on its most recent earnings call that points to positive customer reception of the company's new MacBook Pro systems.
Apple's newest MacBook Pro. Image source: Apple.
Supply constraints curbed growth
Apple CEO Tim Cook said that that Apple was "supply constrained for the new MacBook Pro throughout the December quarter and is just now coming into supply/demand balance" for the systems.
Additionally, CFO Luca Maestri offered some commentary about the company's Mac channel inventory dynamics, saying that the company "ended the quarter at the low end of [Apple's] four to five week target range for Mac channel inventory."
Apple sells many different Mac products besides the MacBook Pro with Touch Bar -- including the older discounted MacBook Pro models, MacBook Air, 12-inch MacBook, and iMac -- so even though Apple apparently ended the quarter within its target channel inventory range, channel inventory levels of the new MacBook Pro systems may have been at lower levels.
What's next for the Mac?
Apple has a reasonable shot of continuing to outperform the broader personal computer market again, especially if it gets back to putting out new/refreshed systems at a regular pace.
Next up, I expect Apple to refresh its desktop systems. The ones that Apple currently has for sale are now a generation behind in processor technology, so at the very least, the company ought to offer models with the latest chips.
The performance boost from the new chips won't be earth-shattering -- generation-on-generation improvements in personal-computer performance are hardly dramatic these days -- but it's easier to market systems with the latest processors than it is to try to market ones with previous-generation processors, especially when the competition has moved to the newer ones.
I also expect Apple to refresh the 12-inch MacBook system soon. The current models use older processors, so at the very least, a processor upgrade is in order. Once again, this is not the sort of thing that's going to be fundamentally game changing, but a better, faster system should be easier to sell.
After those systems are updated, I expect Apple to go back and update the MacBook Pro lineup again. I don't expect significant changes like the ones the company brought with the ones launched back in October 2016, but improved processor technology, and perhaps a larger battery, could make for a "good enough" upgrade.
Apple doesn't need to deliver "revolutionary" Mac products to the market to do reasonably well -- the company's brand power, its reputation for excellent customer support, and perhaps even the strength of macOS relative to Windows, to some potential buyers should be enough to allow the company to at least perform with the market, if not steadily gain share.
However, as we saw in the last year, if Apple doesn't regularly refresh its product line, keeping it stale in an already muted personal-computer market, then there will be less incentive for current Mac owners to upgrade, and it will become harder to convince Windows users to switch over.
For the sake of Apple's Mac business, let's hope that the company has plans for annual product refreshes to keep things interesting.
Offer from the Motley Fool: The 10 best stocks to buy now
Motley Fool co-founders Tom and David Gardner have spent more than a decade beating the market. In fact, the newsletter they run, Motley Fool Stock Advisor, has tripled the S&P 500!*
Tom and David just revealed their ten top stock picks for investors to buy right now.
Click here to get access to the full list!
*Stock Advisor returns as of 1/30/2017
Ashraf Eassa has no position in any stocks mentioned. The Motley Fool owns shares of and recommends Apple. The Motley Fool has the following options: long January 2018 $90 calls on Apple and short January 2018 $95 calls on Apple. The Motley Fool has a disclosure policy.