1 More Headache Coming for U.S. Legacy Airlines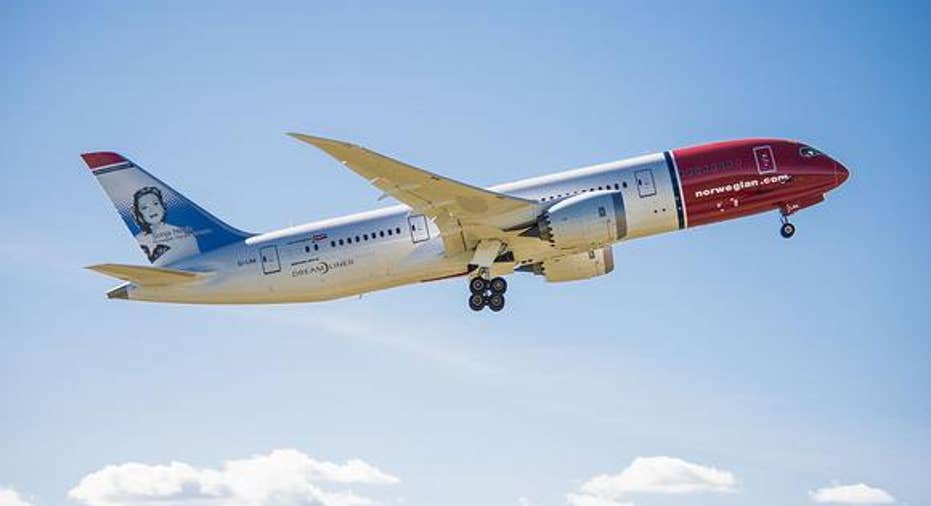 Since early 2015, unit revenue has declined steadily at the three biggest U.S. airlines: American Airlines , Delta Air Lines , and United Continental . Unit revenue trends have been particularly weak on international routes, due to factors like the strong dollar and persistent overcapacity.
Now the three legacy carriers have one more headache to look forward to in the key transatlantic market. Earlier this month, the U.S. Department of Transportation tentatively approved Norwegian Air Shuttle's plan to operate long-haul flights to the U.S. using an Irish subsidiary. This paves the way for further expansion by this disruptive budget carrier.
Norwegian shakes up transatlantic flyingNorwegian began flying to the U.S. in 2013 on a new long-haul fleet made up of Boeing 787 Dreamliners. Since then, it has made waves by offering extremely cheap fares on routes that hadn't had much competition previously.
Norwegian offers cheap fares on U.S.-Europe flights. Image source: Norwegian Air Shuttle.
For example, Norwegian was offering one-way fares from New York to London for as little as $255 even before fuel prices plummeted. That was less than half the price of the cheapest one-way ticket offered by any of its competitors.
Today, Norwegian operates 10 Dreamliners, so its market share for transatlantic flights remains quite low. However, it is contributing to overcapacity in that market, which has been noted by both Delta Air Lines and United Continental during their earnings calls this month.
Incumbents protest Norwegian's strategyTo help expand its presence in the U.S., Norwegian has wanted to use a long-haul subsidiary set up in Ireland. This proposal has elicited strong objections from Delta, American, and United, as well as their labor unions.
The legacy carriers and their unions allege that Norwegian Air Shuttle only wants to incorporate in Ireland in order to skirt U.S. and Norwegian labor laws. They have pointed to Norwegian's use of contractors hired through a Singapore employment agency rather than full-time employees and its plans to base flight crews in Thailand. (Norwegian has since promised to base its flight crews in Europe.)
Norwegian does pay less than the U.S. legacy carriers. However, the goal of its Irish subsidiary wasn't so much to outsource labor to a low-cost country as to avoid being stuck in a high-cost country. (Norway's per-capita GDP has been nearly double that of the U.S. in recent years, though the sharp drop in oil prices since 2014 has narrowed the gap.)
Norwegian's cost advantage is mainly driven by high utilization of its Boeing 787 fleet, fitting more passengers onto each plane, and the superior fuel efficiency of the Dreamliner. Labor costs are a much smaller part of the equation.
Norwegian fits more seats on its 787s than rivals like United Airlines. Image source: The Motley Fool.
Bad news for U.S. airlines, but great news for BoeingIn any case, the U.S. government didn't find any legal justification for blocking Norwegian from using its Irish subsidiary. As a result, American, Delta, and United are going to have to find a way to compete with Norwegian's cheap fares.
Indeed, there's a lot more competition coming. Norwegian Air ordered 19 787-9s from Boeing last October. It has also agreed to Dreamliner deals with various aircraft leasing firms. In total, it currently plans to quadruple its long-haul fleet to 40 Dreamliners by 2020.
After the DOT announced its tentative approval for Norwegian's Irish long-haul subsidiary, Norwegian CEO Bjorn Kjos stated that the company may exercise options for another 10 787-9s.
These planes won't all be deployed on routes to the U.S. -- Norwegian is also looking at flying to places like Canada, South America, and South Africa. But the massive fleet expansion will inevitably put steady upward pressure on transatlantic capacity, forcing the legacy carriers to either fight back with lower fares or cut their own capacity.
Norwegian's expansion isn't all bad news for U.S. business, though. Norweigan is quickly becoming one of the biggest fans of Boeing's Dreamliner. Many analysts have been worried about demand for Boeing's widebody planes like the 787. If Norwegian keeps growing rapidly beyond 2020, there could be a lot more orders coming for Boeing.
The article 1 More Headache Coming for U.S. Legacy Airlines originally appeared on Fool.com.
Adam Levine-Weinberg owns shares of The Boeing Company and United Continental Holdings, and is long January 2017 $40 calls on Delta Air Lines, and long January 2017 $30 calls on American Airlines Group. The Motley Fool is long January 2017 $35 calls on American Airlines Group. Try any of our Foolish newsletter services free for 30 days. We Fools may not all hold the same opinions, but we all believe that considering a diverse range of insights makes us better investors. The Motley Fool has a disclosure policy.
Copyright 1995 - 2016 The Motley Fool, LLC. All rights reserved. The Motley Fool has a disclosure policy.