1 Metric to Watch in Fitbit's Q4 Earnings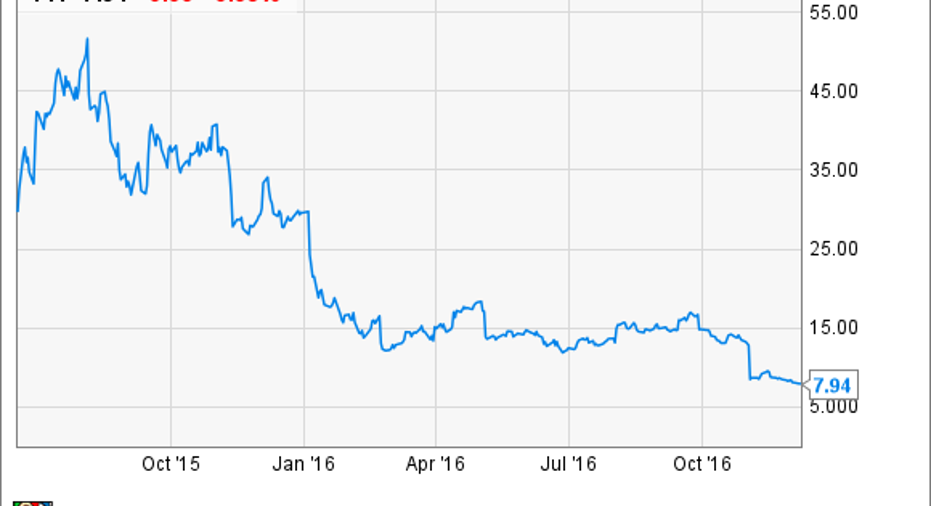 Image source: Fitbit Inc.
Fitbit's(NYSE: FIT)stock has been crushed this year as investors worry about the company's ability to maintain growth amid increasing competition. Much-cheaper health trackers are now available, and smartwatches, like Apple's (NASDAQ: AAPL) new Apple Watch 2, are becoming more robust. In the coming quarter and through 2017, there's one metric in particular that will be important to watch to fully understand Fitbit's future opportunity, and how the fitness-device maker might use its market-leading position to expand in new ways.
Fitbit's bleak year
Fitbit's stock has been volatile since the company went public in June 2015, but 2016 has been an especially bleak year, with the stockfalling 73% year to date to its historic low below $8. Fitbit faces various difficulties, but one of the most concerning is that sales growth has slowed from over 200% year over year in the second quarter of 2015 to just 23% year over year in the most recent quarter. Even more alarming is that the company guided for a soft Q4, which Wall Street was hoping would include strong holiday sales, but Fitbit expects them to be light.
What to watch for in the Q4 earnings
When Fitbit announces its Q4 earnings, the active user count will be one metric to watch to get a better grasp of what the company's future holds. Fitbit's active users grew from 6.7 million in 2014 to 16.9 million in 2015. When the company reports its next full-year earnings, if that number has risen substantially again, regardless of what sales results look like, it would be a good sign for Fitbit's ability to transition to a more services-oriented company.
"If we just look at one stat alone for Q3, steps walked, which is a measure of activity by our community, this has grown by more than 50% on a year-over-year basis," said Fitbit CEO James Park in the Q3 earnings call. One way an increase in number of active users could lead to growth is by allowing Fitbit to increase its network effect, or the value of scale when a platform with a high number users attracts others to choose it over competing platforms for convenience and compatibility's sake.
Remember that Fitbit is still the industry leader in wearables, and according to the most recent numbers from market researcher IDC, released Dec. 3, its lead actually grew slightly from the year-ago period. Fitbit believes that, as "one of the largest fitness social networks," it will be able to turn its community into future growth opportunities.
Fitbit's growth in the healthcare industryis evidence that the company can be successful in this strategy. Various insurance companies are giving a discount to employees who meet certain activity goals throughout the month. "Employers have a direct vested interest in improving the health and fitness of their employees," says Park, adding that wellness programs that offer wearable devices increase employee participation from 20% to between 60% and 70%, and that employees who opted into a Fitbit corporate wellness program incurred $1,300 less per person, on average, in annual healthcare costs. Various corporate partners are jumping on board, too. Recently, Fitbit announced a new partnership with Medtronic (NYSE: MDT)to make a platform to help manage care for diabetes patients.
Image source: Fitbit
Where Fitbit could go from here
Fitbit has challenges in front of it, some of which could be detrimental to the company's future growth. Doubts about the accuracy of Fitbit monitors could derail their use in the healthcare industry, as well as curb their appeal to more serious fitness enthusiasts.An October report by HealthDay showed that, after conducting various tests, heart and vascular researchers at theCleveland Clinic found the devices to be fairly inaccurate, though Fitbit denied the results.
There's also the increasing competition. Apple's newest watch didn't deliver a huge blow to Fitbit's sales growth in the most recent IDC numbers, though the more fitness-focused Apple Watch 2 was only available for part of Q3. Competition on the platform side fromUnder Armour(NYSE: UAA)(NYSE: UA) is also a threat, as Under Armour's suite of fitness apps, such as MapMyFitness and MyFitnessPal, hosts the world's largest fitness community, with more than 190 million users.
The model of continuing to make new wearables that are each only incrementally better does not seem very sustainable for driving long-term sales growth.However, Fitbit still has the largest wearables community by a growing margin, and so long as its active user count continues to grow, the company could useits network effect to grow in meaningful new service-oriented ways in 2017 and the years ahead.
10 stocks we like better than Fitbit When investing geniuses David and Tom Gardner have a stock tip, it can pay to listen. After all, the newsletter they have run for over a decade, Motley Fool Stock Advisor, has tripled the market.*
David and Tom just revealed what they believe are the 10 best stocks for investors to buy right now... and Fitbit wasn't one of them! That's right -- they think these 10 stocks are even better buys.
Click here to learn about these picks!
*Stock Advisor returns as of Nov. 7, 2016
Seth McNew owns shares of Apple and Under Armour (C Shares). The Motley Fool owns shares of and recommends Apple, Fitbit, Under Armour (A Shares), and Under Armour (C Shares). The Motley Fool owns shares of Medtronic and has the following options: long January 2018 $90 calls on Apple and short January 2018 $95 calls on Apple. Try any of our Foolish newsletter services free for 30 days. We Fools may not all hold the same opinions, but we all believe that considering a diverse range of insights makes us better investors. The Motley Fool has a disclosure policy.