1 Major Flaw With Twitter's Live Video Strategy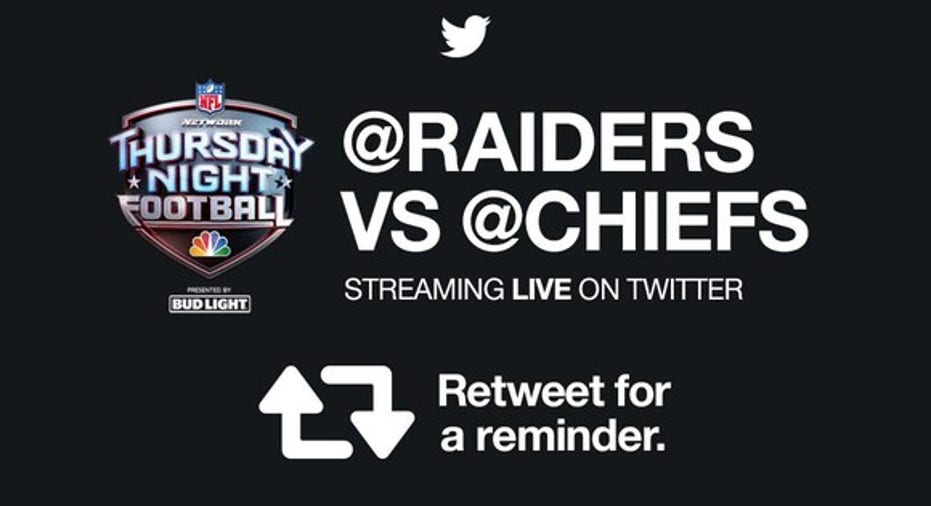 Twitter (NYSE: TWTR) managed to increase the number of monthly active users on its platform to 317 million during the third quarter, an increase of about 3% year over year. The company has struggled to grow its stagnating user base over the past couple of years, so any progress at all is good news.
Twitter's big plan to accelerate growth going forward is a push into live video. The company secured rights to 10 Thursday night NFL games, most of which have now aired. The first game, which aired in September, garnered an average audience of 243,000 viewers. About 2.1 million people watched the stream for at least three seconds.
Image source: Twitter.
Twitter is working to secure more high-quality video content, landing deals with Major League Baseball, the NBA, the NHL, Wimbledon, and CBS News earlier this year. The presidential debates were also streamed live on Twitter, with the final two debates reaching 3.3 million unique viewers on average. The second debate drove users to produce 16 million Tweets.
Live video content does two things for Twitter. First, it allows the company to sell ads. Twitter reportedly offered ad packages for all 10 NFL games ranging from $1 million to $8 million. The company hasn't disclosed how much revenue the deal has brought in, but it did say that ad performance has been strong.
Second, it gives people a reason to use Twitter. In Twitter's third-quarter letter to shareholders, the company pointed out that its lightest users, those who use the platform the least, spent more time on average watching the NFL games than its heavier users. This suggests that, at the very least, this content is getting users' attention.
A fatal flaw
There's one major problem with Twitter's live video strategy. While live video streams are attracting viewers, Twitter desperately needs users who use the platform every day. If a user watches something on Twitter, shoots off a Tweet or two, and then doesn't come back the next day, that's not a great result for the company. It allows Twitter to generate ad revenue from the stream itself, but it doesn't create the kind of user that Twitter needs to emerge from its ongoing malaise.
Unfortunately, Twitter only reports monthly active users, which is the number of users who logged into Twitter at least once during a 30-day period. This metric doesn't give investors a good idea of whether this live video content is actually driving up the number of engaged users. Someone who logs into Twitter once to watch a few minutes of an NFL game and then leaves is counted as a monthly active user.
Daily active users would be a more useful metric, but Twitter doesn't disclose that information. The company did say that daily active usage grew by 7% year over year during the third quarter, but it's difficult to parse what that actually means in terms of users.
Content, especially live sports content, is expensive. The big question is whether Twitter spending millions of dollars securing streaming rights to sporting events will produce enough frequent users and generate enough additional revenue to justify the expense.
Twitter's live video strategy seems to be based on the idea that, if only people knew how great Twitter was, they'd use it every day. Content like the NFL games are meant to bring new and infrequent users onto the platform, with the hope that they'll stick around and make that realization. But Twitter doesn't have an awareness problem. According to Statista, 87% of the U.S. population above the age of 12 know about Twitter. That percentage has been roughly flat since 2010.
Twitter's main problem, I think, is that there's just no compelling reason for most people to bother. Live video content may prove popular, but it doesn't make the platform any more compelling for people who have already decided that Twitter's not for them. Monthly active users may be driven up by Twitter's live video push, but I'm not convinced this is the solution to the company's problems.
10 stocks we like better than Twitter When investing geniuses David and Tom Gardner have a stock tip, it can pay to listen. After all, the newsletter they have run for over a decade, Motley Fool Stock Advisor, has tripled the market.*
David and Tom just revealed what they believe are the 10 best stocks for investors to buy right now... and Twitter wasn't one of them! That's right -- they think these 10 stocks are even better buys.
Click here to learn about these picks!
*Stock Advisor returns as of Nov. 7, 2016
Timothy Green has no position in any stocks mentioned. The Motley Fool owns shares of and recommends Twitter. Try any of our Foolish newsletter services free for 30 days. We Fools may not all hold the same opinions, but we all believe that considering a diverse range of insights makes us better investors. The Motley Fool has a disclosure policy.