1 Dividend Stock That Could Double Your Money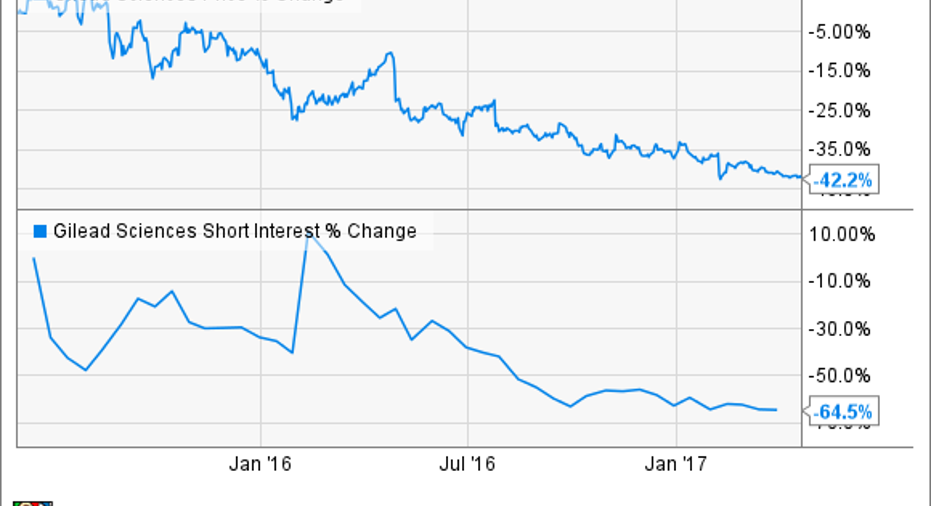 Dividend stocks are known for their ability to produce eye-popping gains over long periods of time (10-plus years or more), but not so much for quantum leaps in value in as little as 12 months or so.The blue chip biotech Gilead Sciences (NASDAQ: GILD), though, may have the ingredients necessary to pull off just such a feat.
The long and short of it is that Gilead's stock has gotten blasted over the past two years because of falling hepatitis C drug sales, combined with concerns that its HIV franchise may also be negatively impacted by the introduction of generics soon. Compounding matters, Gilead has been unable to grow its fledgling oncology franchise into a major source of revenue due to both pipeline setbacks and management's reluctance to simply buy a revenue-generating peer.
Image source: Getty Images.
The weird and perhaps encouraging part of the story, however, is that short-sellers have been steadily backing off as Gilead's stock has headed ever southward:
That's not an entirely normal situation, and it arguably implies that even the most bearish of investors are starting to think that Gilead's stock could be setting up for a sizable reversal soon. So, with this trend in mind, let's consider what Gilead needs to do to turn things around, and whether this beaten-down dividend stock really could recapture its former glory by perhaps doubling in value over the next year.
The one not-so-secret condition for a reversal
Gilead's biggest need from a valuation standpoint is arguably a third source of revenue outside of HIV and hepatitis C. The good news is that management did strike an attractive deal with Galapagos NVin late 2015 for the experimental anti-inflammatory drug filgotinib that's currently in late-stage trials for rheumatoid arthritis,Crohn's disease, and ulcerative colitis.
The downside, though, is thatfilgotinib appears to be at least five years away from reaching the market, and it will probably face extremely stiff competition from similar drugs upon doing so. After all, AbbVie, Incyte, andEli Lilly, among others, are all in the hunt for the next megablockbusterrheumatoid arthritis medication.In fact, AbbVie broke off its developmental deal withGalapagos forfilgotinib in favor of its own drug,ABT-494, back in 2015 -- perhaps implying that ABT-494 may have a better chance at becoming the standard of care for this high-value set of inflammatory conditions.
The point is thatfilgotinib is not going to be Gilead's saving grace anytime soon, if ever.Unfortunately, a similar set of problems also faces Gilead's nascent attempt at building anon-alcoholic steatohepatitis(NASH) franchise.
Suffice to say, Gilead's pipeline, as currently constructed, lacks the ability to push the company beyond its troubles in HIV and hepatitis C in the near term.That means that Gilead must open its war chest of over $30 billion sometime soon to make a splash on the M&A scene -- and that's not exactly a secret at this point.
When Gilead does -- and short-sellers appear to be bracing for thiseventuality -- the stock should get a nice lift. The company does have a stellar track record when it comes to M&A, and management has been patient, almost to a fault, in search of the right deal. And, the right deal that changes the sentiment around this beaten-down dividend stock could send Gilead's shares back up to their former highs -- highs that are now close to a near double from current levels.
Take-home message
Gilead's stock is suffering from an image problem to a large degree, and deservedly so. After all, the company hasn't gotten ahead of its hepatitis C woes, and now the potential threat of generics to its HIV revenue is looming large in the picture. Nevertheless, Gilead does have the financial firepower to reverse this trend in a heartbeat by acquiring either a large biotech peer or several smaller companies. And until then, investors can comfortably sit back and collect this biotech's juicy 3.1% yield.
10 stocks we like better than Gilead SciencesWhen investing geniuses David and Tom Gardner have a stock tip, it can pay to listen. After all, the newsletter they have run for over a decade, Motley Fool Stock Advisor, has tripled the market.*
David and Tom just revealed what they believe are the 10 best stocks for investors to buy right now... and Gilead Sciences wasn't one of them! That's right -- they think these 10 stocks are even better buys.
Click here to learn about these picks!
*Stock Advisor returns as of April 3, 2017
George Budwell has no position in any stocks mentioned. The Motley Fool owns shares of and recommends Gilead Sciences. The Motley Fool has the following options: short June 2017 $70 calls on Gilead Sciences. The Motley Fool has a disclosure policy.