1 Chart That Shows What Age Retirees Claim Social Security Benefits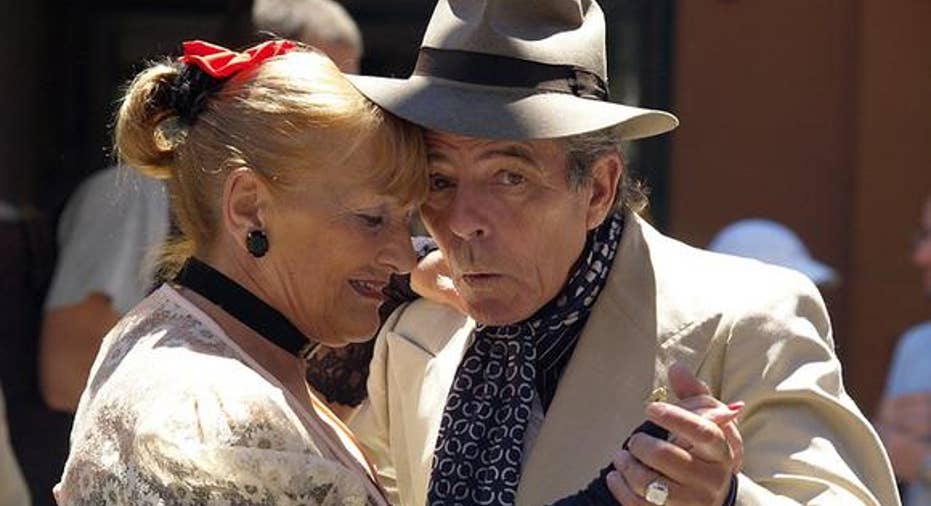 Image source: Pixabay.
Americans have a lot to think about when entering their golden years, but nothing may be as important as deciding when to file for Social Security benefits.
The Social Security program is designed to provide a financial foundation for America's lower-income retirees, but it's proven fairly complicated and difficult for most Americans to understand. For instance, in 2015 MassMutual Financial conducted a survey of 1,513 people across the U.S., asking pretty basic true or false questions about the Social Security program. Just 28% of Americans would have received a passing grade of seven correct answers or better. What's more, just one of the 1,513 respondents answered all 10 basic Social Security questions correctly.
Despite this lack of Social Security education, the program remains the foundation of many retiree households. Though the Social Security Administration suggests that benefits are designed to replace about 40% of working wages, a survey of baby boomers by AARP last September shows that roughly half (51%) are expected to rely on Social Security income to provide 41% to 100% of their income in retirement. Nearly a quarter (23%) expect it to provide 71% to 100% of their income in their golden years.
Three ways your retirement benefit may be altered Ultimately, three big choices will help determine what you'll receive in Social Security benefits throughout your retirement -- and one is beyond your control.
First, your benefit is based on the average of your highest-earning 35 years of work. It's therefore in your best benefit to work a full 35 years, or beyond, in order to boost your earnings average and benefit as much as possible.
Second, the federal government could have some say. The Old-Age, Survivors and Disability Insurance Trust is estimated by the Board of Trustees to exhaust its cash reserves by 2035, mainly on account of baby boomers retiring in greater numbers and people living longer than ever. Both factors mean the program isn't bringing in enough revenue to sustain benefit payments at their current pace past 2035. The solution to this problem might be to increase payroll taxes, or it could include some level of benefit cuts. Retirees need to be aware that this cash exhaustion event horizon is probably less than 20 years away and that their lifetime benefit may be affected.
The Social Security retirement benefit schedule for people born between 1943 and 1954. Chart by author. Data source: Social Security Administration.
Finally, retirees can affect their monthly payment based on when they choose to file for benefits. Retired workers are eligible to file for benefits as early as age 62; however, the longer they wait to file, the higher their eventual payment will be. Benefits grow incrementally on a monthly basis and at a rate of about 8% per year. In the chart above, which is designed around a retiree born between 1943 and 1954 with a full retirement age (FRA) of 66 years, you can see how monthly benefits increase from 75% of their FRA benefit at age 62 all the way to 132% of their FRA benefit by age 70.
Here's when retirees are filing for Social Security benefitsBased on the benefit schedule above, it would appear to be in retirees' best interests to wait as long as possible before claiming benefits. But SSA data from 2013 that was analyzed by the Center for Retirement Research at Boston College shows the claiming trend to be nearly opposite.
Chart by author. Data source: Centers for Retirement Research at Boston College via Social Security Administration. Data is from 2013.
As you can see from the chart above, almost half of all women (48%) and more than two in five men (42%) file for Social Security benefits when they're age 62. An additional 8% of women and 7% of men claim benefits at age 63, and another 8% of women and 7% of men do the same at age 64. Put in another context, practically two-thirds of women (64%) and well over half of men (56%) file for benefits before they reach their FRA. Your FRA is determined by your birth year and ranges between 65 and 67 years. You can find your unique FRA by referencing this SSA table.
Why are women claiming benefits so early? The likely reason behind this trend is choice. Because women tend to work fewer years than their male counterparts, they often have lower average monthly Social Security benefits. However, women have longer life expectancies than men, meaning if women claim early and happen to outlive their husband, they'll have the opportunity to choose the higher payment between their own benefits and a survivor benefit attached to their husband's work history.
You'll note that FRA is another point where benefit claims surge. About a third of men (34%) and more than a quarter of women (27%) file for benefits during ages 65 or 66 (depending on when they were born and hit their FRA). Aside from being entitled to 100% of your Social Security benefit, waiting until you reach FRA also allows you to avoid the hassle of having benefits withheld if you earn over certain income thresholds.
For example, if you file for benefits prior to your FRA and earn more than $15,720 in 2016, you'll have $1 in benefits withheld for each $2 in earned income over $15,720. If you'll reach FRA in 2016, the SSA withholds $1 in benefits for each $3 in earned income above and beyond $41,880 prior to the month you turn 66. The advantage of waiting until FRA is that no benefits are withheld.
Finally, we can see that just 10% of women and 9% of men wait to file for benefits between ages 67 and 70, including just 4% of women and 2% of men who maximize their benefits at age 70. Waiting longer can be a smart move if you expect to live into your 80s or 90s, but without a crystal ball, waiting can, in itself, be a gamble.
The claiming trend is shiftingIn addition to analyzing when retirees are claiming benefits, the Center for Retirement Research also examined how these filing claims have adjusted between 1985 and 2010.
Chart by author. Data source: Centers for Retirement Research at Boston College via Social Security Administration.
As you can see above, we're seeing a genuine shift, in percentage terms, to retirees waiting longer to file for benefits. The average retirement age has increased by about two years over the past 25 years, and this shift likely has to do with a handful of factors.
Firstly, improving life expectancies are probably pushing out benefit filings. In other words, people understand that waiting longer to claim is in their best interests if they expect to live into their 80s or beyond because their cumulative lifetime benefits received will be higher than if they'd filed for benefits as early as possible.
Secondly, the FRA is a dynamic figure that's on the move higher. For instance, people born between 1955 and 1959 will witness their FRA rise by 2 months in each successive year until 1960 when it tops out at 67 years. As FRAs rise, we'd expect retirees to wait longer to claim benefits.
The third component is that we're also seeing seniors work well into their golden years. Working longer (if you can) is a particularly smart move for baby boomers entering retirement with an insufficient nest egg. Wages from work allow seniors to cover their basic expenses all while their Social Security benefit continues to grow.
Put in context, we're still liable to see a third or more of retirees claim benefits at age 62 in 2016, but this shift toward claiming benefits at a later age is expected to continue.
The article 1 Chart That Shows What Age Retirees Claim Social Security Benefits originally appeared on Fool.com.
Sean Williamshas no material interest in any companies mentioned in this article. You can follow him on CAPS under the screen nameTMFUltraLong, track every pick he makes under the screen name TrackUltraLong, and check him out on Twitter, where he goes by the handle@TMFUltraLong.The Motley Fool has no position in any of the stocks mentioned. Try any of our Foolish newsletter servicesfree for 30 days. We Fools may not all hold the same opinions, but we all believe thatconsidering a diverse range of insightsmakes us better investors. The Motley Fool has adisclosure policy.
Copyright 1995 - 2016 The Motley Fool, LLC. All rights reserved. The Motley Fool has a disclosure policy.