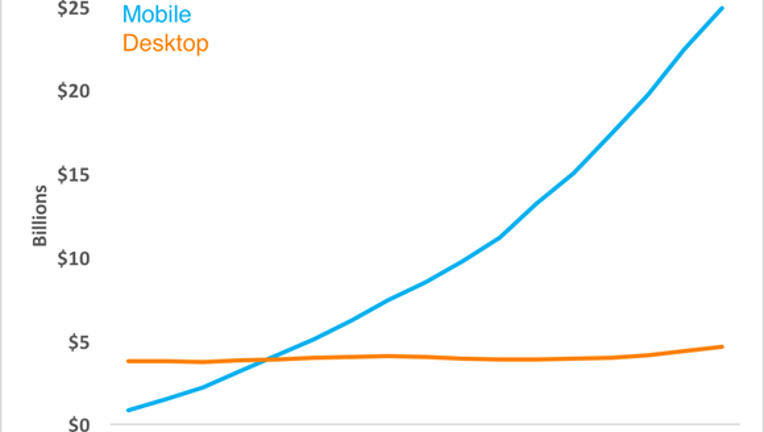 Facebook's (NASDAQ: FB) ongoing success with growing its mobile ad business is well-documented, as is the early skepticism about the company's ability to pull off such a transition.
The social network reported first-quarter results yesterday, and Facebook continues to execute extremely well on the mobile front. Total revenue jumped 49% to $8 billion, of which $7.9 billion came from advertising. There are now nearly 2 billion people that use Facebook on a monthly basis, and almost 1.3 billion that use it every day. Mobile ads represented 85% of all ad revenue, slightly higher than 82% a year ago.
Facebook News Feed on desktop and mobile. Image source: Facebook.
Show me the money
Facebook has made steady progress with increasing the proportion of ads that come from its mobile platform over the past five years, starting at a mere 3% in Q2 2012. However, that rising percentage is coupled with a growing top line, and as a result, mobile ad revenue is soaring in dollar terms. We can also use the inverse of that percentage to see how much ad revenue Facebook is bringing in from traditional desktop ads. With these figures in hand, we can derive both mobile and desktop ad revenue in dollar terms, and then to get a broader view, look at both segments on a trailing-12-month (TTM) basis.
The result is nothing short of breathtaking.
Data source: SEC filings. Chart by author.
The desktop ad platform has mostly held steady, fluctuating around $4 billion, plus or minus $500 million or so. But as Facebook has focused so heavily on growing mobile ads in recent years, it has grown that segment into a $25 billion business.
That's what she said
On the call, COO Sheryl Sandberg elaborated on how strong the mobile business is:
CFO Dave Wehner also added that average mobile ad prices were up 14% while ad impressions jumped 32% thanks in large part to mobile feed ads. Beyond the core Facebook platform, Instagram is becoming increasingly important financially, given that the photo/video format lends itself well to ads. Instagram now has 700 million monthly active users, 200 million daily active usersfor Instagram Stories, and 1 million advertisers.
Facebook has been a mobile-centric company for quite some time now, but it doesn't hurt to step back and appreciate how far it's come.
10 stocks we like better than FacebookWhen investing geniuses David and Tom Gardner have a stock tip, it can pay to listen. After all, the newsletter they have run for over a decade, Motley Fool Stock Advisor, has tripled the market.*
David and Tom just revealed what they believe are the 10 best stocks for investors to buy right now... and Facebook wasn't one of them! That's right -- they think these 10 stocks are even better buys.
Click here to learn about these picks!
*Stock Advisor returns as of May 1, 2017
Evan Niu, CFA owns shares of Facebook. Evan Niu, CFA has the following options: long January 2018 $120 calls on Facebook. The Motley Fool owns shares of and recommends Facebook. The Motley Fool has a disclosure policy.