1 Big Solar Trend to Watch in 2017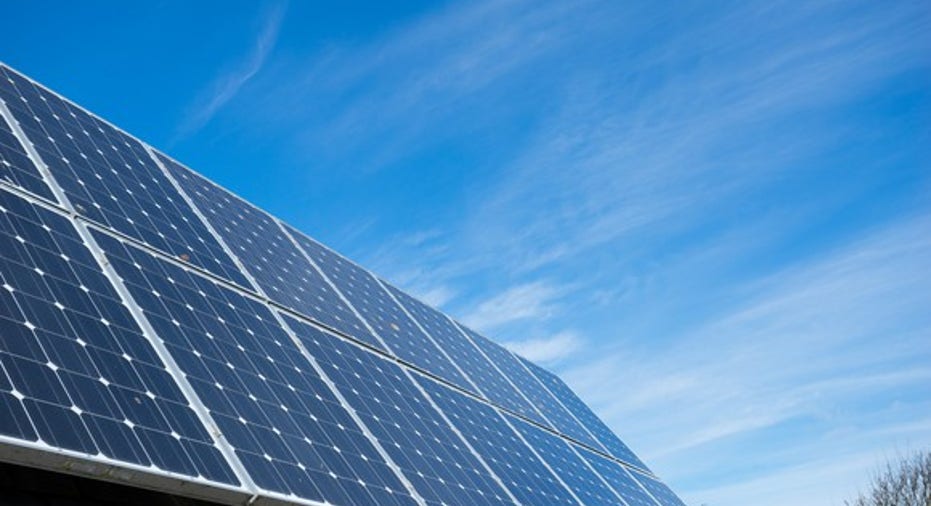 Efficiency is now the name of the game in the solar industry and leading manufacturers will spend the next few years moving beyond commodity silicon solar panels to higher-efficiency technology. SunPower Corporation (NASDAQ: SPWR) has long led the industry in efficiency and with its X-Series product exceeding 23% efficiency that leadership position won't end soon. But others are starting to catch up.
Trina Solar (NYSE: TSL) recently announced a new record of 22.61% for its mono-PERC cell technology, something others will follow. Canadian Solar (NASDAQ: CSIQ) is another major manufacturer moving forward with mono-PERC technology, and Tesla (NASDAQ: TSLA) is launching high-efficiency panels this year with Panasonic's HIT technology. The world of solar energy is about to get a lot more efficient.
Image source: Getty Images.
Chinese solar manufacturers put an emphasis on efficiency
Solar panel manufacturers, particularly in China, have been plagued by little differentiation in their products. They use similar equipment and processes to make solar panels, which leads to very similar panel efficiencies and fairly similar cost structures. But in the last decade there has been little incentive to focus on efficiency because costs were coming down quickly and often offset the advantage higher efficiency brought.
But the cost/efficiency dynamic is changing. Solar panel and overall system costs have come down so far that even a 100-basis-point improvement in panel efficiency can lower a system's cost per watt by 5% or more. And if that efficiency is combined with lower long-term degradation, as it is with SunPower's panels, the impact on cost per kWh can be even higher. So, manufacturers finally have an incentive to increase efficiency and lower costs.
Trina Solar and Canadian Solar are investing in PERC technology to move up the value curve. Higher-efficiency panels will sell for a higher price per watt, particularly to customers installing small residential or commercial projects where efficiency is more valuable, and both companies want to capture the financial benefit of the market. For example, a 300-watt solar panel that sells for $0.40 per watt will generate $120 in revenue. A 360-watt panel that sells for $0.55 per watt is worth $198.
Now that higher-efficiency panels are in demand, look for the 15% to 17% efficient panels that have dominated production to begin to be replaced by panels that are 18% to 20% efficient.
Tesla's efficiency play
The efficiency dynamic isn't lost on Tesla's SolarCity, which is building a plant in Buffalo, New York, to make high-efficiency solar panels. Management has said they expect efficiency to be over 20% when the product launches with 22% panel efficiency on the horizon.
Since Tesla is installing mostly small rooftop systems, the investment in efficiency makes sense. It leverages the company's sales and installation costs and puts more watts of solar production on each roof.
SunPower's two-pronged efficiency plan
Coming from a leadership position is SunPower, which has long been an efficiency leader. The company's E-Series product, which was 19% to 21% efficient, is now facing competition from PERC manufacturers that have a lower cost structure. That's why the investment in X-Series, which is over 23% efficient, has been important to the last year's financial results in the residential market. If X-Series can continue to improve efficiency and keep down cost, the company could maintain a lead over mono-PERC competitors.
In the utility maker, SunPower is taking a different approach. P-Series is its low-cost solar panel that's only slightly more efficient than conventional solar panels. Right now, it's a multicrystalline product but management has told me it will eventually be a mono-crystalline product, likely leading to efficiencies approaching 20%. And since there are fewer processing steps, it should be lower cost than mono-PERC on a per-watt basis.
Jockeying for position in solar efficiency
Every major manufacturer is trying to improve its efficiency to differentiate itself and 2017 will likely be a transitional year. A great deal of how the industry progresses in the year ahead will depend on ifTesla can make its products as planned, and how SunPower's strategy is played out. Which company makes the right strategic moves in improving efficiency will see a lot of upside in coming years.
10 stocks we like better thanWal-MartWhen investing geniuses David and TomGardner have a stock tip, it can pay to listen. After all, the newsletter theyhave run for over a decade, the Motley Fool Stock Advisor, has tripled the market.*
David and Tomjust revealed what they believe are theten best stocksfor investors to buy right now... and Wal-Mart wasn't one of them! That's right -- theythink these 10 stocks are even better buys.
Click hereto learn about these picks!
*StockAdvisor returns as of December 12, 2016The author(s) may have a position in any stocks mentioned.
Travis Hoium owns shares of SunPower. The Motley Fool owns shares of and recommends Tesla Motors. Try any of our Foolish newsletter services free for 30 days. We Fools may not all hold the same opinions, but we all believe that considering a diverse range of insights makes us better investors. The Motley Fool has a disclosure policy.