1 Analyst Thinks Palo Alto Networks Is Worth $215 -- Is He Right?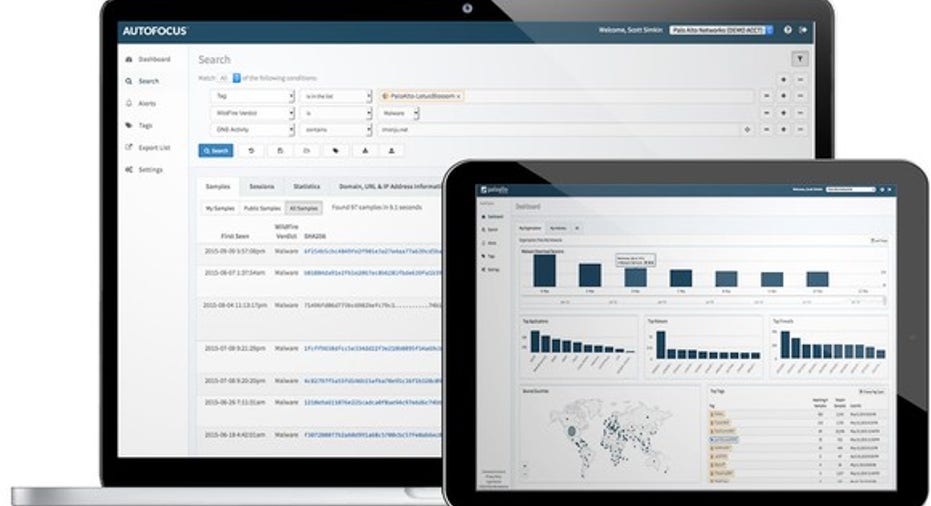 The analyst from investment firm Maxim Group who reiterated his buy rating on Palo Alto Networks stock last week is hardly alone. Yes, his $215 price target is on the high side, even in the context of nearly across-the-board bullish sentiment. But consensus target estimates from the 37 analysts covering Palo Alto are still a lofty $188.78 a share, equal to a nearly 50% jump from Monday's closing price of $128.16.
The question is, why is this analyst, along with many of his brethren, so excited about Palo Alto? It appears most pundits are of the mind that Palo Alto's near-term questions surrounding slowing top-line growth and spending are just that -- anomalies that will "normalize" given time -- and there are numerous rationalizations to justify Palo Alto's high expectations. So who's right: the bullish analysts or investors who have continued to apply pressure to Palo Alto stock?
Image source: Palo Alto Networks.
The analyst case for Palo Alto
Palo Alto's string of quarters reporting 50%-plus revenue growth came to an end in the third quarter, though at 48% above last year's fiscal Q3, there was little to complain about. The sales growth slowdown -- both during the most recent quarter and the expected 36% to 37% top-line growth forecast for the current quarter -- was largely due to macro issues, according to CEO Mark McLaughlin.
The bullish Palo Alto analyst notes that a tough sales environment in the Asia-Pacific region, notably Australia, was one culprit. Of the 11% of Palo Alto's revenue derived from Asia-Pacific, Maxim Group estimates that 30% to 40% comes from Australia. If the region had performed as it had in prior quarters, Palo Alto would have enjoyed a 52% jump in sales.
The poor guidance for the currentquarter, along with Palo Alto's weak days sales outstanding (which measures a company's average period to collect accounts receivable), was viewed as a positive by the analyst -- and is clearly not a concern for others, given Palo Alto's price target -- suggesting that McLaughlin and team have a realistic perspective. Strong billings growthof 61% year over year and a near doubling of free cash flow were also cited as bullish indicators.
Not so much
Similar to its peer Fortinet , Palo Alto has demonstrated revenue growth over the course of the last couple of years that has been nothing short of spectacular. Fortinet's on a string of 30%-plus quarterly sales improvements, which it attained again last quarter. Fortinet's revenue of $284.6 million was a 34% year-over-year jump. In Palo Alto's case, revenue gains were what had so many pundits singing its tune.
But with last quarter's 48% increase, and expectations of just 36% to 38% in the current quarter, Palo Alto's saving grace is coming to a halt. That, combined with soaring overhead, is disconcerting, to say the least. Cost of revenue climbed $30.5 million to $94.9 million in Q3, and operating expenses skyrocketed 50% to $309.9 million.
Palo Alto was once again in the red by $70.2 million last quarter, well above fiscal 2015's Q3 loss of $45.9 million. Fortinet's spending also rose last quarter, which was why it, too, reported a loss. However, at just $0.02 per share, Fortinet's shortfall was a blip on the screen compared to Palo Alto's $0.80 per share loss.
The bottom-line
The bullish analysts covering Palo Alto certainly make valid points in support of a target price as high as $215. However, for investors who prefer stocks with sound fundamentals or prospects for sales growth, Palo Alto falls short.
Even if Palo Alto continues to drive top-line improvements -- albeit less impressively than in the past -- this raises another concern.
An astounding 58% of Palo Alto's sales last quarter, equal to $202 million, went to fund its sales and marketing efforts. These aren't one-time costs associated with developing a new product, expanding office space, or hiring much-needed expertise. No, Palo Alto's sales and marketing outlays will continue to eat away at bottom-line results, and that's a scary proposition, given its slowing revenue growth.
The article 1 Analyst Thinks Palo Alto Networks Is Worth $215 -- Is He Right? originally appeared on Fool.com.
Tim Brugger has no position in any stocks mentioned. The Motley Fool recommends Palo Alto Networks. Try any of our Foolish newsletter services free for 30 days. We Fools may not all hold the same opinions, but we all believe that considering a diverse range of insights makes us better investors. The Motley Fool has a disclosure policy.
Copyright 1995 - 2016 The Motley Fool, LLC. All rights reserved. The Motley Fool has a disclosure policy.