'Eat a McMuffin' protests channel outrage over train rider's bust for eating breakfast
'We know how to make the system better and safer, and this ain't it'
If every passenger on a California commuter train eats breakfast, will transit police arrest them all? Organizers planning a weekend protest are betting they won't, as outrage spreads over a viral video showing Bay Area Rapid Transit police handcuffing 31-year-old Steve Foster after he refused to stop eating breakfast on a train platform. Even an apology from the San Francisco-area subway and elevated-train service's chief failed to stanch the criticism.
"I'm disappointed how the situation unfolded," General Manager Bob Powers said in a statement after the Nov. 4 incident. "The officer was doing his job, but context is key. Enforcement of infractions such as eating and drinking inside our paid area should not be used to prevent us from delivering on our mission to provide safe, reliable, and clean transportation. We have to read each situation and allow people to get where they are going on time and safely."
The incident drew angry rebukes from people who said the police reaction was racist, and prompted an eat-in by more than two dozen people at a Bay Area Rapid Transit Station over the weekend. The next action has been dubbed "Eat a McMuffin on BART: They Can't Stop Us All."
Officials with the agency, which serves the San Francisco Bay area, say eating is not allowed in paid portions of stations, a policy intended to keep them clean for the 415,000 people using them every day.
"There are multiple signs inside every station saying as much," Powers explained. "The officer asked the rider not to eat while he was on the platform responding to another call. It should have ended there, but it didn't."
Foster cursed repeatedly at the officer and made other disparaging remarks, Powers added, noting that the officer remained calm.
Powers has discussed the matter with the agency's interim police chief and has asked an independent auditor to evaluate what happened in addition to making a public apology to Foster and train riders.
The widely-circulated video, taken by Foster's girlfriend, shows the officer holding on to Foster's blue Mickey Mouse backpack and telling him he's not free to go until he identifies himself, which Foster initially declines to do. The officer tells Foster he is resisting arrest.
"You have no right to be touching my (bag)," Foster says. "You have no right to eat a sandwich on BART," the officer replies.
The conflict goes on for about eight minutes until backup officers arrive and handcuff the rider.
While eating and drinking is routinely prohibited on public transit systems, the rules are often loosely enforced. Foster said Monday that he knew eating wasn't allowed on Bay Area trains but didn't realize it was banned on platforms.
When the officer said he couldn't eat on BART, Foster interpreted it as a warning not to get on the train with food and hurried to finish the breakfast sandwich his girlfriend had prepared.
"I picked up my bag and was getting in line, and he just grabbed my bag and said, 'You're not going anywhere, you're going to jail,'" Foster recalled.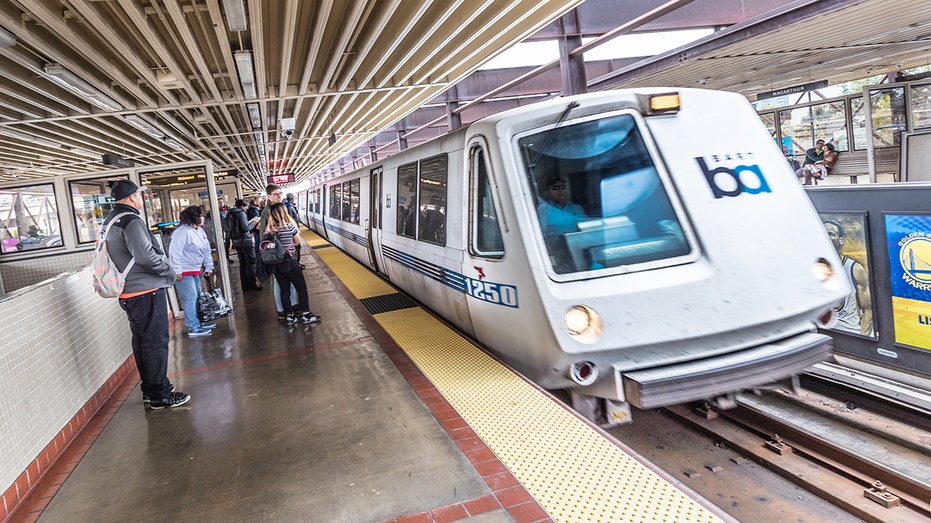 GET FOX BUSINESS ON THE GO BY CLICKING HERE
Foster, who faces a $250 fine or 48 hours of community service, said he felt singled out because of his race and plans to challenge the police citation.
Transit board director Janice Li, who helped lead the weekend protest, said on Twitter that enforcement is a matter of priorities and not all laws are enforced.
"For me, there are WAY bigger issues at BART than enforcing no drinking/eating," she wrote.
CLICK HERE TO READ MORE ON FOX BUSINESS
The Associated Press contributed to this report.