Louisiana Catholics blessed by air in holy water flyby
Parish priest, cropdusting pilot team up to bestow grace on the town
Parishioners in rural Louisiana received an airborne blessing this Christmas as 100 gallons of holy water rained down on the small community.
On Dec. 22, the parish priest of St. Anne Church in Cow Island, Louisiana, Fr. Matthew Barzare teamed up with a cropduster pilot to execute the large-scale blessing devised by L'Eryn Detraz, according to a Facebook post by the Diocese of Lafayette, La.
Detraz is a native of Cow Island who was about to begin her two years of formation as a Catholic missionary in Ohio. She shared her idea with Fr. Barzare before leaving, Barzare told FOX Business.
He said this practice is often done in Colombia using helicopters. Barzare then teamed up with Victory Flyers which agreed to release water onto the town, free of charge.
POPE FRANCIS URGES VATICAN LEADERS TO FIX CITY'S BALLOONING BUDGET DEFICIT
The flight lasted about 90 minutes and sprinkled the holy water on Cow Island's fields, its school, St. Anne's Church, the grocery store and other community-oriented locations, according to Barzare.
There are about 200 families in the St. Anne's parish and about 90 percent of the small town is Catholic. Responding to the notion that some might have been offended by the mass-blessing, Barzare said the community was very supportive.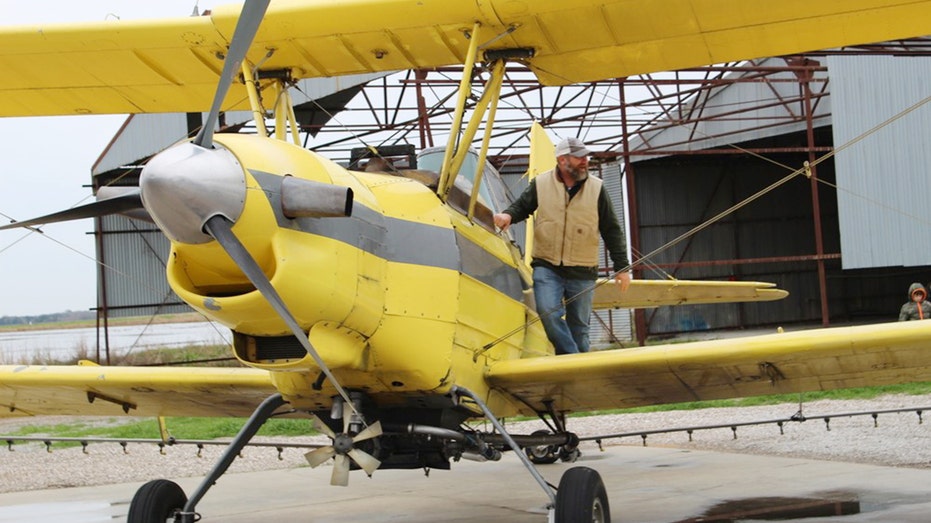 CARDINAL DOLAN: BRING RELIGION INTO POLITICS
Barzare, who is the sole priest of his parish, blessed the water on the ground before it was loaded onto the plane. He said this was probably the most water he had ever blessed at one time.
He assured FOX Business there was no residue of pesticides in the plane's tanks when the holy water was placed since he said it is not the time of year when pesticides are normally sprayed. Victory Flyers decontaminated the tanks beforehand.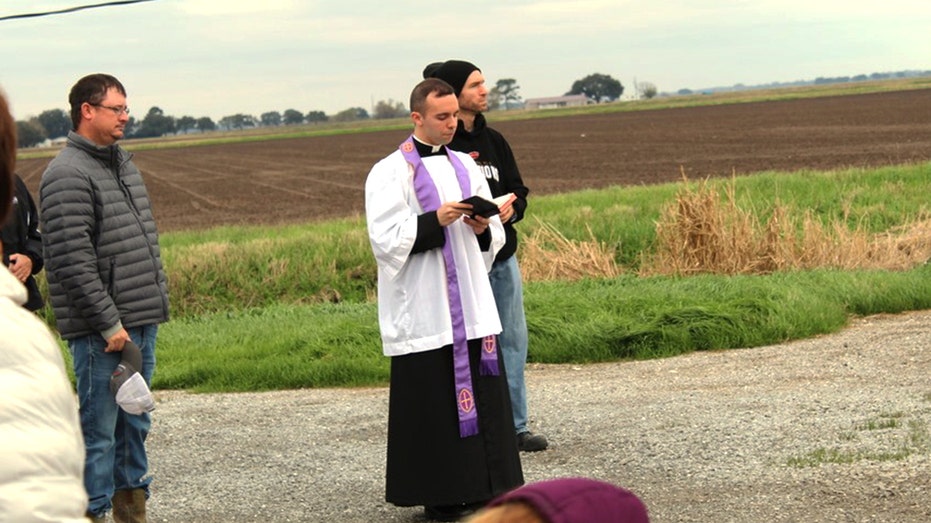 Holy water is considered a sacramental by the Roman Catholic Church.
GET FOX BUSINESS ON THE GO BY CLICKING HERE
"By the Church's prayer, [sacramentals] prepare us to receive grace and dispose us to cooperate with it," the Catechism says.
Sacramentals, such as blessing with holy water, are not the same as sacraments such as baptism, communion, marriage, reconciliation, confirmation and holy orders and do not confer the grace of the Holy Spirit in the same way as the sacraments.
CHRISTIAN PILGRIMS HEAD TO BETHLEHEM BY THE THOUSANDS FOR OLD-STYLE CHRISTMAS
Members of St. Anne's parish also brought water from their own homes to be blessed by Fr. Barzare at the airstrip.
The parishioners of St. Anne's intend to carry on this tradition during either Christmas or Thanksgiving time for the foreseeable future, Barzare said.