Iowa school-turned-massive mansion hits real estate market for $1.75M
Listing agent shared details of four-bed, six-bath 'Prairie Castle' on a 22,000-square-foot property
An old school building in Nevada, Iowa, has been transformed into a Midwestern dream home.
The 22,000-square-foot property — nicknamed the "Prairie Castle" — has just hit the market for $1.75 million.
Friedrich Iowa Realty listing agent Luke Jensen detailed in an interview with Fox News Digital how the original 1923 township school was converted into a private residence.
ALABAMA HUNTING RANCH SPANNING 1,200 ACRES HITS MARKET FOR A RECORD-HIGH $12.5M
The school district educated K-12 students in the building until 1991, when it was consolidated into another school.
The property was acquired in 2006 by Jensen's parents, who were inspired to revamp the deteriorated building creatively into a place where they could live and work.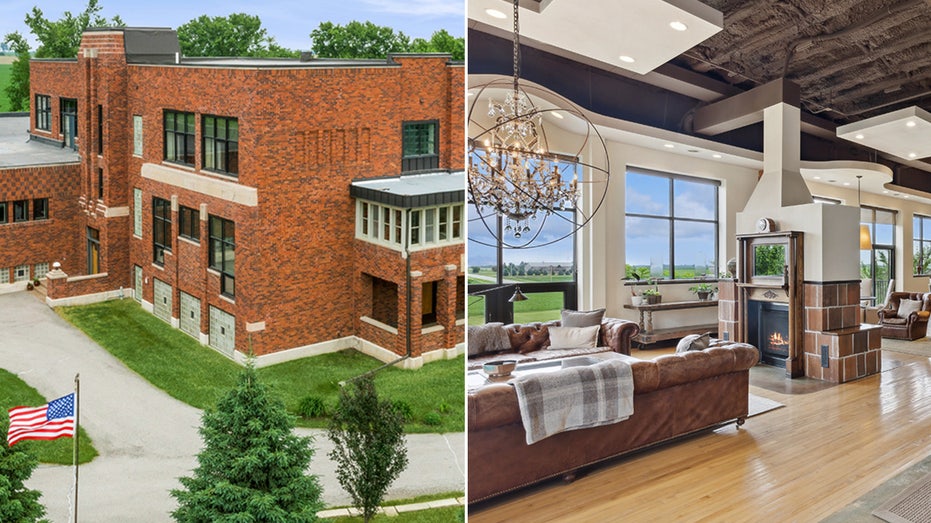 "They meticulously went through and reclaimed whatever could be reclaimed and embarked on a really ambitious re-imagination of the school into a residence," he said.
JEFF BEZOS BUYS $68 MILLION MANSION IN MIAMI'S EXCLUSIVE 'BILLIONAIRE BUNKER'
"So, throughout the property … a lot of original materials like hardwood floors, exposed brick, chalkboards, doors, anything that was salvageable found a new and re-purposed life inside the building," he said.
The three-story house is located about five miles away from Iowa State University's campus and has 360-degree views of rural Iowa.
The property was designed differently on each level, Jensen noted. 
WOMAN GOES VIRAL FOR UNCOVERING 'WEIRD' HOMES FOR SALE ON ZILLOW: 'IT HAS TAKEN OFF'
The first level accommodates various studios for activities like drawing, painting, woodworking, ceramics and metal fabrication — as well as a 5,800-square-foot, five-car garage.
The second floor has private suites for guests, along with a community and catering kitchen and a ballroom.
The third level is the private residential area, outfitted with three bedrooms, three-and-a-half bathrooms and "high-end" finishes, Jensen said.
The four-bedroom, six-bath home includes other amenities such as a hot tub, two fireplaces and multiple porches, both enclosed and open.
'SILENCE OF THE LAMBS' HOUSE IN PENNSYLVANIA SOLD AFTER 4 MONTHS: 'DYING TO SHARE THIS NEWS'
The listing agent said the ideal buyer would have the same mindset as his parents, who moved into the home in 2012.
"Somebody with a vision of how to use all the space, who maybe has an entrepreneurial bent, I think will find success there," he said.
"Even somebody who wants to utilize some of the space for educational purposes — maybe for classes or workshops or retreats … [in] a place that's inspirational, in a great location, [with] room and space to execute on those things."
CLICK HERE TO SIGN UP FOR OUR LIFESTYLE NEWSLETTER
The space could serve families of several generations, Jensen said.
It has 3.5 acres of legal land in addition to miles of rolling fields around the property.
The $1.75 million asking price is on the upper end of the market in Nevada, Iowa, Jensen revealed, but it is "priced appropriately" and could possibly go for even more, he said.
GET FOX BUSINESS ON THE GO BY CLICKING HERE
"It's a blend of residential and commercial valuations," he said. 
"A lot of the furnishings and couches … tables, furniture and more, are part of the sale, so it would be pretty turnkey for someone to come in."
For more Lifestyle articles, visit www.foxbusiness.com/lifestyle.