'Bachelor' star stripped of $1M DraftKings prize
The sports betting company opened an investigation into the win after outcry over the couple allegedly 'pooling' their entries
"The Bachelor" alum Jade Roper Tolbert is no longer the winner of a $1 million DraftKings prize after the sports betting company opened an investigation into the win after outcry earlier in January, USA Today reports.
That means the former runner-up will take the top prize.
"All customers affected by the updated standings will be notified directly. It is our general policy not to comment further on such matters," DraftKings told USA Today.
It's unknown whether Tolbert, 33, will take legal action against DraftKings. Her Twitter account is now private, although her husband, Tanner Tolbert, still has a public account.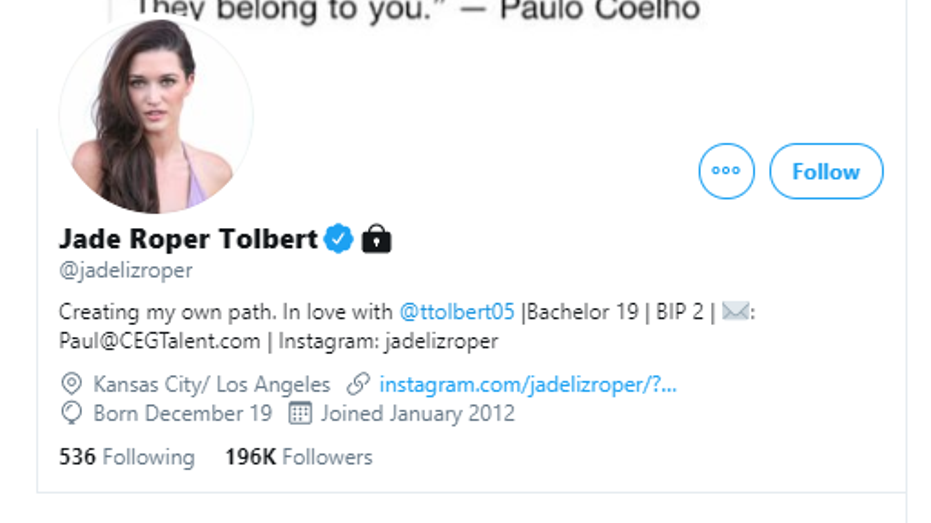 The Tolberts, both of whom gained fame from "The Bachelor" franchise, were accused of unfairly working together to win DraftKings' Milly Maker tournament.
Jade Tolbert publicly celebrated the win when she confirmed she was the top-standing player and noted that Tanner Tolbert, 32, advised her against playing Seattle Seahawks wide receiver D.K. Metcalf.
SUPER BOWL LIV: HOW MIAMI DOLPHINS OWNER STEPHEN ROSS WILL PROFIT
In a statement to Fox News before stripping Tolbert of the prize, a company spokesperson said: "The DraftKings compliance team reviews the results of all major contests to ensure they comply with our terms of use and applicable state regulations. We take the integrity and fairness of our DFS contests seriously, and prizes are not paid out until our reviews are complete."
The Tolberts told Fox News in a statement before Jade Tolbert lost the prize: "We respect that Draft Kings feels they must do their due diligence in regard to Jade winning their $1 million dollar prize for the fantasy contest for the NFL's wild-card round this weekend. Though we must ponder, would the questions, accusations and curiosity about this win be the same if the winner had been male and someone who wasn't already in the public eye? It is incredibly important for us to establish that Jade's win is nothing more than pure luck and we are confident that Draft Kings will determine the same."
GET FOX BUSINESS ON THE GO BY CLICKING HERE
FOX Business' inquiry to DraftKings and a representative for the Tolberts was not immediately returned.
FOX Business' Stephanie Pagones and Fox News' Julius Young contributed to this report.