'Disney On Broadway' coronavirus fundraiser rescheduled after musicians' union jumps on board
Stream will raise money for Broadway Cares/Equity Fights AIDS' COVID-19 Emergency Assistance Fund on April 17
The show will go on!
After canceling an upcoming re-airing of "Celebrating 25 Magical Years of Disney on Broadway" to raise money for Broadway Cares/Equity Fights AIDS' COVID-19 Emergency Assistance Fund, the free concert stream has now been rescheduled to April 17 at 7 p.m. ET.
Administered by The Actors Fund, the COVID-19 Emergency Assistance Fund provides "those onstage, backstage, in the orchestra pit and behind the scenes urgent health care and immediate financial support during this pandemic and work shutdown."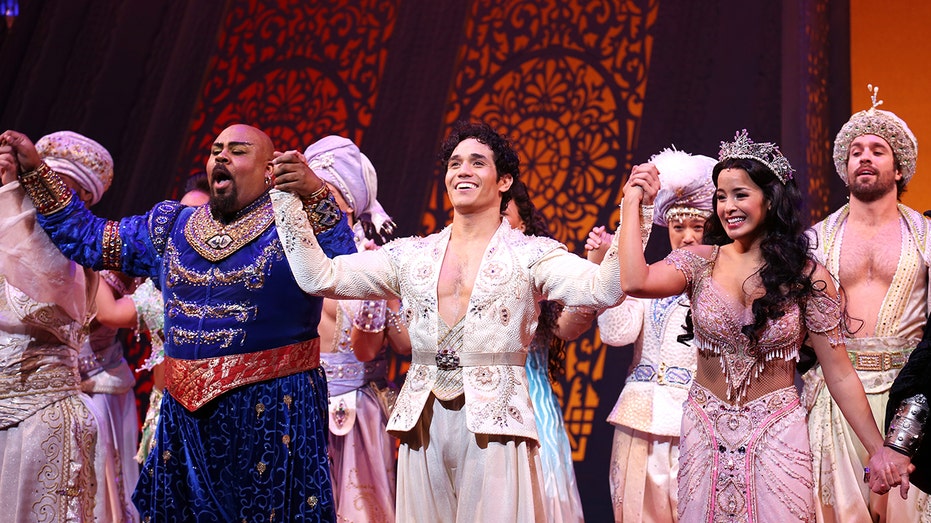 In a statement on April 11, Broadway Cares said the concert stream, planned for April 13, would be canceled following a labor dispute with the American Federation of Musicians over streaming rights.
"Broadway Cares was unable to reach an agreement with the leadership of the American Federation of Musicians to permit the stream of the previously recorded concert to take place as planned", the organization said. "Disney Theatrical Productions, SAG-AFTRA and Actors' Equity Association all granted the necessary permissions for the online fundraiser to go forward without additional fees, but, unfortunately, the American Federation of Musicians refused to provide the same consideration."
Founded in 1896, the American Federation of Musicians represents "80,000 musicians strong playing in orchestras, backup bands, festivals, clubs and theaters—both on Broadway and on tour." The union also represents musicians working in televison, film, commercials and on sound recordings.
NETFLIX ECLIPSES DISNEY AS CORONAVIRUS SHAKES UP ENTERTAINMENT INDUSTRY
In an email obtained by the New York Times on April 11, AFM's international president Ray Hair told a Disney executive, "When you treat musicians as if they were slaves, you reap the consequences" and "We are in a zero employment situation. I am waiving nothing. That's final. You should want to pay the musicians, who have no income during this crisis."
The following day, the concert's musical director, Jim Abbott, released an open letter along with a petition to his own union signed by all of the members of the orchestra for the night, the contractor for the orchestra and even AFM Local 802's president Adam Krauthamer.
"Ray Hair, the President of the American Federation of Musicians, made this decision for us without our knowledge," Abbott wrote. "We acknowledge that he is working hard to protect the rights of the membership, but we as an orchestra are happy to forgo any payment for the streaming of this charitable event."
According to the petition, BCEFA already paid over $50,000 in relief funds to the musician union's Local 802 Emergency Relief fund and offered to pledge an additional $25,000.
"As musicians we have lost the opportunity to perform publicly, but this use of our recorded performance could have been a great tool to raise funds for people in our community that are in need", Abbott added. "It would serve to show the world the value of live music and could also serve as an inspiration to young musicians everywhere, in addition to being both entertaining and uplifting to audiences around the world in this troubled time."
MORE DISNEY WORKERS REACH DEALS ON CORONAVIRUS FURLOUGHS
The petition received over 10,000 signatures and, following the backlash, Hair said the union would reverse its decision, granting a waiver to stream the concert without making Broadway Cares pay the contractually required fees.
"We stand in solidarity with our fellow entertainment workers in Actors Equity and SAG-AFTRA," Hair said in a statement. "We believe all musicians should be fairly compensated for their work all of the time, but we also believe that we must do everything possible to support entertainment workers hurt by the coronavirus pandemic. We fully support the union musicians who have graciously offered to forgo all required payments to allow this charity event to move forward."
The musicians who had performed in the original concert applauded Hair's decision.
"We are delighted to see that President Ray Hair has endorsed our wish to donate our rights to the streaming of this performance," they said in a statement. "Thanks to all the AFM leadership for hearing our voice in this matter."
Tom Viola, executive director of Broadway Cares/Equity Fights AIDS, thanked the musicians union for stepping up to ensure that members of the entertainment industry displaced by the coronavirus would get the support they desperately needed.
"There is no better news today than that which helps us ensure all in the entertainment industry who are facing the serious challenges of this COVID-19 pandemic can depend on the support of all their colleagues in the industry," Viola said. "My thanks to the leadership of the American Federation of Musicians. My best wishes and many thanks to AFM Local 802 President Adam Krauthamer and the Local 802 membership who were willing to speak up during this unprecedented time to support the arts community and those in need. We all will surely one day gather in Times Square together to celebrate Broadway's rebirth and renewal of hope."
GET FOX BUSINESS ON THE GO BY CLICKING HERE
Ticker
Security
Last
Change
Change %
DIS
WALT DISNEY COMPANY
151.60
+2.17
+1.45%
"Celebrating 25 Magical Years of Disney on Broadway," which was staged November 4, 2019, at the New Amsterdam Theatre to mark the silver anniversary of Disney's arrival on Broadway, raised $570,426 for Broadway Cares/Equity Fights AIDS. The Disney concert featured a 15-piece orchestra providing music for a cast of 79 performers, all presenting songs from the many Disney Broadway musicals over the years.
CLICK HERE TO READ MORE ON FOX BUSINESS
This story, originally published on April 12, has been updated.