Who is Billie Eilish?
The Grammy-winning 'Bad Guy' singer has been dubbed 'The Outsider'
Breakout music sensation Billie Eilish won five Grammy awards, taking home the prize for the four biggest categories and leaving behind only one title for which her work was nominated.
The 18-year-old star, born and raised in Highland Park, California, is not new to the music scene, but has skyrocketed to fame with her 2019 album, "When We All Fall Asleep, Where Do We Go?"
And with her eccentric style and hush-toned music, Eilish, who was dubbed "The Outsider" by Vogue, has transformed the music scene.
"This whole time I've been getting this one sentence," Eilish told Vogue, "like, I'm a rule-breaker. Or I'm anti-pop, or whatever. I'm flattered that people think that, but it's like, where, though? What rule did I break? The rule about making classic pop music and dressing like a girly girl? I never said I'm not going to do that. I just didn't do it."
HOW MUCH IS JENNIFER LOPEZ WORTH?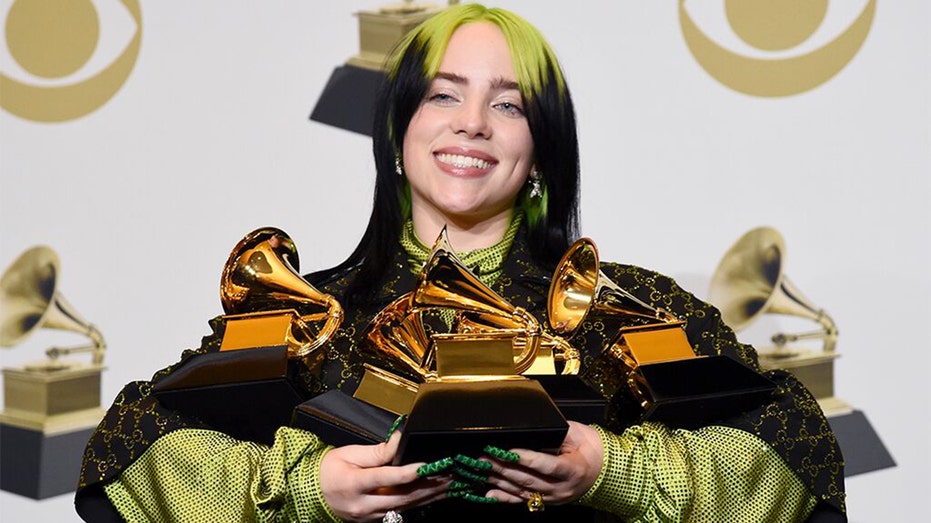 Eilish – whose full name, according to the outlet, is Billie Eilish Pirate Baird O'Connell – co-wrote much of the album with her brother, producer Finneas O'Connell, the Grammys website shows. Both the album and hit song "Bad Guy" won multiple Grammy awards.
GET FOX BUSINESS ON THE GO BY CLICKING HERE
"When We All Fall Asleep, Where Do We Go?" won Album of the Year and Best Pop Vocal Album, and topped Billboard's 200 Albums Chart for three nonconsecutive weeks.
"Bad Guy" was awarded "Record of the Year" and "Song of the Year."
CLICK HERE TO READ MORE ON FOX BUSINESS
The song was also nominated for "Best Pop Solo Performance," but lost to Lizzo's "Truth Hurts."
Since her rise to fame, she has also signed on with Apple TV +, and scored a $25 million payday in doing so, for an upcoming documentary, according to The Hollywood Reporter.
Eilish and her brother have also announced they are collaborating on a theme song for the next James Bond movie, "No Time to Die," Billboard reported.
Eilish boasts a following across the world, including Sydney, Australia, Mexico City, Mexico, and São Paolo, Brazil, according to Spotify Music. Her music has been streamed through the music platform more than 15 billion times