Twitter Takes Flight But Closes Below Open Price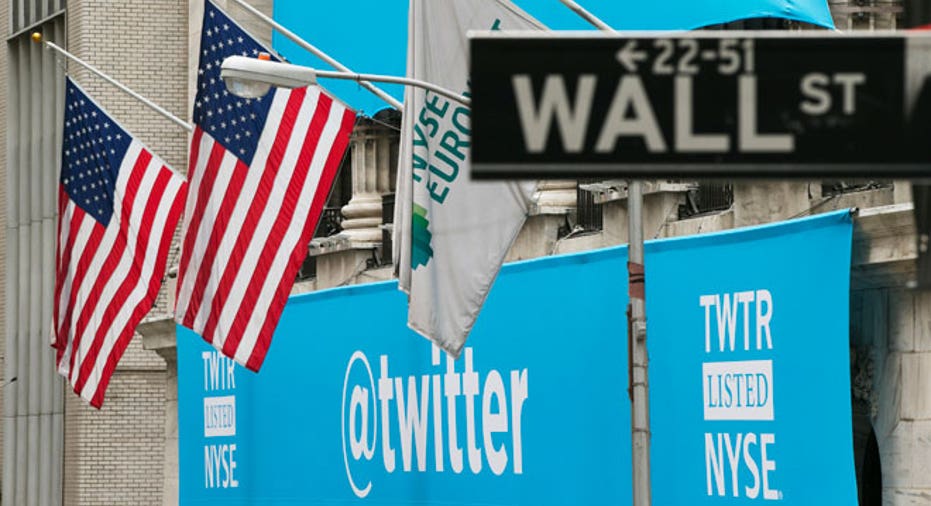 Twitter (NASDAQ:TWTR) whipped Wall Street into a frenzy on Thursday as the social network debuted as a public company by soaring more than 72% above its initial public offering price.
However, retail investors who bought shares at the opening price of $45.10 actually lost money as Twitter closed at $44.90. The micro-blogging company priced its IPO at $26 a piece Wednesday night, which was above its expected range of $23-$25.
Unlike Facebook (NASDAQ:FB), Twitter's IPO generated a huge first-day pop, underscoring how intrigued investors are with its potential and their willingness to shrug off its relative financial immaturity.
Twitter, which has yet to turn a profit and has actually seen its losses accelerate, raised $2.1 billion in its IPO, making it the No. 2 U.S. Internet IPO behind Facebook's $16 billion and just ahead of Google's (NASDAQ:GOOG) $1.92 billion.
The feeding frenzy over Twitter will only add to the worries in some corners that the IPO market has become frothy, allowing unproven companies to go public at lofty valuations just like some 15 years ago. One analyst even slapped a sell rating on Twitter due to worries its price tag is out of whack.
"We are back at the dotcom days," Vivek Wadhwa, who was named to TIME's list of top 40 most influential minds in tech, told FOX Business.
"Twitter is a good company, but nothing like these ridiculous predictions we're hearing about… These analysts are smoking something."
Twitter's shares surged as high as $50.09 Thursday morning, up 92.7% from the IPO price.
The San Francisco-based company originally expected to price its 70-million share IPO at just $17 to $20 per share, but then hiked that range due to very strong demand.
No. 2 U.S. Internet IPO Ever
"Just as Google, Amazon and Facebook have become Internet Utilities, so too may Twitter," Mark Mahaney, an analyst at Royal Bank of Canada's (RY) RBC Capital Market, wrote in an upbeat research note on Wednesday.
At its IPO price of $26, Twitter was valued at $14.4 billion. By comparison, Facebook's aggressive IPO valued it at $104 billion, the largest ever for a U.S. IPO.
Including the 10.5 million shares that could be awarded to underwriters, Twitter's opening trade of $45.10 implies a market cap of about $25.04 billion, compared with LinkedIn's (NASDAQ:LNDK) Wednesday closing market valuation of $26.62 billion.
Smooth Sailing at the Big Board
Led by CEO Dick Costolo, Twitter allows its 230 million active users to post 140-character messages to their followers. It has become a valuable tool for celebrities, advertisers, journalists and even investors. Today, more than 500 million tweets are shared on the service each day.
Unlike Facebook, whose debut was marred in part by glitches at Nasdaq OMX Group (NASDAQ:NDAQ), Twitter decided to list its coveted IPO on NYSE Euronext's (NYSE:NYX) New York Stock Exchange under the ticker symbol "TWTR."
Twitter's IPO opened smoothly at about 10:50 a.m. ET without any issues. NYSE officials sought to avoid the technical issues that faced Nasdaq by holding a dry run for the Twitter IPO last month and a running conference call with traders Thursday morning.
"It went the way most IPOs go around here if not more of them," NYSE Euronext CEO Duncan Niederauer told FOX Business, in a jab at Nasdaq. "We thought it would go smoothly but you never want to take things for granted."
Many analysts, especially those not associated with Twitter underwriters, have kicked off coverage of the stock with bullish research.
"We believe Twitter will be a key beneficiary of the large scale trends toward social advertising and mobile devices, and therefore see significant growth potential and operating leverage in Twitter's model," Cantor Fitzgerald analyst Youssef Squali wrote in a note on Thursday initiating coverage of Twitter with a "buy" rating and a $32 price target.
"We think that current valuation does not fully reflect Twitter's enormous opportunity," said Mahaney, who kicked off coverage on Twitter with a $33 price target and an "outperform" rating.
Partying Like It's 1999
Twitter is easily the most highly anticipated IPO since Facebook. But it's clear Facebook was much more mature and aggressive in its IPO, which ultimately cratered in value and cast a shadow over the IPO market.
"Buzz or excitement is not a great predictor of stock performance, and it is not a reason to buy the stock itself," said Mag Black Scott, who manages more than $500 million in assets as CEO of Beverly Hills Wealth Management. "It defies basic economics that a company losing $100 million is worth $10 billion.
One early Twitter bull, Brian Wieser of Pivotal Research, downgraded the stock to "sell" on Thursday afternoon. He warned it has gotten "simply too expensive" and suggested investors buy Facebook instead.
According to Sageworks, Twitter's IPO price of $26 represented almost 45 times its 2012 sales, compared with a 21.89 multiple for Facebook when it went public and a 3.7 multiple for Microsoft's (NASDAQ:MSFT) 1986 IPO. Twitter's $45 open price values the company at a whopping 77 times trailing revenue.
The strong investor demand for Twitter's shares comes despite the fact that the micro-blogging company is not expected to post a profit until 2015 or even 2016.
Regulatory filings reveal Twitter's losses have been accelerating, with the company logging a net loss of $133.85 million during the first three quarters of 2013, compared with a loss of $70.69 million the year before.
'Divorced' From Fundamentals?
Twitter generated $316.93 million in revenue in 2012, up a whopping 198% from the year before. Revenue growth is expected to slow to 101% for 2013 and then 76% in 2014.
While revenue growth is slowing, Twitter's expenses more than doubled to $548.37 million during the first three quarters of 2013.
"Twitter may very well do well initially. However, this performance and its overall valuation would be divorced from the fundamental strength of the company. This makes the company a dangerous long term investment," said Brian Hamilton, chairman of Sageworks, which analyzes private companies.
Some questions have also been raised about the efficacy of Twitter's advertising platform, especially compared with search advertising or Facebook.
But Twitter has picked a perfect time to go public, with the stock markets surging due to the extraordinarily easy monetary policies from the Federal Reserve. The Dow Industrials closed at a record high on Wednesday, their 33rd record of the year.
While the exchanges fought over who would get to bring Twitter public, investment banks also scrambled for a spot as an underwriter. Ultimately, Goldman Sachs (NYSE:GS), Morgan Stanley (NYSE:MS), JPMorgan Chase (NYSE:JPM), Bank of America Merrill Lynch (NYSE:BAC) and Deutsche Bank (NYSE:DB) were selected as underwriters.