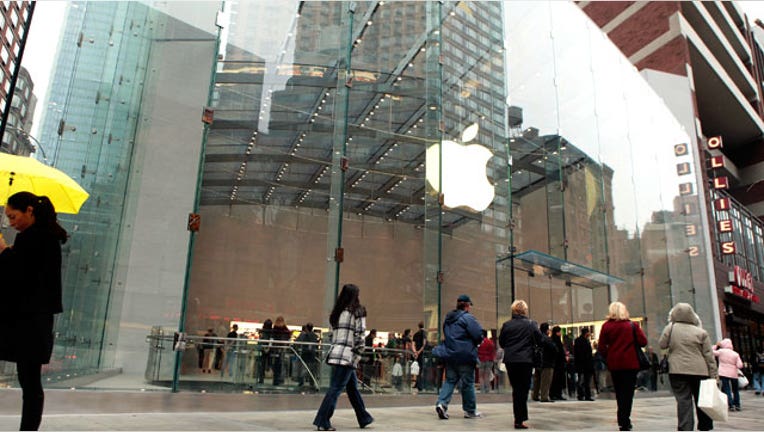 Apple (NASDAQ:AAPL) logged an 8.6% decline in fiscal fourth-quarter profits on Monday that still topped estimates, but the consumer-electronics giant's gross margin forecast disappointed Wall Street.
Shares of the iPhone maker lost as much as 5% in extended trading as investors focus on the margin concerns and weaker-than-expected iPad sales. In more recent action, Apple was off about 2%.
The company said it earned $7.51 billion, or $8.26 a share, last quarter, compared with a profit of $8.22 billion, or $8.67 a share, a year earlier. Analysts had been calling for EPS of $7.96.
Revenue increased 4.2% to $37.47 billion, topping the Street's view of $36.93 billion. International sales accounted for 60% of total revenue. Gross margins fell to 37% from 40% the year before.
"We're pleased to report a strong finish to an amazing year with record fourth quarter revenue, including sales of almost 34 million iPhones," Apple CEO Tim Cook said in a statement.
Apple said it sold a September-quarter record of 33.8 million iPhones, besting forecasts from analysts for 32.01 million iPhone shipments. Revenue from iPhones climbed 17% year-over-year to $19.51 billion.
However, Apple said it sold 14.1 million iPads last quarter, which is slightly below the Street's view of 14.5 million. Sales of iPads fell 13% to $6.19 billion.
Mac sales dipped to 4.6 million units, compared with 4.9 million the year before and projections for 4.43 million.
Apple reported a 1% rise in revenue in the Americas to $13.94 billion, compared with flat sales in Europe at $8 billion. Greater China revenue jumped 6% to $5.73 billion, while sales in Japan soared 41% to $3.34 billion. The rest of the Asia Pacific suffered a 6% drop to $1.98 billion.
Looking ahead, Apple projected fiscal first-quarter revenue of $55 billion to $58 billion. The midpoint of that range is $56.5 billion, which is ahead of forecasts from analysts for $55.7 billion.
On the other hand, management called for gross margins of 36.5% to 37.5%, which is below estimates for 37.8%.
"It all comes down to the gross margin guidance," Brian Colello, senior equity analyst at Morningstar, told FOX Business. "They are launching phones at higher prices in order to capture that premium customer. I think we would have expected margins to be a little bit higher."
Shares of Cupertino, Calif.-based Apple were trading off 2.36% to $517.39 in after-hours action on Monday.
Apple enjoyed a 5.1% spike the session after its last earnings release on July 23, breaking a streak of four-consecutive post-earnings slumps. Over the last 20 earnings releases, Apple's shares have rallied 13 times and fallen seven times, averaging a gain of 1.6%.
Since reporting those upbeat results in July, Apple's shares have surged more than 26%, compared with just 3.8% for the S&P 500. Despite that outperformance, Apple has slipped almost 1% year-to-date, versus a 23.6% rally for the benchmark index.
Last week, billionaire Carl Icahn disclosed a letter to Apple that calls for the cash-rich company to buy back stock by immediately launching a $150 billion tender offer. Analysts will likely pepper management over its plans for the $147 billion in cash sitting on Apple's balance sheet.
Apple said it returned $7.8 billion in cash to shareholders during the fiscal fourth quarter through dividends and share buybacks.
Also last week, Apple unveiled a refreshed line of iPad tablets that will begin shipping on November 1, just in time for the holiday-shopping season.