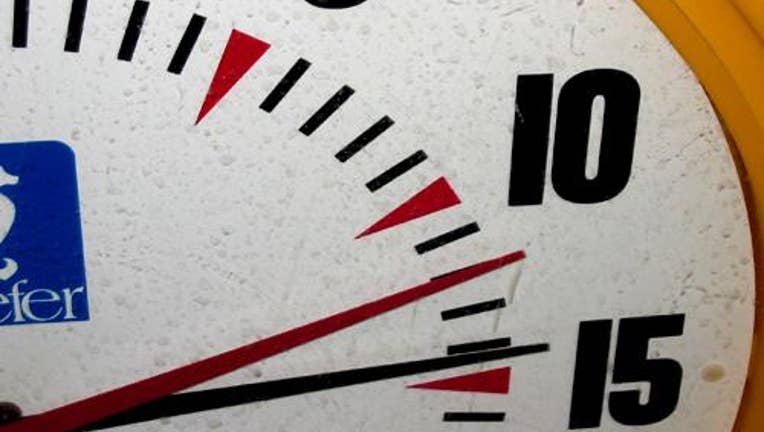 Time is running out to get a tax deduction for your losing investments. Photo: Flickr user Justin Grandfield.
Tax-loss selling, also known as tax-loss harvesting,can be a great way to turn some of your losing investments into valuable tax breaks; but the clock is ticking. In order to use a loss on your 2015 tax return, you have to get the sale in before the year comes to a close. With that in mind, here are three stocks our writers consider to be great candidates for a tax-loss sale.
Selena Maranjian (Galena Biopharma): One stock that I own and am thinking of selling is Galena Biopharma , which has delivered a loss of more than 60% to me in the two years that I've owned it. As with most biotechnology companies, much of Galena Biopharma's promise lies in its pipeline, which could well deliver some strong sellers. It features breast-cancer drug NeuVax, which has performed well so far in clinical trials, as well as GALE-301, tackling ovarian and endometrial cancer, and GALE-401, addressing the blood condition thrombocythemia.
If one or more of those are approved by the FDA and sell well, Galena's condition and future will look much brighter. But for now, there are multiple concerns. For starters, the company's stock has been significantly diluted by the company issuing additional shares in order to generate more money. Its share count has risen from around 18 million in 2010 to more than 140 million -- and further dilution is likely.
But wait -- there's more! The company recently settled two class-action lawsuits, with settlements that will cost it millions of dollars. With Galena Biopharma needing money, it recently sold its commercial operations, including cancer pain drug Abstral. The cash the sale generates is welcome, but it means Galena won't be reaping any more revenue from Abstral.
While Galena might well have the last laugh, realizing hefty profits down the road, its future remains uncertain, and its present is challenged. Selling my shares can allow me to redeploy my remaining dollars into a stock in which I have more confidence.
Matt Frankel(Cliffs Natural Resources):One stock I'm tempted to sell as 2015 comes to a close is Cliffs Natural Resources . I bought a small position in Cliffs at around $10 per share, hoping to grab a good dividend stock at a discount, and to take advantage of weak iron ore prices. Now the shares trade for less than $2.00, and the fundamentals have deteriorated significantly since my original investment.
I don't recommend selling your stocks to reap the tax benefits simply because the price has fallen. As long as your original reason for investing still applies, a drop in price should be looked upon as a buying opportunity, not a reason to sell.
However, Cliffs is a textbook example of when it may be a good idea to cut your losses and move on. First of all, Cliffs had a dividend yield of more than 6% when I bought my shares, which has since been suspended. The price of iron ore has not rebounded as many experts were hoping it would; in fact, it has continued to collapse, falling an additional 31% in 2015.
In a nutshell, Cliffs was suffering a year ago, but the company had a lot more breathing room than it does today. The stock has become a lottery ticket, and lottery tickets aren't good investments. Neither is a stock like Cliffs anymore.
Dan Caplinger (Groupon): Daily-deal specialist Groupon has had another tough year in 2015, falling 62% since the beginning of the year, and making it a smart candidate for tax-loss selling. After helping to pioneer the daily deal market, Groupon encountered resistance both in the form of competitors tapping into the same customer base, and from merchant customers who found that the short-term bump in business didn't translate into the long-term loyalty that they had hoped to see. Even some of Groupon's competitors have struggled in the coupon-discount market, with the overall retail environment being so challenging that it has been hard for companies to differentiate themselves and their offerings.
In response, Groupon expanded its scope to seek a bigger presence in the broader e-commerce market, but its experience there has been mixed, at best. More recently, Groupon has strategically started to boost marketing and cut back on lower-margin segments of its e-commerce business.
Yet the biggest problem Groupon faces is that its identity is still wrapped up in coupon-based deals. With few signs of interest in making a corporate name change or other major move to redefine itself in a way that would make shoppers take notice, Groupon stock doesn't seem like a likely candidate for a rebound in 2016.
The article Tax-Loss Selling: 1 Stock We'd Be Glad to Sell Right Now originally appeared on Fool.com.
Dan Caplinger has no position in any stocks mentioned. Matthew Frankel owns shares of Cliffs Natural Resources. Selena Maranjian owns shares of Galena Biopharma,. The Motley Fool owns shares of Cliffs Natural Resources. Try any of our Foolish newsletter services free for 30 days. We Fools may not all hold the same opinions, but we all believe that considering a diverse range of insights makes us better investors. The Motley Fool has a disclosure policy.
Copyright 1995 - 2015 The Motley Fool, LLC. All rights reserved. The Motley Fool has a disclosure policy.