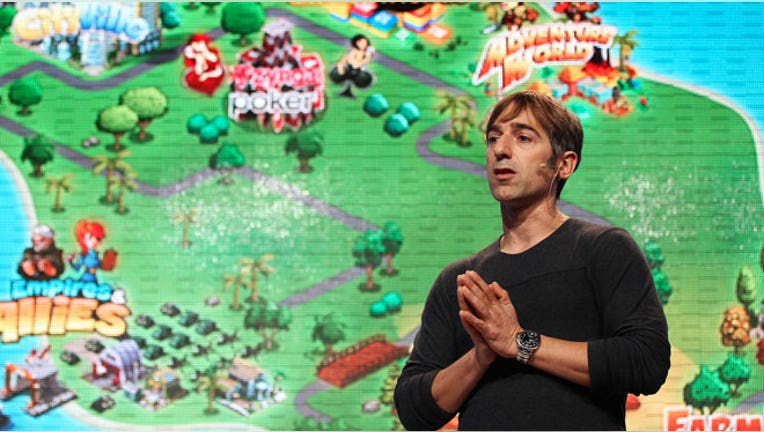 Shares of Zynga (NASDAQ:ZNGA) fell 20% to a new low Friday morning as investors digested its bleak outlook from late Thursday and the online games maker was hit with a series of negative notes from analysts.
Zynga in a securities filing on Thursday said it will likely post a loss of between $90 million and $105 million in the third quarter, or about 12 cents to 14 cents. Analysts on average had been expecting the company to at least break even.
The San Francisco-based maker of "Farmville" and "Words with Friends" also lowered its fiscal 2012 outlook, saying that certain web games including "The Ville" performed below expectations and other new game launches were delayed.
The company was hit with a wave of price target cuts and downgrades Friday morning, including by R.W. Baird, which cut Zynga to "neutral" from "outperform" and halved its target to $3 from $6.
BMO cut Zynga's price target by two dollars to $3 on a "market perform" rating, while Wedbush lowered the games maker's target to $4 from $7 on an "outperform" rating.
Shares of Zynga fell nearly 20% to an all-time low of $2.25. The shares have been on a downward spiral since the company's market debut in December as the game maker struggles to lift its bottom line and keep usage high.
Zynga, which makes money by selling virtual goods within its games, has blamed much of its troubles on lower engagement for existing games on Facebook (NYSE:FB), which they both had said was due to an algorithm change on the social network that made Zynga's games more difficult to discover.
However, disappointing engagement in its "ville" games, in which people buy goods to help grow their virtual cities and farms, as well as weaker-than-expected performance of the "Draw Something" game it acquired earlier this year, have also been at play.
The ailing tech company has lost a number of senior executives as it struggles to execute its turnaround, including chief creative officer, Mike Verdu, and chief operating officer, John Schappert, in August.