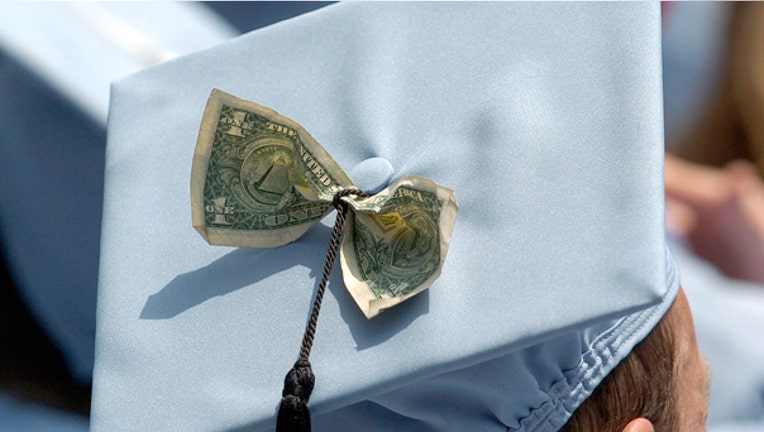 Growing up is tough enough without the worries of your financial future, so Money101  is here for you. E-mail us your questions and let us take off some of the pressure.
As graduation festivities settle down and reality starts to set in, it's time for the Class of 2012 to start getting serious about their financial future, especially those who have been financially dependent on their parents up until now.
Whether recent grads are employed or still on the job hunt, their first step into the world of financial independence should be establishing a budget, this will set the tone for good monetary habits.
"Graduating and shortly after is one of those make-or-break transitions that can have a big impact on years to come," says Kimberly Palmer
 author of Generation Earn."Some people get into trouble then by racking up credit card debt, which they're stuck paying off even into their 30s. Planning a realistic budget and sticking with it can help avoid a lot of trouble."
To start off a post-college lifestyle on the right foot, here are five pro-active steps grads should take this summer.
Use your grace period to your benefit. Most federal student loans allot grads a six month grace period before monthly payments kick in, and grads should use this time wisely to take care of any additional debt, recommends Kris Alban, vice president at iGrad.
"High interest credit card debt should be paid down during the student loan grace period so that the added student loan debt after the grace period won't be an undue burden," he says. "In addition, recent graduates should take the time to be aware of all the repayment options that will be available once their student loan enters repayment."
Take advantage of graduation money. Earning a diploma tends to bring in congratulatory cash from relatives and friends. Experts advise taking advantage of these short-term cash injections by setting it aside for a rainy day fund or to pay down debt.
It can be tempting for grads to use the money for a vacation or new car, but becoming financially independent means making responsible decisions.
"Emergency funds with a few months' worth of expenses can be a lifesaver, and there are a lot of unexpected costs post-graduation, including new work wardrobes and other career start-up investments, such as a career or resume coach," says Palmer.
Start building savings. Most recent grads entering the real world will be strapped for cash, but savings needs to be part of every budget—no matter the size.
James Law, private wealth advisor for Ameriprise Financial recommends setting up an automatic withdrawal option that is factored into grads' monthly budgets.
"Studies have shown that the sooner you start saving, the impact of time and compounding of interest will yield huge savings in the future," he says. "Once a graduate has established a realistic budget and is able to begin saving discretionary income, a small amount goes a long way with a disciplined savings approach."
Get smart about credit. The CARD Act may have prevented grads from having a personal credit card, but now many grads will be eligible to open a credit card in their own name.
Law suggests grads research different methods to build credit, and keep fees and due dates in mind when considering different credit card companies.
"You can begin the process of establishing a good credit history by paying on time," he says. "Make sure that you pay your bills on time as you don't want to start out by having a poor credit score."
Yes you're young, but put retirement on your radar. Recent grads have barely gotten their feet wet in the working world, so planning for the day they leave it may seem ridiculous, but saving from a young age will create a solid nest egg in the future and eliminate a lot of stress.
"If a recent graduate makes even a small contribution early on, it will make a large impact on their retirement account many years from now," says Alban. "Seriously consider participating in a company's 401k program as many employers match 50% or more of an employee's contribution."
Although it's important to start planning, don't worry if it takes a little while to get on your feet before focusing on retirement, says Palmer.
"It's okay to wait a few months or even a year to get the debt, budgeting, and job situation under control before starting to fund a retirement account," she says. "As soon as you have a regularly-paying job with any retirement benefits, such as a 401(k) account, you should start right away."