Your Next Cute Robot May Be Korean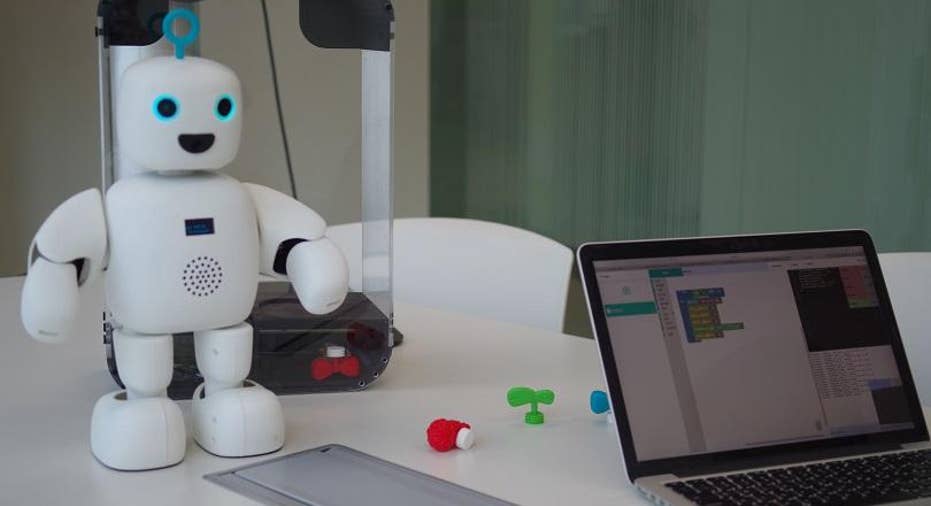 Pibo and Cubroid are friends. In a country where three giant conglomerates (LG, Samsung, and Hyundai) suck up most of the engineering talent, these two pint-sized little robots could be the future of Korean hardware innovation.
Pibo is a 3D-printed, Raspberry Pi-based "family companion" that can use the internet to answer questions about your world. Cubroid is a bunch of robotic blocks that help kids learn how to program using physical objects. The two are part of a small club of companies in Korea's new startup scene, which is dominated by software and services.
In a presentation, consultant Nathan Millard of G3 Partners says there's been a massive upswing in the number of Korean startups in the past five years, with more than 20 accelerators, a vibrant investment scene, and major government support. When I visited the startups behind Pibo and Cubroid, I found a new Digital Media City (DMC) by the old World Cup stadium featuring towers stuffed with dozens of small startup companies.
(Pibo, at right, is the third generation of Circulus's robots.)
The biggest challenge, it seems, is global breakout. Of the 46 startups that DMC's Yu Bae Park told me he helps manage, only about 10 percent are currently looking at markets outside Korea. Millard points out that "of Korea's recent standout successes ... none have found success beyond Korea."
Korean tech firms other than the big three have tended to develop primarily for their own market—Korea has its own analogues of Google (Naver), Facebook/WhatsApp (Kakao), and various other services—and they don't tend to think or speak globally. That's changing, too, though. The Pibo and Cubroid guys, while unpolished and thoroughly engineer-driven, have their eyes set on the global market, and even on the US.
One thing about being in a small scene is that everyone knows each other. Cubroid's Mark Shin showed me a Javascript book written by Pibo's Jonggun Park, and said he wanted to use Pibo's big-data AI system in the future. That's the kind of cross-pollination a startup scene could use to succeed.
Big Data, Small Robot
Pibo is clearly one of DMC's darlings. It's made by Circulus, which is led by Jonggun Park, a former Samsung engineer who was working on IoT and big data projects when he became convinced that the way to push Korea forward was to teach everyone to code.
"I think that if everyone could make their own programs in Korea, then our country will be stronger," he said.
Coding eventually became robots because, well, "most guys love robots." Coding robots thus became Pibo: an open-source, Raspberry Pi-based, 3D-printed home robot with its own cloud-based system, where you can code it through a block language, use JavaScript or download features that other people have written.
The idea here is to balance simplicity and extensibility. Lego Mindstorms lets you build and program with Scratch, but it's very fiddly. Other robots like Dash and Dot, Anki Cosmo and Ozobot are easier to use, but are fixed hardware. Cubroid is extensible, but extremely easy to put together.
On a white board, they've scribbled ideas for the next round of cubes: a camera, an MP3 player, an OLED screen. Shin said they're developing an Amazon Alexa-compatible block and a face-recognition block, and they're talking to the Pibo folks about connecting to Pibo's cloud-based system.
"In the future, like LittleBits, there could be different kits," he said.
Cubroid's next step is to go to the big-league Kickstarter for manufacturing cash, probably sometime this fall. I'm normally super skeptical about Kickstarter, but I know this isn't vaporware and these guys are for real. They just can, right now, only afford to make lots of 300 at a time.
"When the Kickstarter money comes, we can make more," he said.
And they don't seem to be having manufacturing problems. Both Pibo and Cubroid show the advantage of starting a new hardware company in a country that actually, you know, builds hardware. There's a certain US Kickstarter narrative that I call "Heart of Darkness," involving US hardware companies that basically get eaten by a predatory China supply chain.
Shin's building his robots in Korea. He's Korean. He speaks Korean. This could work. I hope it does. Then we in the US might be hearing more about Korean tech than just LG, Samsung, and Hyundai.
This article originally appeared on PCMag.com.