Yes, People Do Spend Money on Pens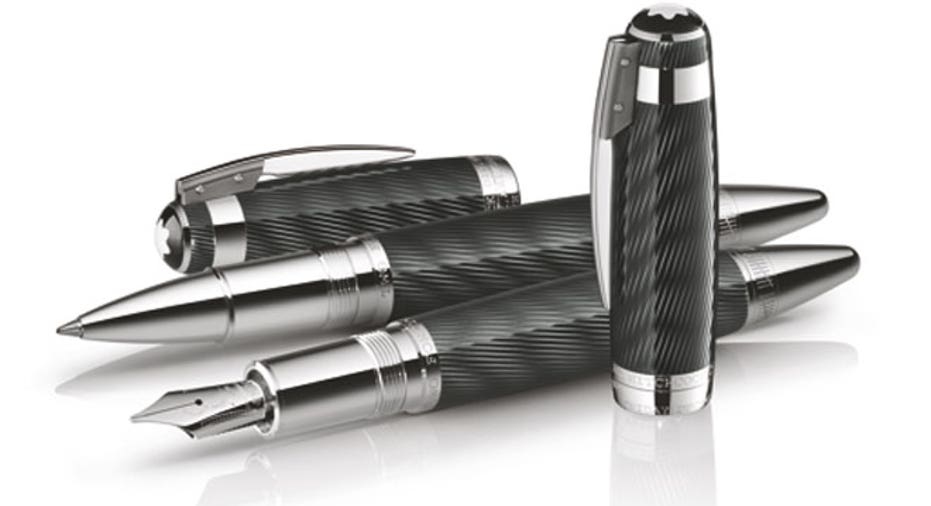 Here's something to think about: How many times have you used a pen today?
Maybe you crossed something off of your to-do list or maybe you wrote a check to your landlord or maybe you scrawled "BRB" on a napkin before running out to pick up milk. Maybe you did Sudoku.
Whatever you did, chances are good you did a lot less of it than you did five years ago. Technology has made sure of that.
Still, at a time when the swipe of a touch screen is quickly replacing other modes of communication, not all of the past has been erased. In fact, some surprising vestiges of the pre-digital era are still being churned out and scooped up today.
Enter, the specialty fountain pen.
For those of you who haven't a clue as to how you amassed the pens you own (banks and construction companies appear to be my suppliers of choice), it may seem bizarre that there's a community of people actively buying, selling and trading pens of any kind. Consider that these particular pens cost hundreds or sometimes thousands of dollars and it all seems even more out of touch.
But pen enthusiasts are alive and well – and neither the weak economy nor the new iPad seem to have smudged their passion.
An eclectic, pricey hobby
Lisa Anderson, a 46-year-old college professor who lives in Appleton, Wis., has always loved the feel of putting pen on paper. She and her husband Brian, a fellow pen collector and dealer whom she married in 2010 after having spent years bidding against him on eBay, currently own about a thousand fountain pens – some modern, some vintage. The most they've ever spent on one that they kept was somewhere between $1,200 and $1,500.
"Brian did it, not me…which means I get another Coach purse, right?" she jokes.
As the president of the nonprofit Pen Collectors of America, which boasts about 1,000 members, Anderson says she's met all kinds of people with an interest in pens. She says most collectors tend to be at the upper end of the 30 to 50 age range and aren't struggling financially. They span an array of professional fields – doctors, lawyers, teachers and everything in between. While men used to dominate the collector landscape, she says the split between men and women is now about even.
The common thread they all seem to share is a desire to preserve a piece of history.
"There's just something about owning a piece of the past that appeals to people. And with pens, they're usable," she says.
Aubrey Moore, 28, of Lexington, N.C., understands that sentiment completely – even if she's a bit younger than the average collector. A stay-at-home mom with her third child on the way, Moore, says she sees handwritten communication as a "lost art" and finds herself using her assortment of fountain pens every day.
"I'm not looking to get attention. I'm just using them because I like using them," she says.
Moore, who regularly arranges get-togethers for pen enthusiasts in the area, says her most expensive pen costs about $800, though she didn't pay that much for it. More often than not, she barters with other collectors, giving up two or three pens from her collection in exchange for one very expensive one. Most of her transactions are done online through sites like the Fountain Pen Network, which has a dedicated user base and no fees.
"It's different when it's a trade because you're not seeing the money actually go out," she says. "I'm a stay-at-home mom. My husband makes middle-class income."
Her current collection of about 40-something fountain pens is insured for between $5,000 and $6,000, including inks.
Not stuck in the past
It's easy to assume that because someone spends money on expensive, antiquated pens, he or she probably has little interest – and perhaps, some fear – of new technology.
Ditch that thinking. Anderson, who carries a case of six fountain pens with her daily, also happens to own an iPad. And a smartphone. And a GPS device.
Technology is no threat to pen collecting; if anything, it's helped it flourish.
"I think it's made sales competition stiffer and that's a benefit to buyers. You can go online and do a Google search and shop around for the best price," she says.
It's also had the obvious benefit of allowing people to share what they know. Anderson says new technology has made it simple for collectors to access information about specific brands and histories.
Money matters
Like any other luxury product, demand for specialty fountain pens is tied to the state of the economy. When the recession took hold in 2008, pen sales suffered.
"There was a point where sales really did seem to slump and pens that maybe would go for $300 or $400 or $500 were fetching less because people simply didn't have the money to spend," says Anderson.
Luxury consumers in general have made a comeback over the last year or two, and in the pen community, plenty of high-end items are up for the taking. Montblanc, one of the oldest and best-known makers of specialty pens, is currently offering a fountain pen set that contains emeralds and costs about 1 million euros, or $1.3 million. The company, whose standard pens can cost as little as $385 brand new, also offers made-to-order pens that "have no price barriers," says Christian M. Rauch, Montblanc's managing director of writing culture. (To give you an idea of Monblanc's clientele, Prince Albert II and Princess Charlene of Monaco used a white gold Montblanc pen to sign their wedding documents when they got married last July.)
For the average pen collector, however, there are limits. Anderson says if she could have any pen in the world it would be a gold and diamond pen from Italian pen maker Montegrappa, though it's so expensive she would never use it.
"That's the problem," she says. "It's more than my house is worth."