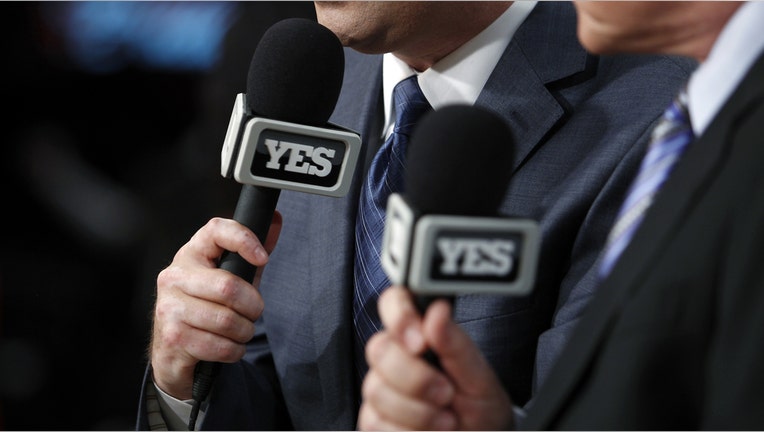 Comcast (NASDAQ:CMCSA) and the network that broadcasts New York Yankees games remain at odds on baseball's Opening Day.
The YES Network, which also airs Brooklyn Nets basketball and New York City FC soccer, was blacked out by Comcast back in November, sparking a battle over how much Comcast should pay to carry the cable channel. With negotiations stalled, YES has urged Comcast Xfinity customers in New Jersey, Connecticut and Pennsylvania to switch TV providers to avoid missing the Yankees' Opening Day game against the Houston Astros.
The two sides were given a one-day reprieve thanks to a rainy Monday in New York, as the Yankees delayed their season opener to Tuesday. But Comcast and YES still appear far apart.
YES Network CEO Tracy Dolgin told FOXBusiness.com there has been no movement to negotiations, and he cautioned fans that the impasse may not end anytime soon. YES plans to continue an ad campaign telling Yankees fans to drop Comcast. A website launched by YES includes a clock counting down to the first pitch of the season.
"Once you miss the season, there's nothing you can do to fix it," Dolgin said in an interview.
Comcast has a competing website where the Philadelphia-based cable provider says it can't predict "when or if this issue will be resolved."
"It remains our hope to bring back YES to our customers. But we can only return YES to our customers if the network and its majority owner, FOX, become realistic with their price demands," Comcast said in a statement provided to FOXBusiness.com. "We want to carry the network immediately if FOX would offer it to us at a reasonable price.  We continue to hope FOX will make an offer that represents the value of the network so we can carry it."
Twenty-First Century Fox (NASDAQ:FOXA), the parent company of FOXBusiness.com, owns a majority stake in the YES Network.
According to Comcast, 10% of the approximate 900,000 customers who get YES watched at least a quarter of the 130 games on YES. Comcast has cited SNL Kagan data showing that YES is the most expensive regional sports network (RSN) with fees of $5 per subscriber.
The YES Network is pushing back on that claim. Dolgin, noting that SNL Kagan's figure is an average of fees paid by all distributors, said Comcast pays the YES Network less than average. He also said fees charged by Comcast-owned RSNs are higher, even though YES is the most-watched RSN in the country based on Nielsen ratings. According to Nielsen, YES was also the highest-rated cable network in the New York market on nights the Yankees played last season.
The previous long-term contract between Comcast and YES ended in February 2015. Before Comcast pulled the plug, the companies agreed to a deal that kept Yankees games on Comcast through the 2015 season.
Comcast was paying the YES Network's increased rate prior to the blackout, Dolgin said, adding that Comcast later hiked a fee it charges subscribers for costs tied to RSNs. Comcast says on its website it continues to charge users the full RSN fee "because that fee recovers only a portion of our costs of providing all the Regional Sports Networks in your market -- and YES Network accounted for only a small percentage of those total costs."