Yankees star Aaron Judge heads toward MLB marketing stardom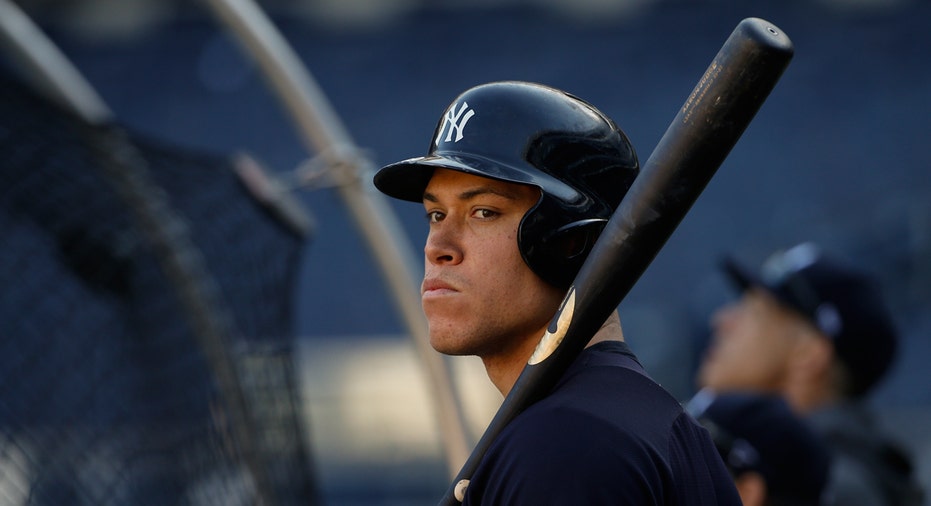 For outfielder Aaron Judge, the New York Yankees' unlikely run to the precipice of a 2017 World Series berth is just the latest development on a path to becoming one of Major League Baseball's most marketable young stars.
Judge is arguably the most recognizable player on a youthful Yankees roster that is looking to close out a surprise American League Championship Series win over the Houston Astros on Friday and book its ticket to the championship. The linchpin of a potent Yankees offense in 2017, the 6-foot-7 slugger set a rookie record with 52 home runs, as well as a league-leading 8.8 wins above replacement (WAR).
A World Series appearance would only fuel discussion that Judge is set to join the likes of Bryce Harper, Mike Trout and Buster Posey among baseball's top superstars – and draw the attention of top corporate sponsors in the process.  At 25, Judge has the potential to earn "in the low-to-mid seven figure range" annually off the field, which would place him among MLB's highest-paid endorsers, according to Shawn McBride, executive vice president at Ketchum Sports & Entertainment.
"Aaron Judge is the right player at the right time for a sport searching for a new face of the game that transcends any particular fan's personal team allegiance.  The combination of his size, personality, power, youth and humility have captured the attention of sports fans, and the imagination of Madison Avenue," McBride said. "The fact he's doing this in New York City for one of MLB's most iconic franchises, and has been a key contributor to what many consider a surprisingly successful season for the Yankees, only adds to his appeal."
Judge's popularity among fans is already apparent. The Yankees star had the top-selling jersey in all of baseball this season, topping established names like Chicago Cubs slugger Kris Bryant and Los Angeles Dodgers ace Clayton Kershaw.
Judge was also the most popular player in the Topps Now limited edition baseball card series, selling tens of thousands of individual copies throughout the season. A 2013 Judge rookie card sold for nearly $15,000 on eBay last July, the New York Post reported.
"His cards consistently sell more than any other player," a Topps spokesperson told FOX Business.
However, Judge has yet to dedicate much of his energy to marketing opportunities. Aside from an endorsement deal with Under Armour, he has yet to ink many high-profile partnerships. In terms of salary, Judge is earning just $507,500 this season, the league's minimum salary.
Judge's agent, Page Odle, estimated to ESPN during the summer that his client has received more than 100 endorsement offers.
"He's a routine guy," Odle told ESPN's Darren Rovell. "He'll address the business side at some point, but right now he's just trying to be the best Yankee he can be."
Judge still has a long way to go to catch up to the likes of Yankees legend Derek Jeter, who earned an estimated $130 million off the field during his storied career with the franchise, according to Forbes. A World Series appearance would bring Judge to the national stage as never before and potentially introduce him to a new audience.
But Judge doesn't need to win a championship to continue his ascent to marketing stardom, according to McBride.
"Based upon the show he put on at the MLB Home Run Derby this past summer, and the exposure that brought him, along with the fact that he plays in New York City, a World Series appearance or win isn't as critical to his ascension," McBride said. "That said, competing in the Fall Classic, and winning it, would conclude a rookie campaign for the ages while positioning him to preside over baseball for years to come."