Yahoo Snaps Up Tumblr, Revamps Flickr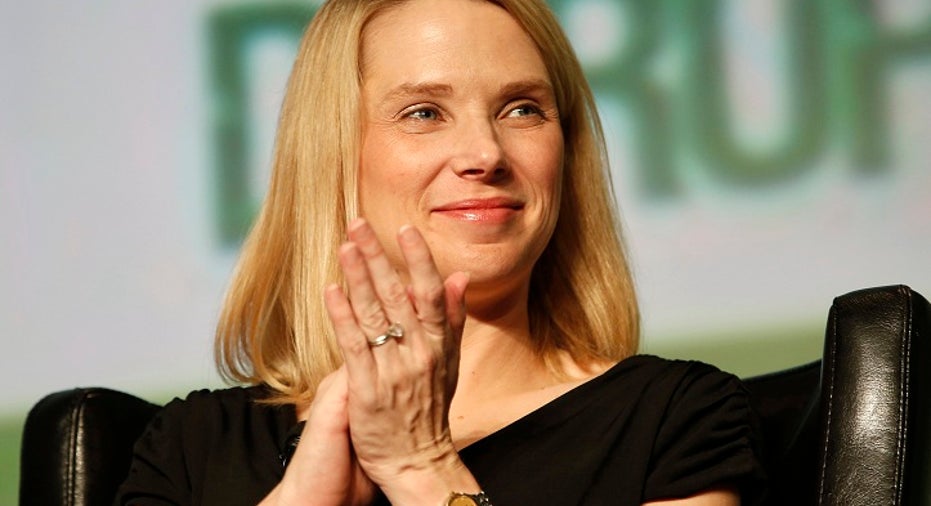 In the 10 months since Marissa Mayer took the reins at Yahoo Inc. (NASDAQ:YHOO), many have speculated about how the former Google executive would return the '90's dot-com darling to relevance.
On Monday, Mayer gave the world a peek into her plans.
In an invitation-only press event overlooking Times Square on Monday evening, Mayer was the face of a new, nimble and disruptive Yahoo that dominated headlines with news of a $1.1 billion acquisition of New York-based micro-blogging site Tumblr, and a redesign of the company's photo-sharing site Flickr.
Mayer's announcement of a location for the company's New York City headquarters in the Times Square Building in Midtown Manhattan even evoked a cameo appearance from New York City Mayor Michael Bloomberg. He congratulated Yahoo on the new offices and the acquisition, praising New York-based Tumblr and its CEO David Karp, the city's newest tech multi-millionaire, as Karp looked on from the front row of the audience.
The purpose of the event was to trot out Yahoo's overhaul of Flickr and its intent to offer a free terabyte of space to every Flickr user, but the message -- loud and clear -- was of an overhauled Yahoo that is moving boldly on multiple fronts.
"This is about putting lifetimes of photos on Flickr," Mayer said, boasting that the free terabyte of storage the site will offer is the most space offered by any Internet company on the web.
Later she would go on to explain that the decision to offer that much space was made in a meeting in late March, demonstrating the speed at which Yahoo's team managed to pull off the feature. Flickr's redesign also includes updates to its photo stream, the addition of a cover photo and a full-screen slideshow, among other features, and Yahoo has also upgraded Flickr's search function so that queries yield larger images and turn up more relevant results.
The updates to Flickr may have been the intended focus, but the company's takeover of blogging site Tumblr was the news of the day, and Mayer reiterated Yahoo's intent not to "screw it up."
Fans of Tumblr have cause to fear that the acquisition could spell trouble for the site; when Yahoo acquired Flickr in 2005, it was a popular destination for uploading and sharing photographs with a devoted user base. Flickr has since faltered under Yahoo's leadership, losing ground to sites like Facebook and Instagram, and Monday's slick update to the site, which boasts 89 million users sharing 8 billion photographs, is an attempt to remake its image.
"Flickr was awesome once, it languished, and we want it to be awesome again," Mayer said.
The same could be said for Yahoo, currently in the midst of Mayer's turnaround effort.  The former Internet juggernaut has enjoyed an impressive rally in its stock since Mayer joined the company last year; the stock is up more than 70% under her leadership.
Street reaction to the Tumblr buy was mixed, with many praising the company for making a bold move, and others accusing Yahoo of overpaying for a social media site that has not yet demonstrated profitability. Colin Gillis, senior technology analyst for BGC Partners, pointed out that there are a lot of unknowns and much needs to be done in order for the deal to make sense for Yahoo.
"It was expensive and you've got to ask is this your most pressing need?" Gillis said. "Maybe they really feel they've got to reach this audience and now [with Tumblr] they can target an audience of more than a billion, and that's a good thing."
The deal was expensive at $1.1 billion, but it only uses about one-fifth of the $5.4 billion in cash Yahoo had on its balance sheet at the end of March, most of which is left over from the $7.6 billion sale of part of its stake in Alibaba, the Chinese ecommerce site.
Critics of the deal also suggested that some of Tumblr's content could be detrimental to Yahoo's brand, but that viewpoint was diffused by Mayer. She stressed that no changes would be made to the content controls currently in place at Tumblr, meaning the site's questionable content, including pornography, won't be taken down -- at least not yet.
Mayer also touted the room for synergy between the two companies, explaining that Tumblr's strength in fashion, art, food and architecture are all verticals that Yahoo is looking to further develop. In response to a question about what benefits Yahoo can bring to Tumblr, Mayer highlighted the company's expertise in search and the possibility for improved content discovery for Tumblr through improved search functionality.
But it is unclear if a position under the Yahoo umbrella would actually benefit Tumblr. The acquisition could damage credibility with a young audience that associates Tumblr with a fast-paced culture of irreverence. Matt Mullenweg, founder of WordPress, a rival blogging site, boasted Sunday night on his personal blog that news of the Yahoo buyout prompted 72,000 Tumblr posts to be shifted to WordPress in one hour. Rejection by Tumblr's young, savvy social-media users is exactly the migration Mayer is trying stem at Yahoo, and the acquisition is a bold step in her campaign to win approval from the Internet's coveted "cool kids".
The final word on whether the Tumblr acquisition is a brilliant tactical play or a blunder carrying a hefty price tag is a long way off. If Yahoo can maintain Tumblr's anti-establishment image, figure out a way to monetize the platform and leverage the brand for a foothold with tech-savvy twenty-somethings, we may one day list it among the ranks of successful pairings like Google and YouTube or EBay and PayPal.
Right now that's a tall order, but one thing Mayer's Monday media blitz did prove is that there are a lot of new ideas being batted around at Yahoo headquarters in Sunnyvale, Calif., and that may be enough to keep the "cool kids" online -- and on Wall Street -- watching.