Yahoo Scores Slim EPS Beat, Adjusts Alibaba Share Sale Deal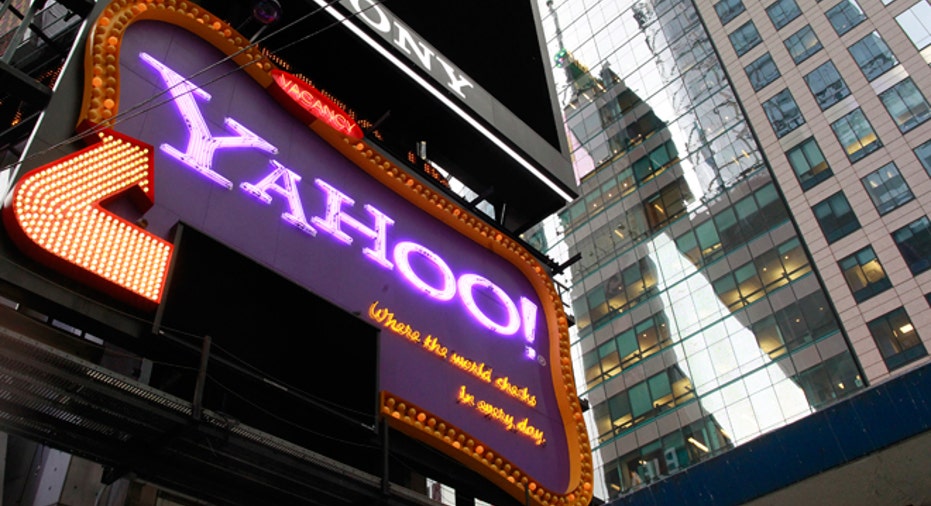 Hurt by slumping display and search ad sales, Yahoo (NASDAQ:YHOO) disclosed a 39% slump in third-quarter profits on Tuesday that narrowly topped forecasts from analysts.
The Internet company also revealed a new pact with Alibaba Group that slashes the number of shares Yahoo is required to sell in the Chinese company.
The results mark the latest progress report for Yahoo CEO Marissa Mayer, the former Google (NASDAQ:GOOG) exec who has been tasked with turning around this former Internet star.
Shares of Yahoo initially rallied almost 5% on the numbers and Alibaba news, but those gains faded amid concerns about the company's more conservative outlook.
Yahoo reported net income of $93 million, or 28 cents per share, compared with a profit of $152 million, or $2.64 a share, a year earlier.
Excluding one-time items, Yahoo earned 34 cents a share, exceeding consensus calls by a penny.
Revenue slipped 5% to $1.14 billion. Excluding traffic acquisition costs, revenue dipped 1% to $1.08 billion, matching the Street's view.
"I'm very pleased with our execution, especially as we've continued to invest in and strengthen our core business," Mayer said in a statement.
Yet Yahoo said its display ad sales slid 7% year-over-year to $470 million as the number of ads sold fell 1% and the price per ad dropped 7%.
The company's search revenue declined 8% to $435 million as the price per click was off 4%. However, paid clicks soared 21% last quarter.
Adjusted earnings before interest, taxes, deprecation and amortization, or EBITDA, slumped 19% to $331 million. Analysts had projected stronger EBITDA of $344.3 million.
Looking ahead, Yahoo projected adjusted revenue of $1.18 billion to $1.22 billion in the fourth quarter, which is a bit below estimates on Wall Street for $1.25 billion. Management sees adjusted EBITDA of $400 million to $420 million, which compares poorly with the Street's view of $491.7 million.
Yahoo also dimmed its full-year forecast, calling for adjusted revenue of $4.40 billion to $4.45 billion, compared with $4.45 billion to $4.55 billion previously. The company now sees adjusted EBITDA of $1.48 billion to $1.50 billion, down from $1.55 billion to $1.65 billion.
Yahoo also announced a new agreement with Alibaba that lowers the maximum number of shares Yahoo is required to sell in the Chinese e-commerce company's initial public offering to 208 million from 261.5 million.
Yahoo owns a 23% stake in Alibaba, which is planning a U.S. IPO that could value the company at $60 billion to $70 billion.
"Under its new leadership, Yahoo has made it a priority to build a good relationship with Alibaba," Joe Tsai, executive vice chairman and board member of Alibaba said in a separate statement, "We look forward to working with Yahoo as a supportive shareholder and partner to expand our business for future growth."
Yahoo noted it has more than 800 million monthly users, up 20% over the past 15 months.
"We're achieving meaningful  increases in user engagement and traffic," Mayer said.
After initially jumping more than 5%, shares of Sunnyvale, Calif.-based Yahoo were up just 0.42% in recent action Tuesday afternoon.