WWE Scores Video Deal, Signs First Wrestler in China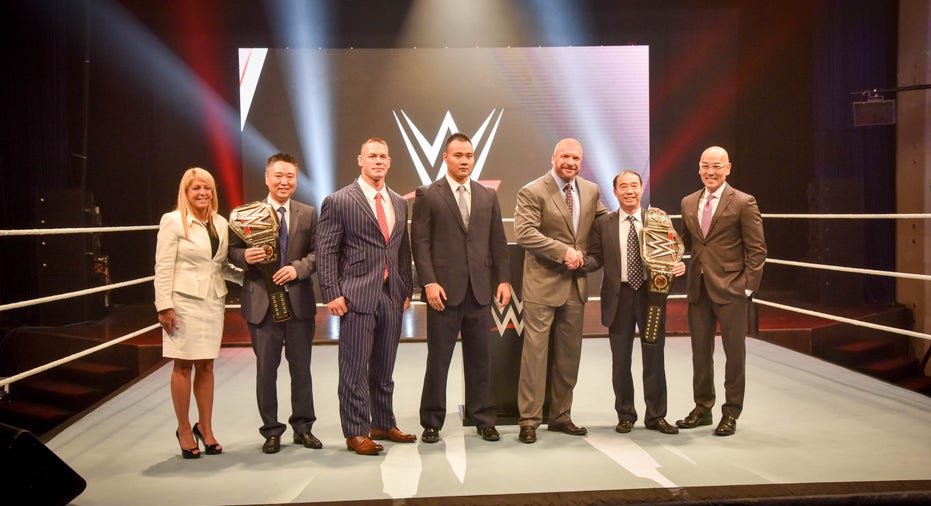 World Wrestling Entertainment's (NYSE:WWE) expansion into China went into overdrive on Thursday. The company said it agreed to a streaming video deal and signed its first Chinese wrestler in advance of a WWE event in the fall.
WWE will start offering its shows Raw and SmackDown in Mandarin through an exclusive multi-year distribution pact with PPTV, the most popular streaming video platform in China. Full episodes will be available on-demand hours after they hit the airwaves in the U.S., WWE said. The digital partnership also calls for PPTV to launch and manage a new WWE website in China.
Bin Wang, 22, became the first wrestler out of China to sign a WWE developmental contract. Wang will have a shot at becoming the Chinese Superstar in WWE history. The 6-foot-3, 220-pound wrestler has trained for the past two years in Japan.
WWE also announced plans for its first live event in China in more than three years. WWE Live 2016 China will be hosted by Mercedes-Benz Arena in Shanghai on Sept. 10. Some of WWE's most notable stars, including John Cena and Roman Reigns, are scheduled to appear.
Wall Street cheered the moves, as WWE shares jumped to a new 2016 high of $18.99. The stock was up 4.8% at $18.66 in recent trading.
"Today's historic announcements further demonstrate WWE's long-term commitment to China," WWE Chairman and CEO Vince McMahon said in a statement. "Partnerships with PPTV and Expo Group, as well as the signing of Bin Wang, will enable us to engage our fans in China like never before."
The Stamford, Conn.-based wrestling giant believes China is a key area of international growth. In April, WWE announced the creation of a new position overseeing its business in China. Jay Li, a former executive for headphone maker Skullcandy, was named WWE's vice president and general manager of Greater China. At the time of the announcement, WWE President of International Gerrit Meier called the country "strategically important for WWE."
In addition to its on-demand video deal, WWE has said it's working on bringing the WWE Network to China. The WWE Network, a subscription video service, is currently available in 180 countries.
"We have one market left, and we're working to figure out what the right model is for China," Chief Financial Officer George Barrios told analysts during WWE's earnings call in May.