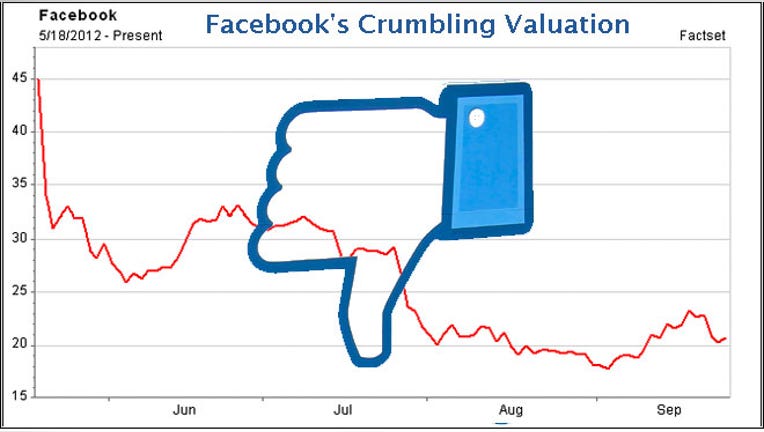 Facebook's (NASDAQ:FB) leap into the public markets in May made international headlines, shattered countless records and threatened to breathe new life into the capital markets.
But nearly six months after that enormously hyped initial public offering, Facebook's market cap has crumbled, the IPO markets continue to lick their wounds and the social network's incredible momentum has been stunted.
All of this begs the question: If Mark Zuckerberg could take a mulligan on his decision to go public last May at an eye-popping valuation of $104 billion, would he?
To be sure, Zuckerberg's hand may have been forced in deciding to go public by two factors: the need to give his employees a way to cash out their shares, and Securities and Exchange Commission rules mandating a certain level of transparency for companies with more than 500 shareholders.
Still, Zuckerberg's reluctance to go public delayed the IPO until last May, at which point Facebook along with its bankers at Morgan Stanley (NYSE:MS) pushed for what ended up being the loftiest debut market- cap ever.
"They would do it again, but not at such an elevated valuation. If they'd gone public, let's say, a year earlier and at $10, they'd be one of the hottest stocks on the market today. But that's with the benefit of 20-20 hindsight," said Roger Kay, president of Endpoint Technologies Associates.
Steep Descent
After debuting on May 18 at $38, Facebook's shares initially climbed as high as $45 before tumbling to as low as $17.55 earlier this month, marking a painful 61% retreat.
"You can't go back to the same investors who lost money and expect them to be as enthusiastic about the IPO market," said David Weild, a former vice chairman at Nasdaq OMX Group (NASDAQ:NDAQ).
The high-profile descent for Facebook's shares has taken a toll on the social network's brand, distracted executives from focusing on the user experience and weighed on employee morale, which is never a good thing in an industry always fighting over talent.
"The performance of the stock has obviously been disappointing" Zuckerberg said earlier this month in one of his first appearances since the IPO, pointing to how it "doesn't help" serve as an incentive for employees.
The lofty valuation also raised the pressure and expectations that had already been hovering above Facebook from shareholders and analysts.
"The business fundamentals haven't really changed. All that's changed is the expectations on the Street, which admittedly they haven't done a great job of managing," said Steve Beck, founder of boutique management consultancy cg42.
Negative Fallout for IPO Market
Silicon Valley and Wall Street had been hoping a successful Facebook offering would light a fire under the tech IPO market by encouraging other companies to test the waters.
Instead, the flubbed debut virtually shut down the IPO market for months and even now that it has reopened, the memory of Facebook still looms large.
"Some tech firms may decide the lure of going public isn't worth it," said David Becher, a professor at Drexel University. "It should be a lesson that getting the valuation correct is fundamentally important."
For example, FOX Business's Charlie Gasparino recently reported that following Facebook's fiasco Twitter is reevaluating the timing of a possible IPO, which could now be a year away.
Even if Zuckerberg didn't change the valuation and timing of going public, he might request a do-over on the venue for Facebook's debut because technical glitches at the Nasdaq Stock Market led to mass confusion for early investors. Perhaps Zuckerberg would consider listing his company's shares at NYSE Euronext's (NYSE:NYX) New York Stock Exchange this time around.
'Amazing War Chest'
Despite the negative backlash from the IPO, few believe Zuckerberg would take a mulligan on going public.
As mentioned, SEC rules would have forced Facebook to open its books soon anyway, so why not take advantage of going public? Also, employees can now buy and sell their shares with ease in an extremely liquid market rather than on private secondary exchanges, albeit at much lower values these days.
But the biggest reason why Zuckerberg probably wouldn't take a do-over? About $18 billion. That's the amount of money Facebook raised from its massive IPO, the third-largest amount for a U.S. company behind just General Motors (NYSE:GM) and Visa (NYSE:V).
Zuckerberg can now deploy this cash to enhance users' experience through acquisitions and expensive development.
"There's no question they have an amazing war chest," said Weild, a senior advisor at Grant Thornton. "It puts them in a terrific competitive position. No matter what anybody says, they are in a better position than probably anyone in this business to consolidate this space."