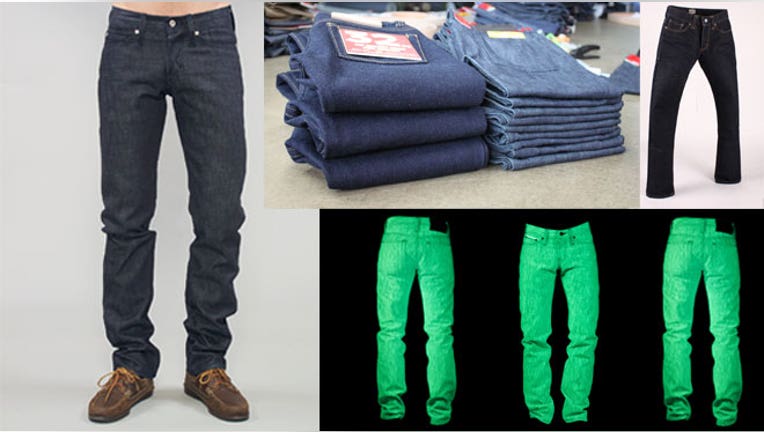 When people describe their favorite jeans, they might mention the cut, the wash or the placement of the pockets.
One thing they likely won't mention is the smell. (Let's hope, anyway.)
But one denim company in Canada is changing that. The company is called Naked & Famous and it's selling a $150 pair of jeans that smells like raspberries.
Why, you ask? Well, because it's fun.
Brandon Svarc, the company's 29-year-old founder, has a penchant for taking traditional denim and giving it a quirky twist. In the five years since he established Naked & Famous, he's come up with a number of unique products – among them, jeans made from a camelhair blend, jeans made from a stainless steel blend and jeans that glow in the dark. In December, he began selling the heaviest jeans in the world, which retail for $495 and, at three times the weight of normal jeans, are "guaranteed to be the most uncomfortable jeans you've ever worn, or your money back." (If you're curious, he created 132 pairs of those jeans and has only four left in stock to date. "There are at least 128 crazy dudes out there," he says.)
Svarc's bread and butter may be his basic line of jeans, which are sold online as well as through retailers such as Barney's and Neiman Marcus, but it's the novelty pieces that really get people talking. Svarc says he overheard a woman at Barney's last year call his glow-in-the-dark jeans the stupidest things she's ever heard of. The woman's 16-year-old son, on the other hand, was amazed.
Svarc says getting any sort of strong reaction – good or bad – is what drives him.
"If I get feedback that someone says they hate it, I know someone else is going to think it's the greatest thing they've ever seen," he says.
Naked & Famous, which prides itself on using high-quality Japanese denim and manufacturing its products in Canada, produced about 800 pairs of scratch-and-sniff jeans in late January. Sales have been strong, with Svarc saying stores such as Canadian department chain Holt Renfrew have sold out and ordered more.
The jeans don't look particularly unusual, but they've been treated with a special coating that emitsthe scent when scratched. Svarc says he had a choice between about 15 different scents, including lemon ("not bad") and soap ("really gross"), but he chose raspberry because it smelled the most of candy. The scent is expected to last through at least five washings.
Surprisingly enough, the jeans are currently available in men's sizes only. Svarc admits that his strategy is counter to what much of the premium denim industry is doing, as women are often courted first – but he says that Naked & Famous' customer base is 90% men and 10% women. He plans to introduce a women's scratch-and-sniff jean in the near future.
For those that know Svarc, his strategy shouldn't come as a surprise.
"As you can tell, I don't mind going against the grain."