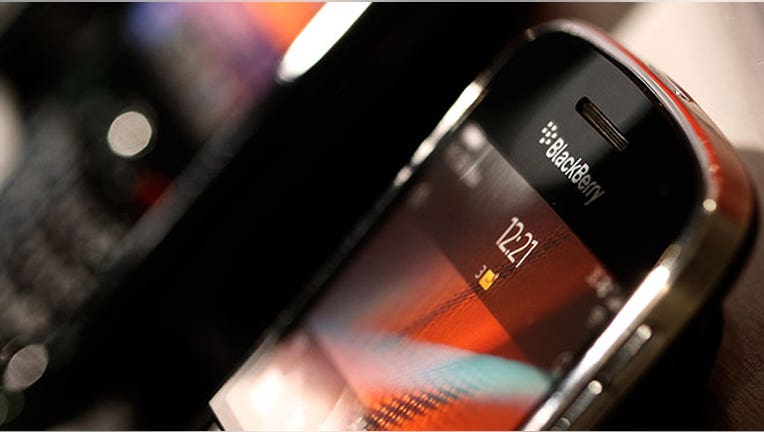 The Canadian government is understandably touchy about the future of Research in Motion (NASDAQ:RIMM), which is one of the country's largest employers, best-known companies and -- up until recently -- biggest success stories.
This affection for RIM, combined with the controversial 2010 decision to block a $39 billion buyout of Potash (NYSE:POT), has raised some concern in the financial community that Ottawa could stand in the way of a potential foreign takeover of the floundering BlackBerry maker.
But Prime Minister Stephen Harper's government has recently signaled a willingness to allow the dismantling or outright sale of this Canadian crown jewel.
Last week Jim Flaherty, Canada's finance minister, said his government wouldn't block any foreign takeover of Waterloo, Ontario-based RIM, saying the company will be "masters of their own destiny."
"I think Ottawa understands that if RIM cannot help itself, then others should come in and help it," said Amit Kaminer, a research analyst at Montreal-based telecom consultancy SeaBoard Group.
It's always sad to see one of the crown jewels or iconic companies not performing well but that's the situation we're in.
Yet the Canadian government had sent mixed signals in the past about this hot topic. In February, Harper told Reuters that RIM should grow "as a Canadian company."
It's also an open question whether or not Canada would attempt to scuttle a potential hostile takeover, compared with a friendly deal.
Harper told Reuters "hostile takeovers of key Canadian businesses, are obviously something that I think is widely understood is not in this country's interest."
Crown Jewel
It's important to note the special place RIM has in the hearts and minds of the Canadian people and the country's economy.
"Is RIM important in Canada? Sure it is. Very important. In the same way that Google or Facebook would be important to Silicon Valley," said Todd Coupland, an analyst who covers RIM at Toronto-based CIBC (NYSE:CM).
While it is just a shell of its former self, the technology company generated $18.4 billion in annual sales in its fiscal year ended in March and employs almost 18,000 people, about half of them in Canada.
"It's a great Canadian success story and we don't have a lot of these," said Kaminer. "It's a company that was able to make a difference not only in Canada, but around the world in the way we talk, text and the way we make networks more efficient."
Company in Decline
But RIM is also a company in turmoil, forced to oust its co-CEOs earlier this year and even consider a sale due to immense competitive pressure from Apple's (NASDAQ:AAPL) iPhone and devices powered by Google's (NASDAQ:GOOG) Android.
According to comScore (NASDAQ:SCOR) stats released this week, RIM's market share tumbled to just 13.4% from 16.6% in the three-month period ending in February, compared with 50.1% for Android and 30.2% for Apple.
Last week RIM disclosed its first quarterly loss in seven years amid a 21% plunge in sequential BlackBerry shipments. Haunted by the deteriorating situation, RIM's shares have plummeted 76% over the past year.
"It's always sad to see one of the crown jewels or iconic companies not performing well but  that's the situation we're in. It is what it is, but it is sad," said Kaminer.
For now, new RIM CEO Thorsten Heins appears to be squarely focused on completing the company's long-awaited strategic review and rolling out its new BlackBerry platform in an attempt to breathe life back into the devices.
Who Wants RIM?
But for the first time RIM has openly said it needs to explore its strategic options, including a sale.
"I think now that RIM has been able to go through that decision tree and publicly state where their mind is at probably gives the government some breathing room" on approving a possible takeover, said Coupland.
While a sale doesn't appear imminent, further signs of distress at RIM could lead the company down that path.
There are a number of companies that could be interested in acquiring RIM -- at the right price -- but none of them are based in Canada.
Potential suitors have in the past included Finland's Nokia (NYSE:NOK), Korean smartphone maker Samsung, Taiwanese electronics maker HTC as well as U.S. tech giants Microsoft (NASDAQ:MSFT), Amazon.com (NASDASQ:AMZN) and Hewlett-Packard (NYSE:HPQ).
Was Potash an Outlier?
Ottawa rattled the markets in 2010 when it blocked BHP Billiton's (NYSE:BHP) $39 billion buyout of fertilizer giant Potash. That decision was based on the Investment Canada Act, which vaguely requires foreign buyouts to create a net benefit to Canada and specifically mentions technological development as a factor.
The Potash move appeared to be politically motivated, not necessarily fueled by protectionism, but still showed how economic interests can be used to prevent a transaction. Harper's government also cited the ICA in its 2008 decision to block the $1.31 billion sale of a division of MacDonald, Dettwiler & Associates to U.S.-based Alliant Techsystems (NYSE:ATK).
But there are a number of differences between that decision and a future one on RIM.
"Connectivity or technology is not like resources. I'm not saying RIM is not dear to the heart, but natural resources are scarce. They run out eventually," said Kaminer.
Further, Harper's government has showed signs of being more open to foreign ownership. For example, last month Canada relaxed rules that had banned foreign companies from majority ownership of wireless companies.
A better comparison might be telecom equipment maker Nortel Networks, which the Canadian government allowed to be dismantled after 2009 bankruptcy proceedings despite its previous lofty stature in Canada.
Of course, the government in Ottawa may not be the only one that needs to sign off on a RIM deal. It seems likely the U.S. Department of Defense will want to ensure RIM's secure encryption technology that U.S. agencies rely on doesn't fall into the wrong hands.
"They wouldn't want to see one of the Chinese companies enter the back door of that encryption technology," said Kaminer.