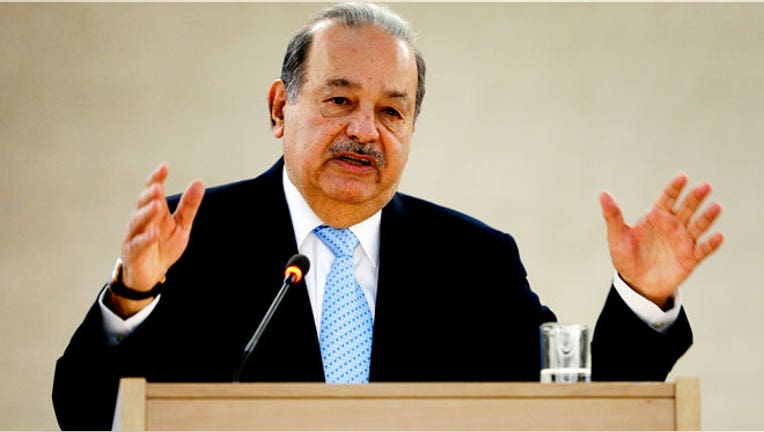 With a fat net worth of about $73 billion, Mexican telecom mogul Carlos Slim topped the 2013 Forbes list of the world's richest people for the fourth consecutive year.
Slim, 74, grew his fortune by an estimated $4 billion in the last year thanks to impressive returns at Grupo Financiero Inbursa, the billionaire's financial arm.
He also expanded his empire, pushing into Europe through an acquisition of a Dutch telecom company and a majority stake in Spanish soccer club Real Oviedo. Slim also owns significant stakes in retail, industrial, real estate, mining and infrastructure related companies.
Slim's lead for the title of the world's richest person was narrowed in 2012 as the net worth of Microsoft (NASDAQ:MSFT) Chairman Bill Gates jumped by $6 billion to $67 billion, Forbes estimates.
Gates, who has increasingly taken a back seat at the software giant he founded, continues to focus on his Bill & Melinda Gates Foundation, which is attempting to eradicate diseases like polio and malaria. Gates has already donated more than $28 billion of his fortune.
Amancio Ortega vaulted up to the No. 3 spot in the Forbes list thanks to a $19.5 billion surge in his estimated net worth to $57 billion.
The self-made billionaire resigned as chairman of Inditex, the parent of Spanish clothing and accessories retailer Zara, but still owns a 60% stake in the company. Forbes estimates Ortega's real-estate portfolio at $4 billion.
Warren Buffett, the CEO of Berkshire Hathaway, saw his net worth jump by $7.5 billion in the last year to an estimated $53.5 billion. The Oracle of Omaha made a big splash last month by teaming up with 3G Capital to acquire iconic food company H.J. Heinz (NYSE:HNZ) for $28 billion.
While Buffett acknowledged a "subpar" year for his Berkshire Hathaway, the 82-year-old billionaire pledged to resume his search for elephant-sized acquisitions.
The next three richest people in the world are all Americans: Oracle (NASDAQ:ORCL) CEO Larry Ellison and Charles and David Koch.
According to Forbes, the Koch brothers have a net worth of $34 billion each, up from $31 billion a year ago. The brothers benefited from a $20 billion leap in the value of their Koch Industries, which raked in $115 billion in sales last year.
The rest of the top 10 Forbes list is rounded out by non-Americans. Hong Kong businessman Li Ka-shing has an estimated net worth of $31 billion, while Liliane Bettencourt, who with her family owns about 30% of L'Oreal, is the world's richest woman with $30 billion.
Bernard Arnault, the chairman and CEO of French luxury goods maker LVMH, is ranked by Forbes as the world's tenth richest person with a net worth of $29 billion, down from $41 billion a year ago.