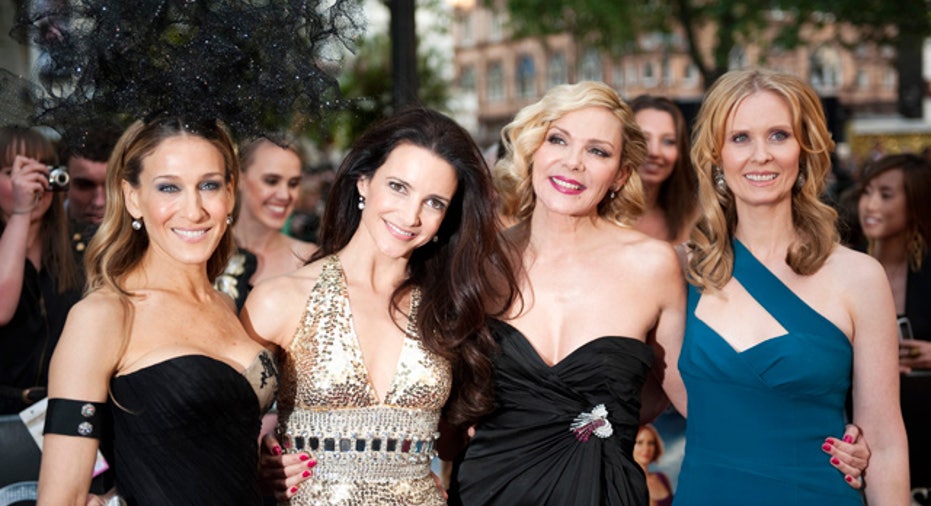 I don't know about you, but there are some clear signs when I am in an emotional funk. Typically a positive person who welcomes an illuminating quote or a rah-rah talk from friends, I've had the kind of week where all of that seemed like pablum.
(Note for the record: I'm well aware on many occasions I am the source of these seemingly trite, simplistic words of wisdom and those on the receiving end have to control their gag reflex. This is all about being in a place to receive and hold inspiration and kindness.)
Of course, the things you don't want to do when you're feeling out of sorts are act out or be reckless (i.e., overindulgence in food, drink, etc.), so then what? When your friends and colleagues are Tweet-ing platitudes and using dreaded exclamation points in their cheeriness, you certainly don't want to bring them down.
Much as I hate to admit it, one of my favorite tools in dealing with this is grabbing the remote control and just flipping around, almost manically. It's kind of like spinning a wheel at a casino. Round and round it goes; where will it stop? Certainly not on a news channel, especially when I've been writing lately how fortunate global tragedies make us seem and how we'd be shallow not to know that. No need to add a feeling of hypocrisy to the equation.
I had just come down from the high of sending my latest column to my editors when I embarked on this relaxing TV venture. What I hit was the film Coco Before Chanel. It was riveting. Audrey Tautou was lovely and engaging as the young designer, beautifully showing us her softness, her edge and her eye.
But what made me really sit up and pay attention was a ballroom dance scene where she and her lover are twirling amongst the other couples. Young Coco Chanel--at this point only designing hats for friends as hobby--had come to the seashore weekend unprepared to dress for dancing, but she got some black fabric and pulled together a simple, chic dress. How stark it was among the frou-frou, light-colored, overdone dresses of the day. In a nod to director Anne Fontaine, the swirling movement of the classic and brave black in the middle of my TV screen brought to life just how revolutionary Coco Chanel was. It enlivened me.
The moment felt like a memorable one from a scene in Sex and the City where Charlotte, depressed because she's just had a miscarriage, turns on the TV and comes across a bio of the now late Elizabeth Taylor. The story makes Charlotte sit up straighter, ditch the couch and put on a gorgeous outfit. She takes her newfound feeling of glamour and walks out into the bustling New York street with head held high.
I love that. It speaks to our determination to withstand what comes at us, feel our way through, but also make that effort to not wallow for long.
The following day an actor friend asked me to come over and help her pull together some outfits for a TV shoot that required her to be a well-dressed New Yorker. Coffee in hand, I sat in a chair with her wares splayed out on the bed and we put this scarf with that bag and those shoes, changed it up to go from jeans to skirt, and so forth, and slowly I realized I was really enjoying it.
Sweet victory. A signal I was emerging even more.
Later the same day, after attending a run of the mill business networking event, I was reading the latest issue of Rolling Stone and in the "Random Notes" section saw a photo of singer Cyndi Lauper in an airport with fans snapping photos. Here's what the caption said: With flights grounded in Buenos Aires, Cyndi Lauper calmed an angry mob with a peaceful, soothing a cappella rendition of "Girls Just Want to Have Fun."
Man, I love that. It made my heart soar. This is the stuff of life. A moment.
It reminded me of a story I read in a magazine years ago. Barbra Streisand and Donna Karan were in a car and having a hard time pulling into traffic. Streisand finally poked her head out the window and in a plea to the other driver sang, "People, people who need people …"
What can I say? I'm a sap.
So often those of us who spend most of our lives seeking out and embodying positive energy have the challenge of not only meeting others' expectations on that front but our own as well. The latter can be daunting, expecting ourselves to always walk on the sunny side of the street.
Pablum alert. The curmudgeon is heading out of the building.
Nancy Colasurdo is a practicing life coach and freelance writer. Her Web site is www.nancola.com. Please direct all questions/comments to FOXGamePlan@gmail.com.