Working in Your Pajamas Might Happen Sooner Than You Think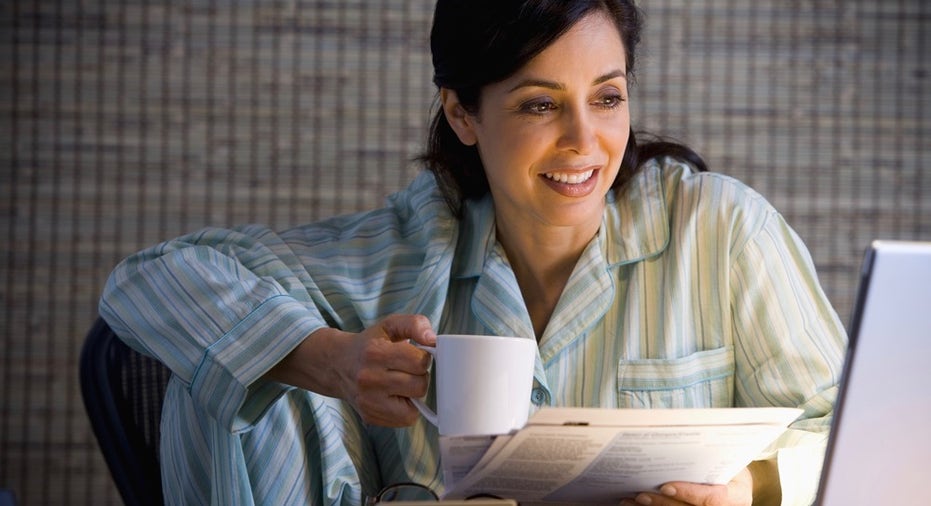 It seems quite possible that the era of the nine-to-five workday might be winding down. The next generation of employees wants flexibility in their schedules. A study of millennials from Deloitte shows that a good work-life balance is a top priority for what Pew Research says is now the largest generation in the workforce, and that generation wants to pick their own hours and working locations. Some might wonder how that could be realistic. Flexible remote gigs are for older, more seasoned workers, aren't they?
As it turns out, not anymore. Plenty of entry-level positions in today's world lend themselves to flexible schedules.
"There's been kind of a perfect storm brewing that has made the growth of telecommuting so clear over the last 5-10 years," says Brie Reynolds, director of online content at FlexJobs, an online service that helps connect job seekers with flexible schedule, telecommuting, and freelance positions.
"First, telecommuting is popular with professionals because it alleviates many of the pain points people associate with work – things like commuting, office politics, and interruptions," Reynolds says.
When you think about it, it makes sense to dodge the commute and get right to work. Besides, how many entry-level positions occupied by millennial employees involve sitting in a cubicle, working on a computer? That work can just as easily be done remotely.
"Advances in technology over the last decade have really helped push telecommuting," Reynolds says. "The technology has reached a point where high-speed Internet is available in most places, equipment like laptops and cellphones make working from anywhere possible, and workers are more comfortable than ever working from a variety of locations."
And it's not just the workers reaping the benefits. Employers are seeing benefits in a variety of ways.
"Whether it's to save costs, increase productivity, retain talent, improve morale and engagement, or be better social and environmental stewards, the benefits for companies are clearly there," says Reynolds.
Here, There, Anywhere
One of the most obvious benefits for both companies and job seekers is that they don't have to be in the same location.
"While most telecommuting jobs have some location requirements, the majority of companies that hire for remote jobs do so in a wide variety of areas," Reynolds says. "So a company might be based in Oregon, but hiring people to work from Florida, or based in Germany, but hiring people to work from Texas. That means early-career employees don't necessarily have to move across the country to a city with good economic growth because they can find a telecommuting job with that company from right where they're already located."
When prospective employers can open up their job searches nationwide and applicants can do the same, both parties exponentially increase their search pools. Consequently, the chances of finding the perfect fit right off the bat greatly improve.
Is Telecommuting Right for You?
//
While flexibility and independence have a lot of upsides, job seekers need to be aware that remote work isn't for everyone. Some people thrive working with a physical team or by having a direct supervisor they can physically turn to for help and advice.
"Remote work can feel isolating if you're not comfortable working physically alone for hours at a time," Reynolds says. "It also places a huge amount of responsibility on the individual employee to manage their time, focus and prioritize, and communication proactively and openly with their teammates. People need to be comfortable with these realities in order to succeed as remote workers."
Ultimately, it's up to the job seeker to be honest with themselves about the following questions:
Does it bother me to work alone for long periods of time?
How effectively can I manage my time with limited or no supervision?
Am I comfortable only communicating remotely with my team through email, phone, or video calls?
Do I have the knowledge to perform this job without easy access to instruction?
If you're confident that these obstacles won't be a problem, then remote work just might be the job you've been looking for.
10 Entry-Level Jobs That Lend Themselves to Flexible, Remote Work
Flexjobs compiled the following list of jobs across multiple industries that lend themselves to remote workers:
Graphic Artist
Associate Training Instructor
Medical Field Case Manager
Community and Customer Service Specialist
Virtual Elementary School Teacher
Clinical Research Associate
Web Designer
Risk Engineering Trainee
Web Content Writer
User Experience Analyst
If you're looking for remote work and not sure where to start, this list should be your springboard.