Work Ethic a la Michael Jordan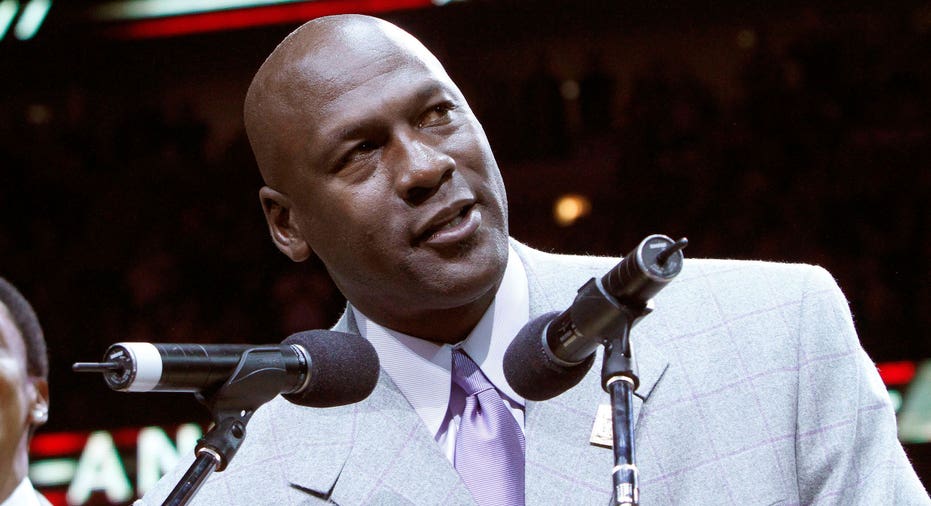 What in the world is going on with Michael Jordan?
This is what I asked myself last week after walking by a few television sets and seeing his image and also noting he'd been mentioned in a few social media posts. So I went to ESPN.com and saw a feature package devoted to the fact that Jordan turned 50 on Feb. 17.
OK, got it.
This made me want to stroll down memory lane, so I decided to forego the slickly-produced packages and did a Google (NASDAQ:GOOG) search that brought up some highlight videos put together by fans. And that's when the tears started streaming down my face.
The man, suspended in the air, ball held aloft, for seemingly minutes instead of seconds. The man breaking free of phenomenal coverage and sending the ball up and in like he was on the court by himself. The man, switching the ball from one hand to the other like a magic trick and laying it in.
Set to music. Defying pressure. Crowds going wild. Announcers beside themselves. On and on.
There is something about mastery that makes me weep these days. Just the pureness of it. As a life coach, you want to see that people tap into their gifts and use them. When they take them to the point of mastery, it's nirvana just to be in proximity to their craft.
But there was more behind my visceral response to watching Jordan in action. You know how sometimes there are these people that come along in our lives who we find instructive or inspiring? Well, for me, Michael Jordan will always be the guy who was cut from the varsity basketball team in his sophomore year and went on to become what many believe to be the greatest basketball player in history.
Imagine how that lands on a person who tried out for cheerleading in sixth grade, got cut and never tried out again. At this point that's part of my story. I didn't have the strength to pull it together and take a chance on rejection again. This guy, this chiseled athlete with something to prove, worked his butt off to become elite and even then didn't stop working.
"The thing about Michael is, he takes nothing about his game for granted," former Chicago Bulls coach Phil Jackson wrote on NBA.com. "When he first came to the NBA back in 1984, he was primarily a penetrator. His outside shooting wasn't up to pro standards. So he put in his gym time during the off-season, shooting hundreds of shots each day. Eventually, he became a deadly three-point shooter."
That doesn't make him some perfect person. His flaws have been widely chronicled – anger, narcissism, gambling. I don't care. When Dirty Harry gets that fierce look in his eyes, points his gun and says, "Go ahead, make my day," I don't give a hoot if Clint Eastwood talks to empty chairs in his spare time.
It's about the art.
When Jordan retired the first time, I was a sports columnist with a front-page Sunday column for a mid-sized newspaper. The buzz was all about what sports media and fans considered a premature exit by a man they loved watching; they were ticked off at the idea of being deprived of seeing him play.
As I pondered what position to take in my column, I remember so clearly saying to my brother, "What am I going to write about Michael Jordan that measures up to what guys with access to Michael Jordan write about?" My brother replied, "As long as you feel that way, you'll never be big-time."
While I wasn't exactly sure what "big-time" meant in the world of me, I did know I didn't want to back down from a challenge I'd been given. Unlike my cheerleading, my writing would move forward. Sports fans didn't want to pick up their Sunday paper and read about some safe topic. They wanted my opinion on the household name bowing out of the game. I wrote a piece about retirement and how sometimes that's all people can focus on when they're caught up in hard work for a sustained period.
That 'moment' of rising confidently to the occasion was a turning point. This is what happens sometimes when we latch on to another's story and take the lesson from it. It goes something like this: You get cut, you come back strong and show them (and yourself) what you can really do. You feel doubt about your ability to deliver, you quiet the critic voice or seek out someone who will help you do that and then you do the work.
To review -- You come back strong. You deliver. In my story, Jordan is inextricably linked to those pivotal lessons.
Of course we now know that Jordan came out of retirement after a stint in baseball. In 1997 a friend who lived in South Carolina called and asked if I'd like to join her – she'd been given two floor seats to see Jordan against the Knicks. Since I lived in New Jersey, I assumed she meant at Madison Square Garden.
"No, the game is in Chicago," she said.
Despite covering all kinds of sports, I wasn't a big NBA fan. But it took me about a minute to say yes, I will buy a plane ticket and meet you in Chicago for a game and a good dinner. As it happened, there was a Renoir exhibit at The Art Institute of Chicago, so we got to enjoy mastery of a whole other kind, too.
At age 51, I feel nothing but gratitude toward Jordan and would like to personally welcome him to the 50-something club.
Thanks for the work ethic, Michael, and for the dazzling show.
Nancy Colasurdo is a practicing life coach and freelance writer. Her Web site is www.nancola.com and you can follow her on Twitter @nancola. Please direct all questions/comments to FOXGamePlan@gmail.com.