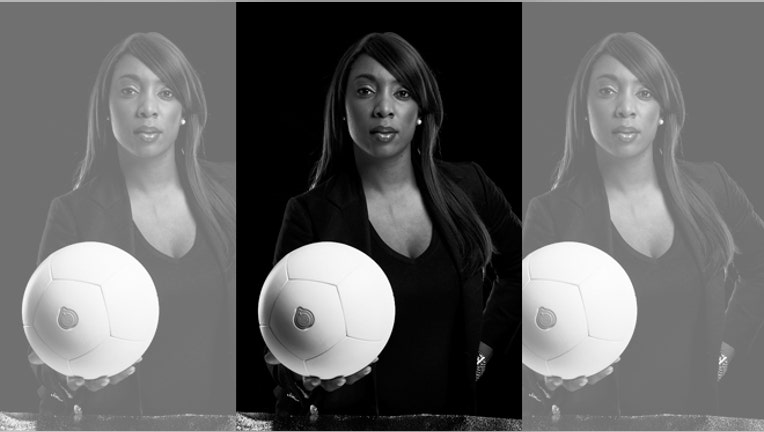 Social Business Spotlight: A Look at Entrepreneurs With Heart
Business: Uncharted Play, @uplayco
Who: Jessica Matthews, CEO
What: A social good-tech company, using technology to create energy-generating play products – like the Soccket soccer ball (which powers 3 hours of light with 30 minutes of play) and Pulse jump rope (which can charge a smartphone up to 50% with 15 minutes of play) – "to address the short-term need for electricity." Proceeds from each play product sold in the U.S. go to "powering one child in need." The products are made in New York and California – the jump rope is actually 3-D printed in the company's SoHo office.
The target price for each product is at $99 in the U.S., which includes the cost of child's access overseas and the impact curriculum.
When: May 2011
Where: New York City
How: "Soccer is what kids are doing; that was the easy part, it is the most salient thing, I'll even kick around a ball," Uncharted Play CEO Jessica Matthews, 26, says.
Inspired by a class she took at Harvard, Matthews says she saw mixing renewable energy and play as an uncharted territory. But what really drove the idea home was a trip to Nigeria, where her family is from, for an aunt's wedding. They lost power during the celebration and cranked on the diesel generator – not an abnormal occurrence there, but to Matthews, this was not OK.
From this experience, came the creation of Uncharted Play.
Through product sales, Uncharted Play says it can off-set the need for electricity in the short-term. Then through its Think Out of Bounds social invention curriculum, which is tailored based on the needs of the community, the company teaches children about the resources around them and how to think like inventors. Currently, it has partners in Nigeria, Tanzania, South Africa, Jordan, Mexico, Haiti and the U.S. Most recently, the Uncharted Play team spent nearly three weeks in a small community in Brazil during the FIFA World Cup, distributing Soccket balls and teaching kids about energy resources.
Uncharted Play, which is not yet profitable, is currently working on obtaining Series A funding, according to Matthews. She says setting the company up as a for-profit social venture has its challenges, but she strongly wanted it "to exist as part of the economy."
Biggest challenge: Matthews says there have been several obstacles since launch, but one of the main issues is "finding the right people to take this thing forward."
The second-biggest challenge, she says, has been sustainability.
"It can be easier for wearable [social] businesses" to build out their brand, Matthews says, explaining that for Uncharted Play product performance adds another layer to the mix. Still, she says despite the extent to which the social cause-business market is saturated, "no one else is in the play space."
The recent Harvard Business School grad admits developing the Pulse jump rope was simpler than the ball, explaining that with the Soccket soccer ball, they are constantly going back and forth between playability, usability and energy-generating capability. Plus, she says they have to keep in mind that they are designing for two very distinct markets.
"What we design for retail sales has to be different from what we design for the communities in the developing world," she explains. "If we were to develop an energy-generating skateboard it would have to be more of a retail seller because we're not going to distribute skateboards in places where there aren't roads."
Looking ahead: "We're very small scale right now, but we don't want the product to look or be cheaply-made," Matthews says. So far, Uncharted Play has made about 100 Pulse jump ropes and distributed no more than a couple thousand Soccket balls in its testing rounds. The Soccket has gone through at least a half-dozen iterations – the first ball was filled with air and had an industrial cord inside it – and they're zooming in on the mechanism of the ball in a way that it both enhances the energy-generating abilities while leaving the playability intact.
The idea is to "go broader than [renewable energy] in rethinking function and play," she says. And really "amplify the good and joy that is behind Uncharted Play."